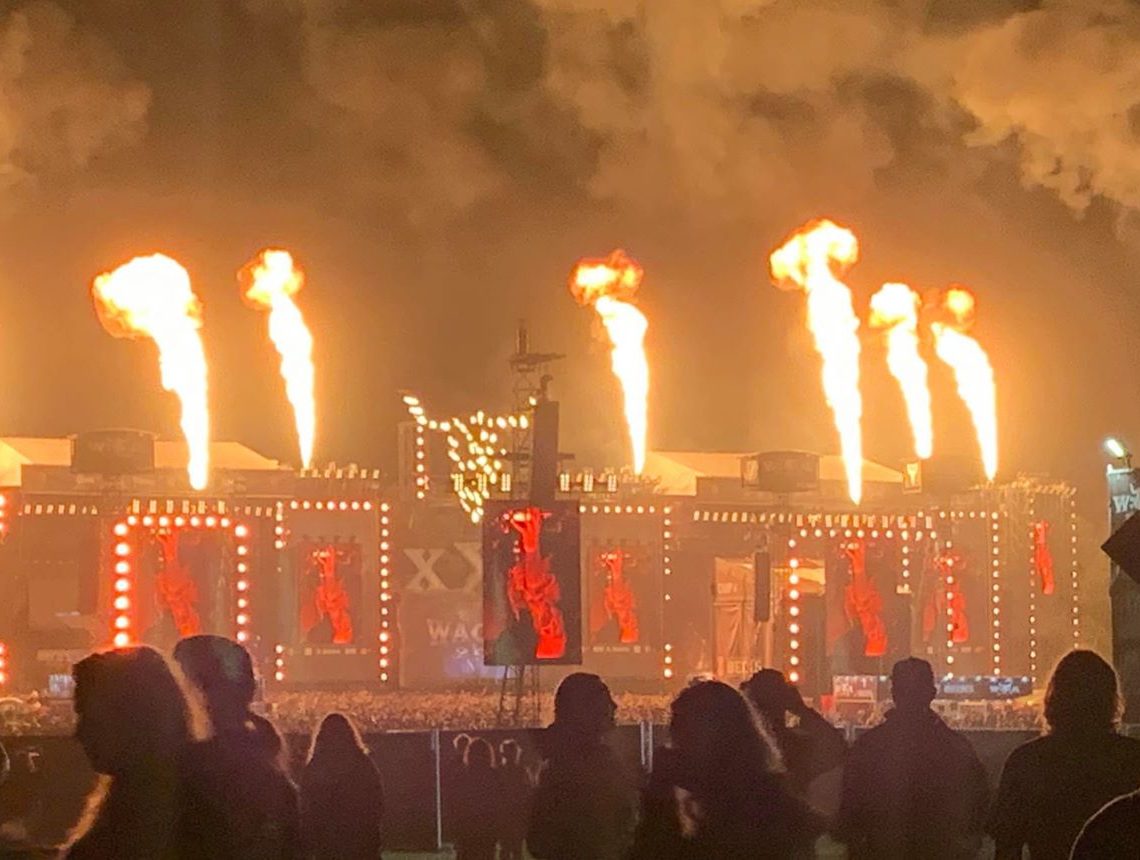 Queen Nikki at Wacken Saturday 3rd August 2019
24th August 2019
The last day of Wacken Open Air festival 2019 was here and to make sure it went off with a bang, my German camping buddies decided to wake me up with a confetti bomb to my tent. Moin Moin!
Racing to the press tent, we joined the back of a very big crowd, all there to hear the announcement of the Wacken Metal battle winners for this year. The bands were all huddled in their circles, some wearing their corpse paint and in full stage attire, while some were even praying. They've come all the way from the local heats in their cities and now they're representing their respected countries , its no wonder it's an emotional waiting time. One by one the top five are announced. Fifth place to Poland, fourth to Ukraine, third to our new friends from Spain and second place to Hungary. The winners this year, beating 25 other bands from around the world, were Viking Folk Metal band Verang Nord from Latvia. There was lots of tears of happiness and disapointment but at the end of the day, most of the bands we spoke to afterwards were just so thankful to have been apart of the battles and the experience.
Back out into the sunshine, we are lured by the sensational voice of Noora Louhimo of Finnish crazies, Battle Beast. Singing the chorus lines of Familiar Hell along with her, was an already very well lubricated infield. She is not only our lunchtime entertainment, but our fitness instructor too. Like a creature straight out of A Midsummer Nights Dream, Noora is laden in whimsical garments and giant horns that would rival the devil's. Her tightly laced corset doesn't stop her from teaching us correct squat form and whipping her guitarist while he does push-ups on the foldback. She high kicks her way through an intense set and absolutely wakes us up for the day. Battle Beast are living proof that the Wacken Metal Battle is a great stepping stone for younger bands. From winning the battle for Finland in 2010, to playing now on the main stages nine years later is a pretty fantastic success story and they absolutely deserve it.
The beer garden called us with the taste of some sweet, sweet German wheat beer and some old school British rock with Girlschool. Although I would've loved to see them play on a bigger stage, they were still as humble as ever and gave us one hell of a party. Before they play Take It Like A Band, they talk to us about being on tour with Lemmy. "They were OUR Motörhead and this song is about going on tour with them!" There was a lot of dancing going on down the front and I was with them especially with my favourite cover of The Gun's Race With The Devil. A little girl about 4 years old dances on a table singing along to their final song Emergency as they point her out in the crowd and dance with her. These babes have still got every bit of essence they started with!
A casual last day stroll around the festival grounds leads us to the Wackinger village for some meats on sticks while we watch a medieval football match. Sweaty dudes wearing Hessian sack pants struggle to get a giant heavy bag over a line, sure makes for great Saturday merriment. Wandering into the Post-Apocalyptic Wasteland, the Wasteland Warriors hiss and boo us as we walk through their town. There is a feeding frenzy happening at their cage fights and they are ripping each other apart like the decapitated dolls decorating their cars. We ate the blackest most 'metal' ice cream in the world, had syringe shots of honey mead and even had a dabble in the shisha tent.
A few hours are lost back at camp as our entire crew was wasted and holding a last day barbecue. Scorching the last of the meat, they made mystery cocktails with the booze leftovers to drink through a plant watering can. To be honest, half the fun of living in a field is the manic camp ground madness. These dedicated metal heads become your neighbors, your festival husband or wife, your enablers and your family for one amazing week every year. At last, no Wacken would be complete without a trip to the Rainbow bar to have a Jack or two for Lemmy, so we had five! Full of piss and bad manors, we slide into some fishnets and jump through the barrier gates for one last jaunt.
German lunatics, Powerwolf arrive to the Faster stage with all guns blazing…literally.
Front man Attila Dorn holds flame shooter guns in each hand as he fires the… well… fire into the air like a total gangster. Dodging the sparkler waterfalls flowing down from the roof of the stage, they captivated the Wacken audience in only a way that Powerwolf can. There are certain songs in this world that to me, that create the soundtrack to the Holy Land and Army Of The Night is absolutely one of them. Perhaps its because you'll hear it be played 200 times a day from speakers in the camp grounds or perhaps its because Powerwolf are so quintessentially Wacken. Either way, with the final sunset for 2019 as the backdrop, they close with one mammoth springing moshpit to We Drink Your Blood and it makes me feel at home.
Parkway Drive are like the tattooed surfer lad that you shouldn't have brought home to mum, but who she eventually approves of after he does the dishes. Which is actually how I feel about them, after seeing their performance on the Harder stage to an infield at complete capacity. While living in Australia, I couldn't really get into their music, but now I felt a sense of Pride watching them headline a main stage on the last day of the festival and how they've helped put Australia on the map. The show was off to a dramatic start as they secretly made their way through the vast mass to the stage by torchlight as stunned fans took photos like the paparazzi. Bassist Jia O'Connor had busted his knee (lets face it, probably surfing), but showed up none the less, in a wheelchair pushed by his awesome mum Jodie. Vocalist Winston McCall after throwing off his signature pimpin' fur coat, asks the audience to crowd surf Jodie all the way to the sound desk while cheering and chanting "Mum!". Jodie makes her way down and starts her debut crowd surfing experience face first and on her front. Although she gets turned around eventually, as the band play Clarrion, she does actually make it to the sound desk and to be honest the entire thing is fricken adorable. Flame throwers fly into the sky from every stage and every screen in the infield. Winston is all smiles as it seems like all 75,000 festival goers are singing the "Yeah, Yeah, Yeah" to Vice Grip. Just when we thought there couldn't be any more surprises, a beautiful string quartet rise up in the spotlights in time for Writings On The Wall. Their breakdowns are as real as the fireworks bursting from beneath the bullhead and the skyline is just a sea of hair moving in synchronicity. The stage was torched in the end and looked as though we'd actually made it to hell. Forgive me father, for I have sinned and I think I'm converted.
Look, I don't know how we made it until 2am after quite the stint in the artist village talking shite, but we did. One man Internet sensation Frog Leap turned up with a full band and filled the Bullhead City Circus tent with the stragglers clinging onto the last of the festival vibes. His covers of the Pokemon theme song, Africa by Toto, Zombie by the Cranberries and many more, fuelled us for the last few hours of crazy dancing and swigging the dregs of whisky from our Wacken water bottles.
I wish I could tell you where the rest of the night went, but all I know is I woke up on an abandoned leather couch, somewhere in Camp Y wearing a sombrero with half a bottle of mead in my hand. Not bad at all. The obligatory mission of cleaning up then heading back to Hamburg for the Reeperbahn after party is of course a hellish journey. An 80 minute wait to buy a train ticket in Itzehoe lead us on a very long and delayed train, but those who could relax were snoring and farting for our entertainment. But at Wacken when you are surrounded by your new found friends and metal family, the journey, even if its the return, is half the fun.
Another incredible year, wiping the holy dirt from my every orifice and I'm excited to do it all over again n in 2020, which is already sold out!
Until next year….Rain or Shine, see you in Wacken.