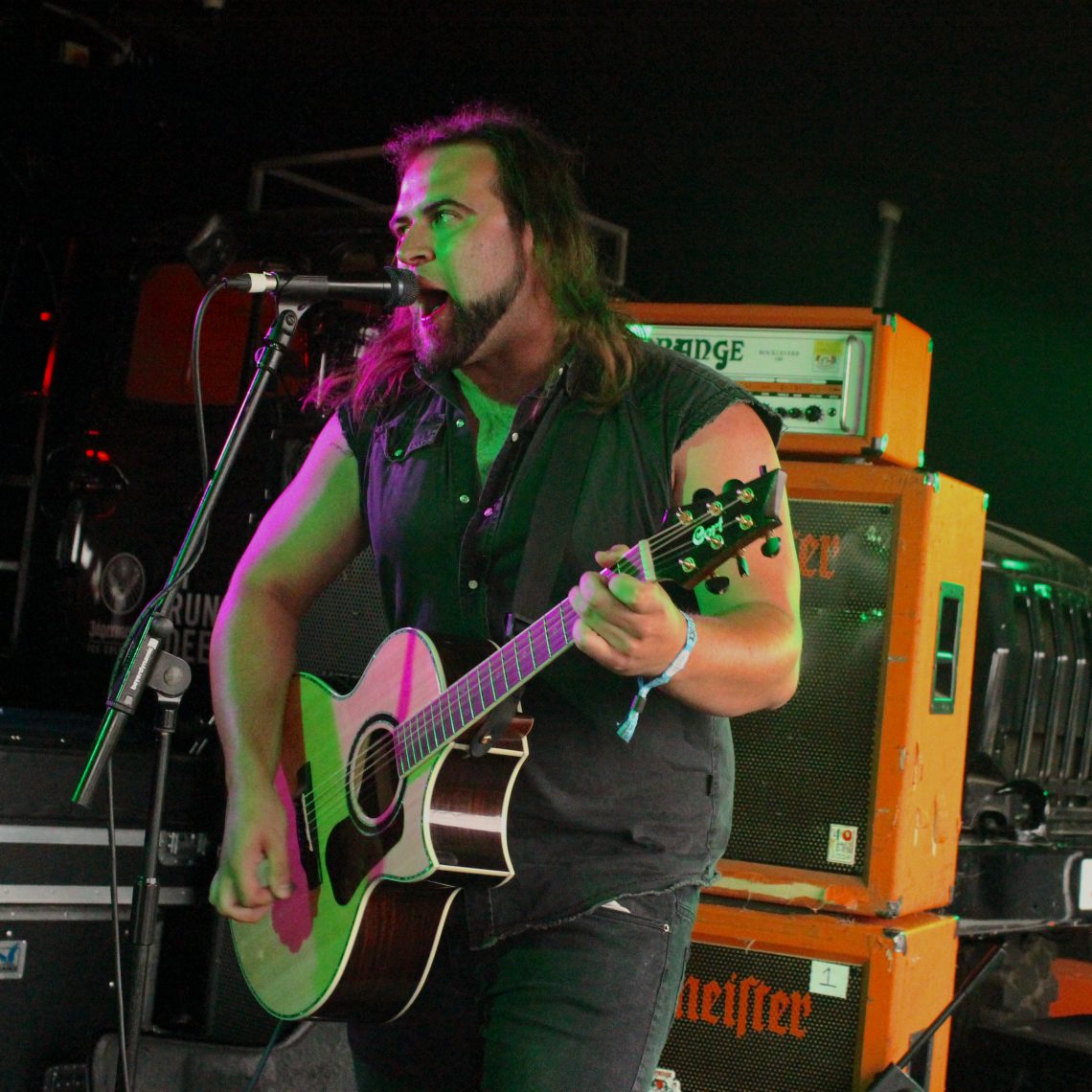 Interview With Luke Appleton Of Iced Earth And Absolva
15th August 2018
Having joined iconic power metal band Iced Earth as bassist back in 2012 and formed Absolva on guitar alongside his brother Chris, Luke Appleton recently decided he needed to add even more to his CV. His new solo release 'How Does It Feel To Be Alive' is a short acoustic album which he plans to showcase alongside a few exciting covers during his Saturday set on the Jägermeister Stage. I had a chat with him a couple of hours before he took to the stage.
 How has your Bloodstock been so far?
Yeah, cool mate. Got here Thursday morning, the first two days were a bit blurry but really good.
What's been the highlight so far?
My highlight for the weekend was always gonna be Priest, and I enjoyed Onslaught yesterday.
Who are you most looking forward to seeing?
I wanna see my friends band playing the New Blood stage, called Aonia. They're around here doing some interviews and I've worked with them a couple of times, they worked on a Blaze Bayley album which I was also performing on so we've got to hang out over the years and they're good girls and guys. I'd like to catch Gojira. Today wasn't really my day to be honest, yesterday was my day with Priest and Onslaught. I've seen Alestorm a few times that's always good.
What's your favourite project you've ever worked on?
There's been so many and each has their own things, it's always great doing Iced Earth, we're in tour buses and luxury flights and all this playing in front of thousands and thousands of people who is awesome. But then I also have my other band Absolva which is a smaller band but we're really making an impact over Europe and some of the UK as well playing a few hundred people a night. With Absolva, the guitar player Chris Appleton is my brother so there's a lot of love. Then I've been with Iced Earth for about 6 years and I've just had the time of my life, touring all around the world I've been to some amazing places like India, Australia and New Zealand where I never even dreamed of going.
How did you get involved with Iced Earth in the first place?
My previous band, Fury UK, toured with the likes of Saxon, Michael Schenker and Iced Earth. Iced Earth got to see me, they were very impressed with what I could do and about 6 months after that tour in 2011 their bass player left and I was the first call!
Being involved in so many projects at once, you must support a lot of big bands. Who is the best band you've ever supported?
I'd say Volbeat. That was my first tour with Iced Earth, going around America and Canada with them and we made a very nice friendship. I'd never heard them at that time and now I've become a very big fan, I like the melody and the cool riffs and that Johnny Cash meets Metallica vibe.
And who is your favourite you've ever had supporting one of your projects?
Sabaton were our main support in the states, and I really love what they're doing at the moment going up and up. However, we just did a tour recently in the states and Sanctuary were the main support and they were really cool. It's a close tie between those two.
What's the difference between being on stage as part of Iced Earth in comparison to your acoustic project?
Well… there's only me. There's an element of pressure as I'm so naked on stage if you will. When I first started it was very daunting as I've got no drums or distortion to hide behind, it's just me, my voice and an acoustic. At first, I was nervous but then once I play that first chord adrenaline takes over.
What acoustic guitar do you use?
I endorse Cort guitars, same as my bass.
Which is your favourite acoustic track to play live?
At the moment I'd say it's the title track from my new acoustic album 'How Does It Feel To Be Alive?'. It touches on a lot of personal stuff, a lot of people think it's about me and, in some ways, it is. There's some things lyrically I really connect with. I also love playing the Iced Earth song 'Watching Over Me' which always connects with the Iced Earth fanbase.
How do you decide which covers to include in your acoustic set?
I always like to do songs form bands I'm associated with, obviously my solo album and then tracks from Absolva and Fury UK, and then Iced Earth songs. I always like to keep a nice variety of that, but focus on my acoustic CD. I throw an odd cover in as well maybe some Iron Maiden or Dio but I like to keep most shows in that formula.
If you could add another band to the list of those you've performed with, who would it be?
After last night, Judas Priest. I'm technically at the same festival as them, but for a concert I'd love that, or Maiden any day
Do you have any more exciting projects coming up that you'd like to mention?
You can check out the acoustic album on my website www.lukeappleton.net, and then I'm going out on tour with Absolva in October, November and December. It's a full UK/Europe tour and the second leg of our Defiance tour, and we'll also be on tour opening for Michael Schenker. Technically this is my day off and I've filled it up with a gig!
For all things Luke Appleton, click HERE.