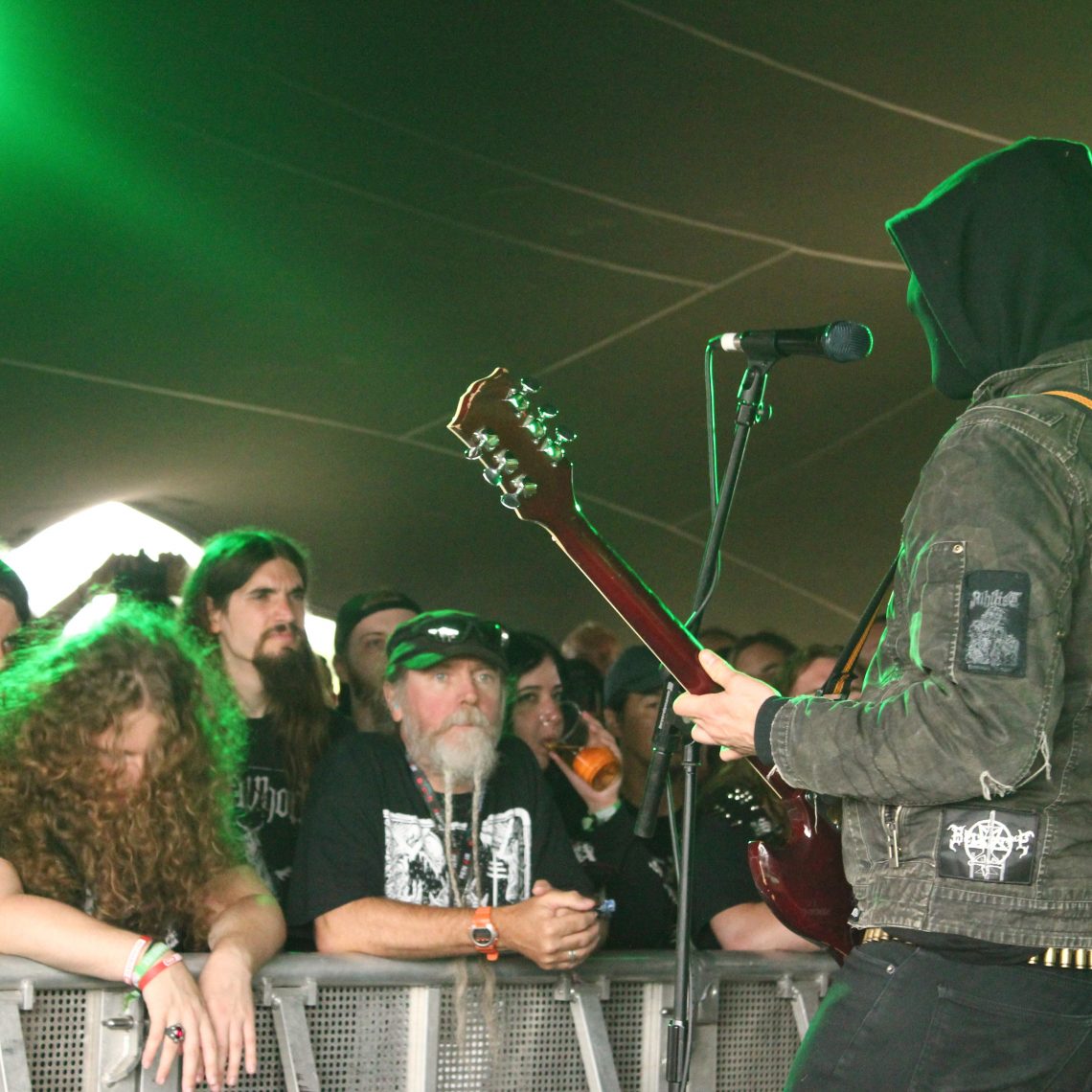 Interview With AIV Of Abduction (Bloodstock 2018)
15th August 2018
As the only member of extreme metal project Abduction, AIV is a creator of 'dark, miserable landscapes'. The 90's black metal inspired project have recently released the very well received 'A Crown Of Curses' and I was lucky enough to speak with AIV before his live ritual on Sunday's Jägermeister Stage.
How has your Bloodstock been so far?
Yeah, pretty good! I'm extremely tired, but yeah really good we come every year pretty much.
So is this year your first time playing?
It's the first time Abduction has played, but it's not the first time I've played, I've played with other projects twice. Different styles of music but this year's all about Abduction
Who's the best band you've seen so far?
We just saw Power Trip, they were killer, just really really old school and refreshing. Shout-out to Forgotten Remains as well, my friends who killed it this morning.
Who are you most looking forward to seeing?
I'm quite looking forward to seeing Watain, it's been 10 years since I saw them so it's almost like an anniversary kind of thing for me
I've never seen them, and I'm gonna be down in the photo pit…
Yeah, there's probably gonna be some kind of blood and guts. Good luck with that
What are you most proud of on A Crown Of Curses?
Probably the atmosphere I've managed to create while not having any clue what I'm doing. I'm pretty chuffed with the feeling it creates
Yeah it is really atmospheric… and weird.
That's good, I'll take weird
Which is your favourite to play live?
I think Respiratory Prison because it's the longest and you can really get lost in that track. It's like a journey and it's a bit later on in the set as well so you're kind of comfortable by that point.
What's your approach to performing live seeing as you're the only member of the project?
It's something that could be really complicated but it's actually really simple, I just have a backing track playing from my phone. If you wanna get technical with it I have a cable that just splits the left and right side going into the desk so one channel has the drums and one channel has everything else. So I'm playing guitars and singing, but bass, some other guitar, drums and all the atmospheric stuff is on there. So it's like a full replication of the album live, so even with only one person it's closer to the record than it would be with a band
Will you be performing everything on the record?
No I won't be playing everything on the record, just 4 tracks.
So you'll be doing earlier stuff as well?
If there's time. I'm not sure yet, they said if I start as soon as DevilDriver finish I might get an extra song in so we'll see.
How long had you been working on the album?
Probably about 6 months, chipping away at it at home. Three tracks were supposed to be a split with two other artists and friends of mine, but that fell through last-minute so I kind of extended it to an album and put the Respiratory Prison tape on it as well. It shouldn't have worked but it does.
Who inspires your live performance and the mask?
I'm not gonna say the name you're dying for me to say which is 4 letters and a Polish band. Mayhem. Yeah Mayhem all the way.
If you could invite one person to guest on the next Abduction album, who would it be?
Attila Csihar from Mayhem, definitely. Get some Tibetan throat singing on there.
And does Abduction have anything exciting coming up that you'd like to mention?
A couple of shows coming up, I'm playing with my friends in Crimson Throne and From The Box Of Orgishka in Stoke on the 22nd, and a few things coming up in November and December that I've not announced yet, but I think the next thing coming up might be a tour, but nothing to confirm yet.
For all things Abduction, click HERE.