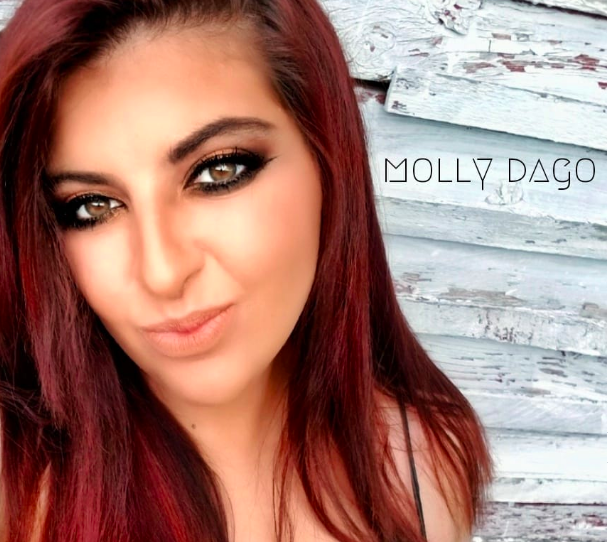 Interview with Singer/Songwriter Molly D'Ago
28th March 2019
0
By
DJ Pixie
Molly D'Ago
is one hell of a guitar player as well as an incredibly talented singer songwriter. I was very fortunate to interupt Molly's very busy schedule and grab her for a quick chat
Hey Molly, thanks for speaking to us today at All About The Rock!
Hi, thank you for being interested in my stuff!! I really appreciate it!
We see you have played alongside the likes of Tantric, now doing your own solo project which will feature a guest appearance from vocalist and front-man of Tantric Hugo Ferreira.
 My first single I'm putting out is the song you're referring to. It's called Lifetime and its coming out soon! Hugo worked with me while I was writing the song and helped demo the song as well. The guest vocalist appearing on the actual release is Waylon Reavis of the legendary hard rock group "Mushroomhead" and his new band "A Killer's Confession."
You have a new album out called 'Certifiable', did you go into a studio to record this?
Yes! I recorded this album in Detroit, Michigan last May with the amazing producer Chuck Alkazian. Chuck has worked with so many super stars, I'm grateful he took on my project.
How did you find the production went for this?
I am really happy with how the album turned out. The production is top-notch thanks to my producer Chuck. When I left Detroit after tracking the record, Chuck still continued to take my phone calls shooting ideas back and forth nearly every day until nearly September! We were very meticulous in the selection and execution of the music.
How did you find writing for your own solo album?
It was a lot of fun. I actually started songwriting for other artists a couple of years back. It was a big step for me to not only have confidence to perform my own music but also to actually pick the songs I thought fit me! I was writing everything from candy pop to Nashville Country to even some R&B… But I'm a rocker at heart.
Where did you find inspiration for your lyrics?
The album is a sort of progression of a couple experiences I had over the recent years with a guy who was really a crazy person. In turn, I felt like he made me a crazy person! That is why my album is called "Certifiable" which also happens to be the title track. The album is curated to kind of tell the story of losing yourself into some form of madness, rescuing yourself, and then realizing that maybe that madness isn't a bad thing and to just truly embrace it and the people involved in it!
Which song that you have written is your favorite?
My favorite song on the album is probably Lifetime. The writing process, although very fast (the song was written and tracked all in the same day), honestly was healing for me. As I mentioned before I was working a little bit with Hugo Ferreira on the day we demoed the song and he served as a huge inspiration and if this song becomes successful, he is truly someone I will be thanking forever. No matter how much we fight and give each other grief – he will always have a special place in my heart from working on music together.
Which song did you have the most trouble writing and is there a reason for this?
All of them. My songs I usually write super fast, like in an hour or two. Then I let them sit and revisit the next day and 99 times out of 100 I will say to myself "um, are you deaf? This is terrible." All the songs that made the cut for this album went through a ton of reworking. In fact, the original idea I had for Lifetime (based around a catchy guitar riff I wrote) is COMPLETELY different from the finished product you will hear!
Digging into your archives we see that you were mentored by Chris Cafferty of Trans Siberian Orchestra, how did all that come about?
For a very brief period of time when I was 16 or 17 I took a few guitar lessons with Chris. TSO was the first concert I ever went too so I have always been inspired by his playing.
Has he been supporting you with your solo project?
For the most part, yes. He has shared some of my promo stuff on his social pages. He also heard the album before we submitted the final copies to my management company.
How do you find running your own solo project compared to playing in a band?
It's weird because people kiss my ass! (Can I say that? Yes you can) I'm so used to relying on singers. Singers have always kind of been a pain in the butt in my career as a guitar player. That is kind of why I wanted to pursue a solo career. I'm happy I did.
While performing solo have you ever had to deal with performance anxiety and if so are there any tips on how others could deal with this?
Yes, definitely. I always was able to hide behind my guitar as a guitar player. The key to singing well is having confidence. As I get better, I hear a huge difference and it really isn't because of a change in ability – it's a change in confidence. I have been working with Ben Mauro a little bit – he plays guitar for Lionel Richie. He is also a guitar player turned singer and he has been so awesome trying to encourage me to be more confident and also give me some exercises to work on. I think the best advice I can give is to find a great mentor like Ben – someone who has been there and gets it to talk you through the mental game. However, if you don't happen to know any of Lionel Richie's band (laughs), the truly best thing I have found eliminates performance anxiety is, well, two things
(1) don't eat before your show and
(2) force yourself to sing in front of friends and family.
I was always most scared of my friends and family thinking I sucked. So, when I forced myself to invite them all to a local show – I realized – If I can sing in front of these people, I can sing in front of anyone! Hope that helps. 
What have you found to be the biggest hurdle in the music business?
Getting screwed. I have constantly been through the ringer with people who promise so much and then either flake, or just turn out to be complete liars. I recently just dealt with that situation with a booking agent. This person who was booking one of my tours, signed a contract and everything, turned out to be completely fake. Another time, I remember I quit my job to tour with a pretty well-known band. I did a ton of press about it and then, as it turned out, the singer just wanted to date me so he bated me with a fake opportunity that never even existed. People suck sometimes.
If you were to have a movie made of your life, who would you want to play you and why?
Jennifer Garner because she's a bad ass. I am not exactly a bad ass, but I like to pretend I am.
Out of everyone you have written and performed with, who has been the most fun or who have you learnt the most from?
Learned the most from – Tantric
Most fun playing with – Pacinello (Not really a famous band, it was my first band ever that somehow got a record deal. We were terrible but at that time I was so innocent to how difficult the music industry really can be so I was able to actually have fun and believe that I was making peoples lives a little better. My dad was also in that band (which is a funny story for another time!) Sometimes I wish I could go back and channel that energy and hope that I had during my time as the guitarist for Pacinello.)
What's next for you?
Figuring out what's for dinner tonight, probably. (Also, check out my single "Lifetime" feat. Waylon Reavis dropping April 8th!!) (Click
HERE
for a sneaky peak)
Thanks so much for taking the time to ask these questions! I really appreciate the support from AATR!
Thank you for taking the time out to answer them.
For all things Molly D'Ago, click HERE
How useful was this post?
Click on a thumb to rate it!
Average rating 5 / 5. Vote count: 1
No votes so far! Be the first to rate this post.
Related
About the author
I started off in media back in 2009-2010 working for Rach at Bolton FM as her PA. I was then a Radio DJ in Blackpool for 2 years 2010-2012 for Impact Radio doing the Rockout Show, until the station closed due to lack of funds. From here i went onto working for My Global Mind Webzine, TBFM Radio & Magazine and now All About The Rock. Currently writing and doing photos for 3 webzines keeps my days filled with lots of rock n roll updates and music lovelyness.