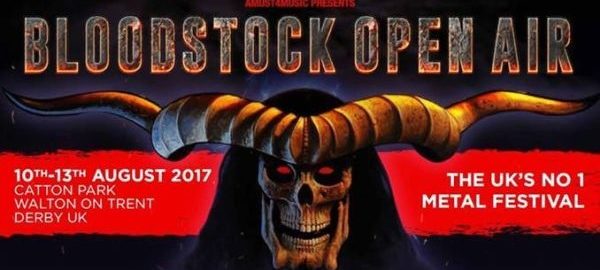 Just ten more weekends before BLOODSTOCK!
30th May 2017
Time is zipping past and there are now just ten more weekends before BLOODSTOCK!  Have you planned your travel and dusted off your tent?  BOA HQ is busy with preparations, site visits are underway and we've confirmed nine more bands and a whopping 26 more club nights!
Lining up for a Sunday slot on the Sophie Lancaster stage are PUPPY.  Freshly signed to Spinefarm, the hotly tipped band were recently chosen to open for CKY on their comeback tour.  The band tell us "We're beyond excited to be playing Bloodstock. Every year we're in awe of how good the line up is, so for them to ask us to jump on board is a real privilege.  See you guys in the pit for Megadeth!"
Grabbing a Saturday Sophie slot are much lauded Londoners, THE ONE HUNDRED. Their new album 'Chaos + Bliss' comes out on 2nd June via Spinefarm. 
  Frontman Jacob tells us, "BLOODSTOCK is one of the finest heavy music festivals on the circuit and we are excited to be joining an already amazing lineup.  See you in August!"  Also appearing on Saturday are Welsh rockers,
FLORENCE BLACK
.   –  – and check out their new 'EP II' at iTunes or Spotify.  Midlands thrash animals,
ERADIKATOR
also join the Saturday bill. 
Last seen at BLOODSTOCK on the Jagermeister stage in 2015, Reading stoner/sludge squad MORASS OF MOLASSES bring their swamp and groove filled riffs to the Sophie stage on Friday.  Get to grips with 'My Leviathan' at https://youtu.be/F_cTjECbvZA.   
We've also locked down the undercard for Thursday night's party night bill, below that night's headliners, BATTLE BEAST.  We welcome back 'Metal 2 The Masses' alumni, RAMAGE INC. to open the weekend's proceedings!  Check out the tech metallers'
-.  Party doomsters, GURT also land a slot.   – .  
THE INFERNAL SEA
will bring their black metal noise to the bill.  -.  Lastly, Italy's
WIND ROSE
round out the Thursday bill with their 'Lord of the Rings'-inspired dwarven folk metal.  The second phase of BLOODSTOCK club nights start on 2nd June!  Get along to one of the following events, bang your head to some tunes from BLOODSTOCK bands old and new, and be in with the chance of winning weekend tickets or related giveaways.  Expect fun ways to win – previous year's events featured the likes of bucking broncos, endurance tests, and air guitaring!  Check your local club for details, as dates may be subject to change.  Events for June/July run as follows:
Fri 2nd Jun – Nottingham – 'Tactical Assault' at The Level, NTSU (featuring Evil Scarecrow)
Sat 3rd Jun – Hanley – 'Devil's Night' at JJ's
Sat 10th Jun – Glasgow The Cathouse
Sat 17th Jun – Coventry – The Phoenix
Sat 24th Jun – Sheffield – The Corporation
Sat 24th Jun – Norwich – 'Meltdown' at The Waterfront
Sat 24th Jun – Birmingham – Eddie's Rock Club
Mon 26th Jun – Reading – Sakura
Thu 29th Jun – Exeter 'TPT' at Timepiece
Fri 30th Jun – London 'Voodoo' at Elektrowerkz
Fri 30th Jun – Camberley – The Agincourt
Sat 1st Jul- Hanley – 'Devil's Night' at JJ's
Sat 1st Jul – Brighton 'Apocalypse' at Envy
Sat 1st Jul – Wolverhampton Civic Hall
Fri 7th Jul – Leicester 'Feedback' at Firebug
Fri 7th Jul – Woking – Schism
Fri 7th Jul – Reading – 'The Pit' at Face Bar
Sat 8th Jul – Coventry – The Phoenix
Sat 8th Jul – Southampton – 'Apocalypse' at The 1865
Fri 14th Jul – London 'Project Mayhem Pirate Party' at Electric Ballroom
Sat 15th Jul – Burnley – Sanctuary
Sat 22nd Jul – Norwich 'Meltdown' at The Waterfront
Sat 22nd Jul – Birmingham 'Uprawr' at Asylum
Sat 22nd Jul – Middlesbrough 'SUMO/Holy Shit' at Medicine Bar
Sat 29th Jul – Birmingham – Eddie's Rock Club
Sat 29th Jul – Sheffield – The Corporation
Planned your travel to BLOODSTOCK yet?  Need a lift or driving there and want cash for your empty seats?  BLOODSTOCK have teamed up with GOCARSHARE.  Register where you're travelling to/from, or your route, and then wait for drivers/passengers to get in touch!  GOCARSHARE is integrated with Facebook, so you can check out your possible travel buddies and they encourage travellers to post feedback.  Plus you might even win a pair of tickets for next year!  For full details, head over to http://gocarshare.com/festival/bloodstock.  Prefer to come by coach?  BIG GREEN COACH have 21 departure cities directly to BLOODSTOCK in 2017, from all over the UK.  They'll bring you, all your camping gear and beer supplies, and drop you hassle free right inside the festival grounds.  Visit http://www.biggreencoach.co.uk/events/bloodstock-festival-tickets-coach-travel.
Already announced for 2017 are our three headliners AMON AMARTH, GHOST, and MEGADETH, plus ARCH ENEMY, KREATOR, BLIND GUARDIAN, HATEBREED, TESTAMENT, OBITUARY, KING 810, BRUJERIA, WHITECHAPEL, SKINDRED, POSSESSED, ANNIHILATOR, MUNICIPAL WASTE, HELL, DECAPITATED, SOILWORK, CHELSEA GRIN, MACABRE, INQUISITION, SCARAB, WINTERSUN, ONI, DENDERA, KROH, ABHORRENT DECIMATION, COURTESANS, WRETCHED SOUL, BOSSK, WINTERFYLLETH, GODS, BLIND HAZE, ARTHEMIS, SEASON'S END, BLIND RIVER, ENDEAVOUR, BLAAKYUM, DAKESIS, NORDJEVEL, TORQUED, BLACK MOTH, MANTAR, WOLFHEART, LIONIZE, BROKEN TEETH, DEVILMENT, BATTLE BEAST, DEVIL'S PLAYGROUND, BA'AL, MERITHIAN, ENSLAVEMENT, ZHORA, MIST, SHROUDED, and HEATHEN DEITY.  Many more are still be announced!  Stay tuned to BLOODSTOCK's social media at https://www.facebook.com/bloodstock and https://twitter.com/bloodstockfest for the latest!
BLOODSTOCK will take place at Catton Park, Derbyshire on 10th-13th August 2017.  Standard weekend camping tix are on sale at £139 (+ booking fee) from http://bloodstock.seetickets.com.  Children's weekend tickets are just £35 (+ booking fee) and under 4's go free!  Can't come for the whole weekend but can join in for a day?  Sign up at https://www.seetickets.com/register/bloodstock for a heads up when day tickets go on sale so you don't miss out!  VIP & camper van tickets are sold out.