Knotfest: A New Global Content Destination + Roadshow Stream
28th May 2020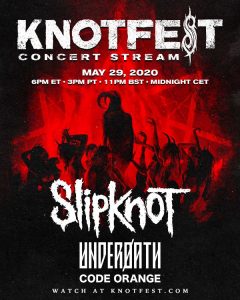 We are excited to announce today that we have launched a brand new online community at Knotfest.com, created for those seeking a global multi-media hub for news, exclusive interviews, performances, merchandise and more dedicated to covering the very best of art, music, culture and media for fans of heavy culture. With this newly re-imagined site, we're able to be a fan-centered platform, created by artists for their fans. Dedicated to expanding the rock and metal genres and providing a one-stop destination showcasing the very best the culture has to offer.
Knotfest will capture all facets of the culture across visual, audio and written media. In addition to several exclusive new content series, the highlight of this artist created content will be the brand new audio interview series, The Electric Theater hosted by Clown – a weekly, laid back hang featuring discourse with the world's most interesting people. The first episode is live now and features Jami Morgan of Code Orange.
Marking what would have been the kick-off weekend of the Knotfest Roadshow, Knotfest will be streaming exclusive concerts & interviews with Slipknot (Graspop 2019), Underoath (Las Vegas 2016 performing 'They're Only Chasing Safety') and Code Orange ('Last Ones Left: In Fear of the End') this Friday, May 29 at 6pm ET / 3pm PT at knotfest.com.
Limited edition Knotfest Roadshow merch is now available this week only featuring items that would have been sold this summer.