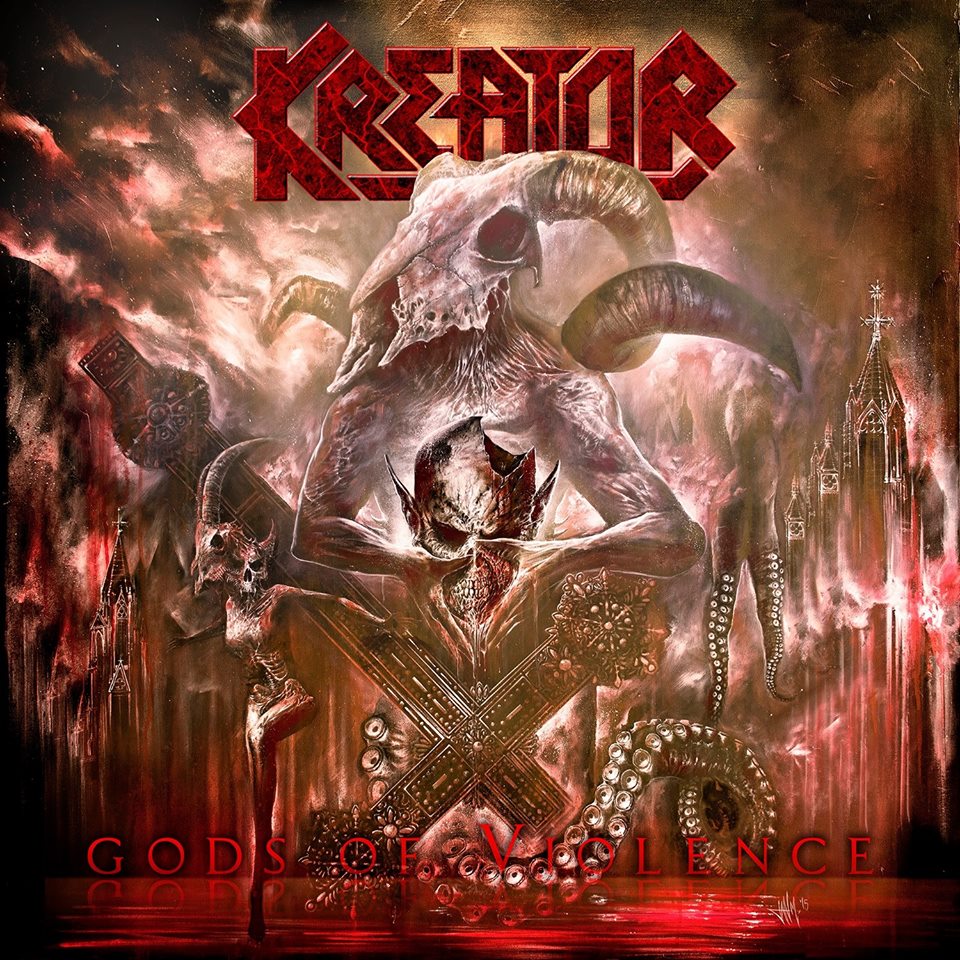 Kreator – Gods of Violence CD Review
6th January 2017
Kreator have forever been a force to be reckoned with in the world of thrash. From their visceral, genre defining first albums right up to their modern, epic material, the four-piece always deliver excellence. It's no secret that the '90s was not a good time for thrash, but Kreator's '90s albums and experimentation were significantly less heretical than many of the genre's other titans. Sure, Renewal or Outcast don't even play the same sport as Pleasure To Kill or Enemy of God, but they are certainly leagues better than the likes of Load, Risk or The Least Successful Human Cannonball. 2012's Phantom Antichrist saw Kreator receive universal critical acclaim for what many called one of their best albums to date. And with their longest break between albums to date, Kreator return with their fourteenth offering, Gods of Violence.
2017 marks five years since Phantom Antichrist, so Kreator's loyal fanbase are itching for a new album. But as with every excellent release, there is the worry that the follow-up doesn't hold up to the hype. Gods of Violence does not have this problem. With their newest offering, Kreator take the Swedish melodeath influence that has been present since the turn of the century, mixing it with a new-found ferocity to rival their 1986 classic Pleasure To Kill and a grandiose sense of scale that dwarfs Phantom Antichrist. There is nothing that can be faulted about this record – all killer, no filler, and utterly perfect.
The record opens with Apocalypitcon – a short intro piece that leads into a four-and-a-half minute blast-fest that comes quicker than a quarterback on prom night: World War Now. With World War Now, Kreator prove beyond all reasonable doubt that while they are keen to grow as musicians and include a metric tonne of melody in their music, they are still the same vicious thrash band that conquered Europe in the '80s. The riff-work and the supremely catchy chorus of the supremely epic Satan Is Real bury their way into your subconscious, and will make themselves known hours after the last time you hit play. Satan Is Real and the hook-heavy Totalitarian Terror are guaranteed to be featured heavily in Kreator's live set for the foreseeable future.
The second half of Gods of Violence carries some of the albums best tracks. Whether it's the sitar-driven intro that was absent from the single version of Gods of Violence, the super-catchy melodies of Army of Storms, the briefly soothing and wholly decimating Lion With Eagle Wings, or the anthemic Side By Side, the second half of this record is slammed with instantly classic musicianship. The fan tribute of Hail to the Hordes is another track that we're likely to see live this year, and the haunting hooks of Fallen Brother drive their way into your skull like a pneumatic drill. The final track on Gods of Violence is undoubtedly one of the best. Opening with a melancholic guitar passage and some stunning clean vocals, Death Becomes My Light immediately makes itself known as one of the album's more melodic tracks. However, the seven-and-a-half-minute epic is still as brutalising as one would hope from Kreator.
It goes without saying that across Gods of Violence as a whole, the musicianship is god-tier. Mille Petrozza is inarguably one of thrash's best songwriters. The riffs right across Gods of Violence are as catchy as they are visceral, and the solo work is exactly the kind of shred-fueled, face-melting brilliance we have come to expect from Kreator. The ferocity of the guitar work from Petrozza and Finish virtuoso Sami Yli-Sirniö is matched only by the speed of Jürgen Reil's machine-like drumming. 
"Legacy" bands are often an easy target for critics and nostalgia addicts who insist on living in the '80s. But Kreator are almost impossible to criticise. Not because of a legendary status, or because it's too easy, but simply because the Teutonic four-piece have never released a bad album. Gods of Violence continues this trend, raising the bar and then some. With this record, Kreator have created a slab of truly eviscerating aural perfection. Thrash may have been born in San Francisco's Bay Area, but it was perfected in Essen.
Score: 10 out of 10
Reader album rating: [ratings]
Gods of Violence Information
Track List:
1. Apocalypticon
2. World War Now
3. Satan Is Real
4. Totalitarian Terror
5. Gods of Violence
6. Army of Storms
7. Hail To The Hordes
8. Lion with Eagle Wings
9. Fallen Brother
10. Side By Side
11. Death Becomes My Light
Record Label:
Nuclear Blast Records
Release Date:
27th of January 2017
For fans of…
Testament, Destruction, Sodom
Catch Kreator performing tracks from Gods of Violence on tour this year at these dates!