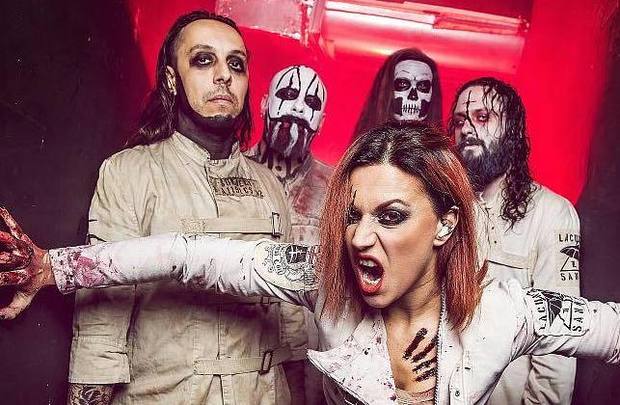 Lacuna Coil, London Kentish Town Forum 19/1/18
26th January 2018
Hailing from Milan, Italy, Lacuna coil has been well established on the Rock,Goth,Metal scene for a long time now and tonight the venue is bustling with fans of the band and I am drawn to the diverseness of ages they attracts. 
This I like to see and a band with strong stage presence and songs with good melody are more likely to achieve this.
As this is a 20th Anniversary show they have opted for no support for tonight . The stage is dressed like a Circus tent for the show but as soon as the first note is hit I can tell you there is no clowning around . Straight away you can tell this band means business!
The first song was A CURRENT OBSESSION which is an epic mid paced song. From the get go it is obvious Cristina Scabias vocals are in fine tune and Andrea Ferros raspy approach is a great contrast.
It is nice to see a band with 2 lead vocalists also. I can see the appeal for many with this band with the mix of heavier and the more melodic side of vocals. If you like Evanescence or bands like Nightwish you may like Lacuna Coil. Musically it's a different approach to those bands and Cristinas vocals are in my opinion better than Amy Lee and not delivered in an operatic style like many others . Not to detract from those aforementioned bands but I feel this band have made their own stamp.
There was a slight element of the Rob Zombie band probably due to the boiler suits and freaky makeup. The bassist looked a bit like Captain Spaulding the Clown from (House of a 1000 Corpses/Devils Rejects. It was a good look!
Throughout the night there were dancers, people on stilts, people swinging off ribbons and ropes suspended from the roof with fireworks and flames.
This was a well rehearsed show with set pieces throughout the night.
For all their fans you can tell Lacuna Coil was no holding back on the show and wanted it to be a memorable night for everyone. The band throughout was interactive and pretty damn faultless.
After tonight I can see how they have achieved a loyal fan base stretching over 2 decades. They did a great tribute to their Ex Member Claudio Leo mid set which was poignant.
There was a highlight near the end of the gig with Cristina Scabia being flown up above the stage 20/30ft with her massive dress flowing down to the floor singing with just a pianist. The audience looked totally mesmerized!
The show came to a close with three encores of which one was a cover of Enjoy the Silence (Depeche Mode).
So to sum it up.
This band did themselves and their fans proud. Fantastic visuals, stage and the band performance was great! It was more of a stage show than a normal run of the mill gig!
Molto bene!!!
Set List
Intro
A Current Obsession
1.19
My Wings
End of Time
Blood, Tears, Dust
Swamped
The Army Inside
Veins of Glass
One Cold Day
The House of Shame
When a Dead Man Walks
Tight Rope
Soul Into Hades
Hyperfast
I Like It
Heaven's a Lie
Senzafine
Closer
Comalies
Our Truth
Piano set
Falling
Wide Awake
Encore:
I Forgive (But I Won't Forget Your Name)
Enjoy the Silence (Depeche Mode cover)
Nothing Stands in Our Way
For all things Lacuna Coil, click HERE