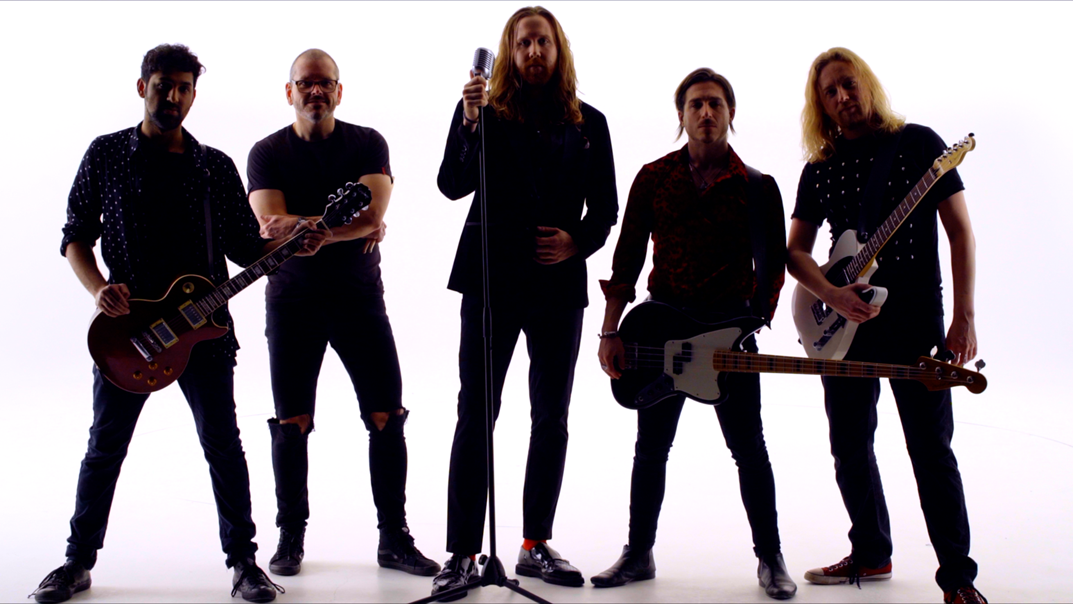 'LEAVE BEFORE THE LIGHT' – There's a Bright New Dawn as AT THE SUN'S Release Their Brilliant Debut
8th March 2019
With their debut album, 'Leave Before The Light', being released today (March 8th), 2019 looks to be a big year for rising rockers AT THE SUN! The band are also releasing the brand-new video for the album's first single, Only A Fool.
Formed in 2016, Harry (Vocals), Kieron (Guitars), Alex (Bass), Chet (Guitar) and Craig (Drums) spent a year honing their skills on the live circuit before heading into the studio to record 'Leave Before The Light' late last year. With a driving but melodic sound, AT THE SUN believe in writing songs people can move to, combining big riffs with big rhythms and singalong choruses.
"We want people take a real positive message from this album," say the band, "It's all about standing up for yourself, enjoying life and getting away from the stresses and anxieties of modern-day living. Breaking from tradition, we recorded it in separate sessions over the space of a year, so we had the opportunity to really show how the band has grown and absorbed new influences – something we think you can hear with the variety of songs on here. This isn't a snapshot in time; it's a living breathing journey that we went on!"
"We're so excited to finally be able to share this album with the world," adds guitarist Chet, "It's been a roller coaster of a ride to get here! Being an unsigned band, we're so grateful to our fans for supporting us throughout the process – it wouldn't have been possible without them. It's an album full of real and personal experiences: something we hope people can relate to. We love recording music, but at our hearts we're a live band and can't wait to hit cities up and down the UK on the 'Leave Before The Light Tour'. See you in April!"
ATS's latest single, 'Only A Fool', whose vibrant, colourful video has just been released to herald 'Leave Before the Light' is a prime example of what makes an AT THE SUN song: big riffs melting into soulful vocals to create a rock track with wider appeal.
"As the first song we wrote as a band, 'Only A Fool' was a fitting choice as our album opener," says guitarist Kieron, "We think it sets the scene perfectly for what's about to come: it's got melody, it's got riffs, it's got heaviness – it's everything we love as a band!"
Check out the newly-released album, single and video, and remember : with UK festivals lined up for 2019, along with a UK tour supporting the album, there is no excuse not to journey to see these guys in their natural habitat: live!
LEAVE BEFORE THE LIGHT TOUR DATES
April 5: Wolverhampton, Giffard Arms
April 6: Bridgwater, Cobblestones
April 9: Manchester, Gullivers
April 10: Nottingham, Maze
April 11: Sheffield, Mulberry Bar
April 12: London, Black Heart
April 13: Hatfield, The Rock Den
April 14: Brighton, Hope & Ruin
May 3-5: Newport, The Patriots 22nd Anniversary Weekender
www.atthesun.com
@atthesunband
www.facebook.com/atthesunband
How useful was this post?
Click on a thumb to rate it!
Average rating / 5. Vote count: