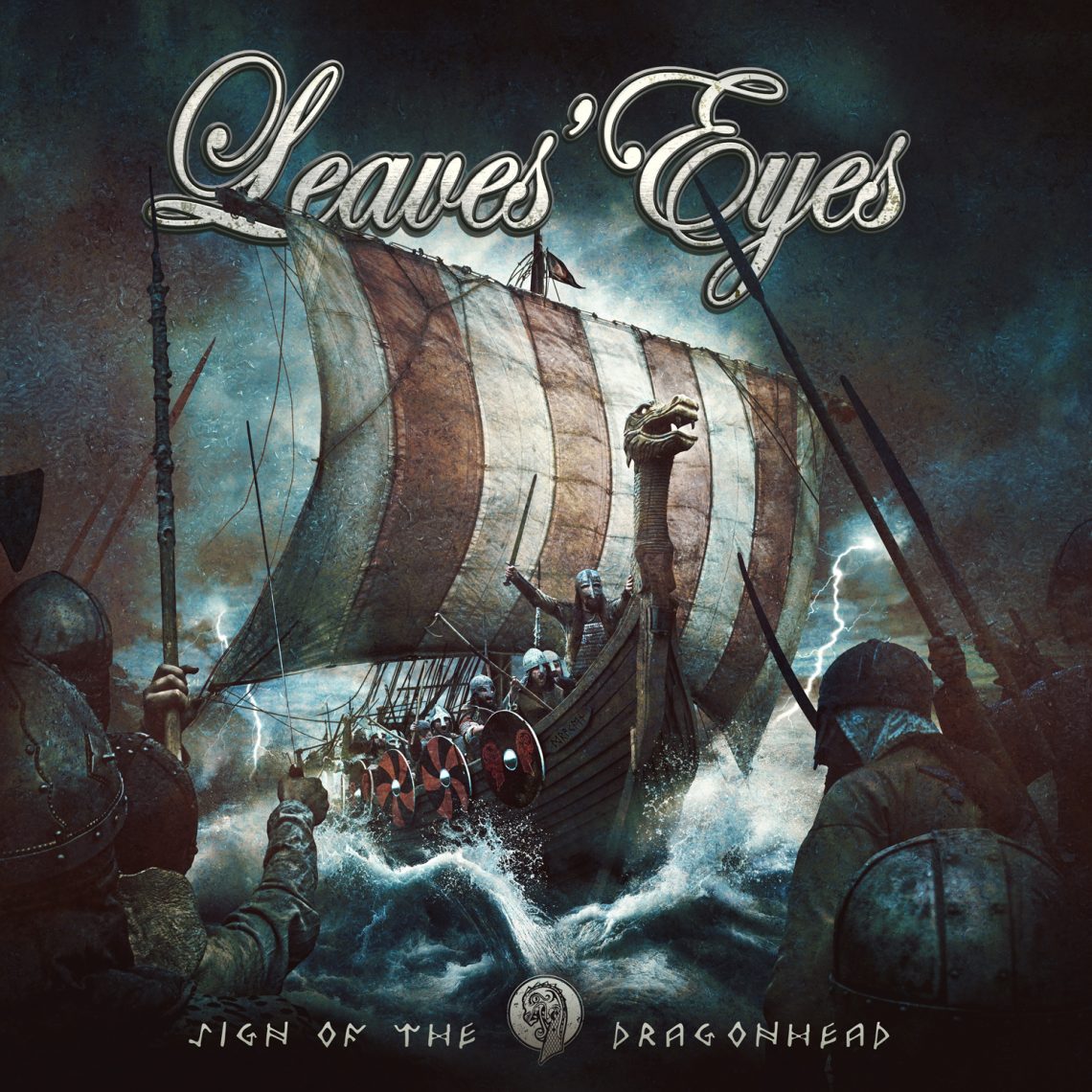 Leaves Eyes – Sign Of The Dragonhead
10th January 2018
0
By
Gavin Griffiths
At the turn of the Millennium, alternative music was undergoing changes and, as we stepped away from the era of nu metal there was a big shift in tastes, and one of the prominent developments was the growing popularity of epic, symphonic metal. While it's primarily a Scandinavian trait, we have, in ways EVANESCENCE to thank a great deal due to their mainstream success and Amy Lee's powerful, occasionally operatic vocals, and it led the way for many female singers to blossom in the world of metal. Female-fronted may be looked upon as a derogatory term by some, but the influx of metal bands led by a range of incredibly vocally talented women was undeniable…from the bombastic opera inspired tones of NIGHTWISH, through to the darker, Gothic-inspired theatrical influence of WITHIN TEMPTATION…it was the season of the soprano and other bands quickly tried to capitalise. Cue LEAVES' EYES…the Norwegian outfit formed in 2003 and made their breakthrough with the track "Elegy" but never rose to the heights of the aforementioned…now…in 2018, they release album number seven, the first with new vocalist Elina Siirala…let's see how they've kept up with "Sign Of The Dragonhead"…
We open up with the title track and instantly we're met with all of the trademark characteristics expected of this genre…the subtle Nordic tones; the skin drums, the horns…coupled with the metal riffs, keyboard elements and of course…those vocals. This is very Tarja era Nightwish quite frankly and ticks all the appropriate boxes…some might say textbook. Elina's voice is strong but it has a softness to it…giving production quality a smooth edge…at least it would if Alexander Krull wasn't growling all over the shop…the self-described "Beauty And The Beast" vocal style really adds nothing of any value, but it's a decent opener. Follow up "Across The Sea" and, likewise with tracks such as "Völva" with its up-beat intro and traditional instrumentation provide pleasant listens…while "Shadows In The Night" takes it up a notch with more hard rock qualities and intensity.
A large portion of the album falls a little flat though sadly…"Fires In The North" for example, you'd expect to be burning with a passion, a rage, a Norse battle cry…and while it does have its Viking elements, its sadly lackluster and fails to ignite any real excitement…it would benefit from a great deal more momentum and aggression…it's far from lit…"Like A Mountain" ironically never peaks as it plods along with a sense of lethargy…while "Waves Of Euphoria" is everything but euphoric over the course of its eight minute run time, though it does have some nicely layered piano. It's not a complete failure mind you…the ballad approach of "Fairer Than The Sun" really benefits Elina's voice and it's genuinely beautiful, and "Rulers Of Wind And Wave" is a nicely placed instrumental, providing a break from both vocals. Fans of Tarja will appreciate this, but Krull's growls really confuse this album…the styles don't gel well at all and he doesn't compliment Elina in the slightest. Her first album with the band, it has its moments but not everything clicked for this one.
Score: 6/10
Leaves Eyes Sign Of The Dragonhead Album Info
Track List
1] "Sign Of The Dragonhead"
2] "Across The Sea"
3] "Like A Mountain"
4] "Jomsborg"
5] "Völva"
6] "Riders On The Wind"
7] "Fairer Than The Sun"
8] "Shadows In The Night"
9] "Rulers Of Wind And Wave"
10] "Fires In The North"
11] "Waves Of Euphoria"
Record Label: AFM Records
Release Date: January 12th
Leaves Eyes Online: http://www.leaveseyes.com/
How useful was this post?
Click on a thumb to rate it!
Average rating 0 / 5. Vote count: 0
No votes so far! Be the first to rate this post.
Related
About the author
Gavin Griffiths AKA GavTheGothicChav 31 Based In South Wales Favourite Bands: HIM, The 69 Eyes, Paradise Lost, CKY, Rise Against, Alkaline Trio, Type-O-Negative, Turbonegro, Depeche Mode... Enjoys: Pizza, Jack Daniel's, Comedy Roasts, WWE, Horror Movies, Sloths, Panda's, Eurovision Dislikes: The Concept Of Being "Offended", Hype, Instrumental Tracks, Interludes, Overly Long Tracks