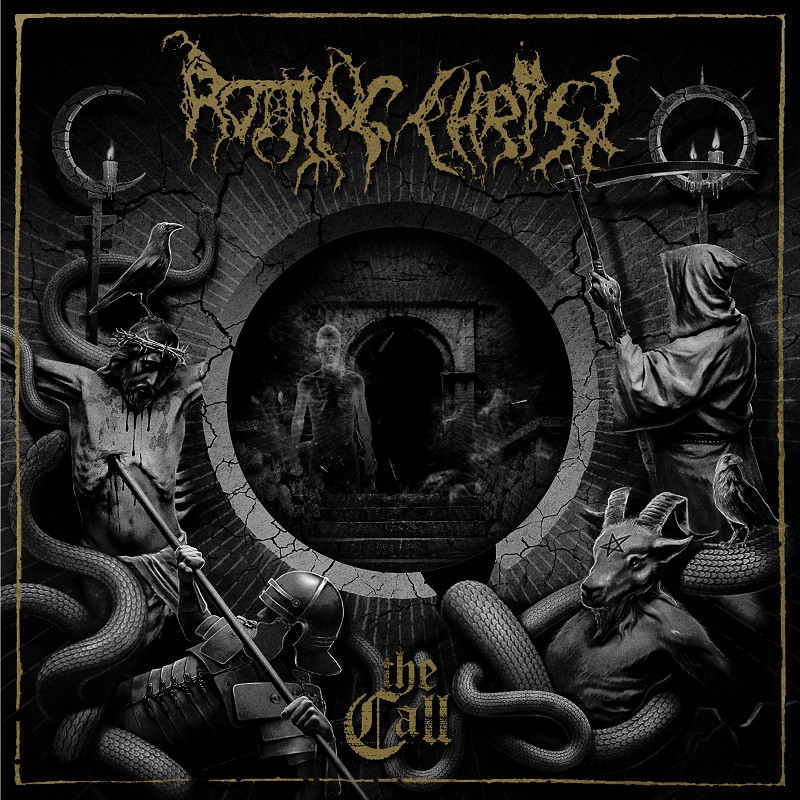 Rotting Christ kick off 30 year celebration with 'The Call' 7 inch single
10th January 2018
Commencing celebrations marking 30 years of Greece's premier black metal export, Rotting Christ in association with Peaceville Records present a brand-new studio offering in the shape of 'The Call' for this special 7", coming February 9th. With the epic title track recorded especially for this release showing a band still at the top of their creative powers, the EP also contains a live rendition of early classic 'The Sign of Evil Existence' featuring Behemoth's Nergal & Varathron's Necroabyssus on guest vocals. 
 Fans can pre-order 'The Call' HERE  
'The Call' acts as a precursor to the upcoming deluxe 5-disc set 'Under Our Black Cult' featuring a book written by The Cult Never Dies author Dayal Patterson chronicling the early years of the band from their grindcore origins to reigning masters of occult Hellenic black metal, with interviews with the band, plus fellow members from the black metal and underground scenes. Also featured are 5 audio discs containing the comprehensive early works of the band including demos, rarities, EPs, albums & live material, and rightly showing why Rotting Christ have sustained a three-decade legacy on the back of their inspirational beginnings. 
 "Dear Listener. What we are shortly releasing is a special edition 7 EP with a new unreleased song plus a live track with special fellow Metal soldiers that did the honour to sing with us on stage. We decided to celebrate our 30 years of existence with some faithful to our underground roots releases and 'The Call' is one of those releases. Hope you will enjoy our journey into the depths of the darkness and until the next 30 years celebration release…Keep the True Metal Spirit Alive" SAKIS on behalf of ROTTING CHRIST  
Greek black metal legends Rotting Christ formed in 1988, with their early demo recordings containing strong grindcore elements as the band quickly evolved their style into something altogether darker. Spearheaded by brothers Sakis & Themis Tolis, Rotting Christ have remained one of the strongest and most respected forces in the black metal scene since their debut release 'Passage of Arcturo'. Their legacy towards greatness was cemented even further by the genre classic follow-up 'Thy Mighty Contract', helping to firmly establish the Greek scene as being among the most essential black metal movements of the early 90's. 
 Rotting Christ is set to embark upon a January/February European tour taking in the following dates:  
26 Jan 2018-Turock-Essen-(GERMANY) 
27 Jan 2018-De Helling-Utrecht (NETHERLANDS) 
28 Jan 2018-Kultur Palast-Hamburg-(GERMANY) 
29 Jan 2018-Pumpehuset-Copenhagen-(DENMARK) 
30 Jan 2018-Musik & Frieden-(GERMANY) 
31 Jan 2018-Mega Club-Katowice-(POLAND)
 01 Feb 2018-Futurum-Prague-(CZECH REPUBLIC) 
02 Feb 2018-Alte Spinnerei-Glauchau-(GERMANY) 
03 Feb 2018-MS Connection Complex-Manheim-(GERMANY) 
04 Feb 2018-Petit Bain-Paris-(FRANCE) 
05 Feb 2018-Ferraileur-Nantes-(FRANCE) 
06 Feb 2018-CCO-Lyon-(FRANCE) 
07 Feb 2018-Razzmatazz-(SPAIN) 
08 Feb 2018-Acapulco-Gijon-(SPAIN) 
09 Feb 2018-RCA Club-Lisbon-(PORTUGAL) 
10 Feb 2018-Hard Club-Porto-(PORTUGAL) 
11 Feb 2018-Caracol-Madrid-(SPAIN) 
12 Feb 2018-Jas Rod-Marseille-(FRANCE) 
13 Feb 2018-Circolo Colony-Brescia-(ITALY)
 14 Feb 2018-Backstage-Munchen-(GERMANY)
 15 Feb 2018-Szene-Wienna-(AUSTRIA) 
16 Feb 2018-Gare de Leon-Wil-(SWITZERLAND)
 17 Feb 2018-Veghel-Veghel Black Fest-(NETHERLANDS) 
18 Feb 2018-Vosselaar-Biebob-(BELGIUM)  
The band will also be playing at this years summer festivals – so far they have confirmed they'll be playing at: 
12-13th May – Incineration Festival, The Dome, London, UK 
6-9th June – Sweden Rock Festival, Solvesborg, Sweden  
16-18th August – Midgardsblot Festival,Norway  
How useful was this post?
Click on a thumb to rate it!
Average rating / 5. Vote count: