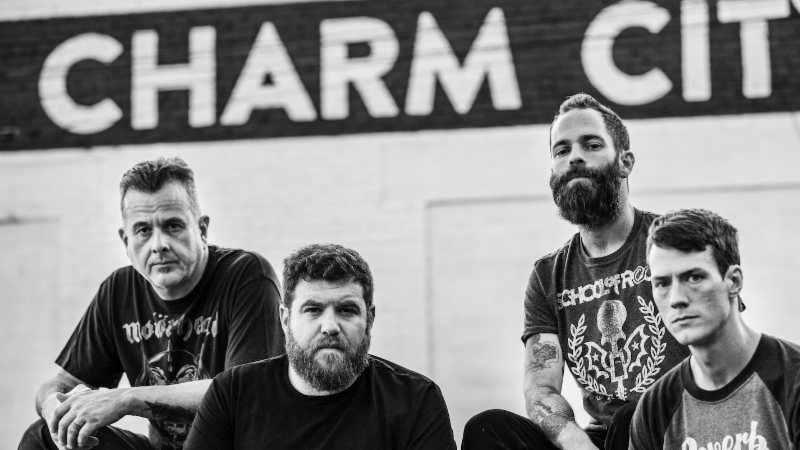 LIONIZE release new single 'Cheap Perfume' feat Jean-Paul Gaster
9th July 2019
US rock act LIONIZE have released 'Cheap Perfume', the second song off their forthcoming new album, 'Panic Attack!' (out October 18).
"This song is really a horror-fantasy about an evening at a gentlemen's club gone wrong. It's a Dungeons and Dragons meets From Dusk Till Dawn scenario where the protagonists are drawn into the soft blue glow of a dance club where many go in and few leave – in a slight return to our more fantasy based lyrics of Jetpack Soundtrack and Superczar albums," explains frontman Nathan Bergman.
Nathan comments, "We decided for the first time in our career to direct our own music video. This is the world premiere for 'Loneliest Whale' – where I am desperately and depressingly searching for my pod. I think music is such a beautiful community that brings everyone together – and even when we are at our loneliest music seems to be a constant friend. Also we got Jean-Paul from Clutch in a whale costume, so that's fucking awesome."
'Panic Attack!' showcases the band at their finest, bursting with huge choruses, massive hooks, and peak song-writing – LIONIZE's biggest, most song-driven, festival-ready album yet. The LP features Modern Drummer cover star & Clutch sticksman Jean Paul Gaster behind the kit and is the first to be released on LIONIZE's new label Electric Reckoning Music. 'Panic Attack!' was produced by LIONIZE with co-production from J. Robbins and Charlie Stavish (Imagine Dragons, Mars Volta), who also handled mixing duties. Pre-order at:
www.lionizemusic.com
.
'PANIC ATTACK!' TRACK LISTING:
1. Loneliest Whale
2. Cheap Perfume
3. Panic Attack
4. Andy Kaufman's Not Dead
5. Giant Spiders Of The Universe
6. Exploding Future Blues
7. Shot Down
8. Pretty Good Trick
9. Break Out
10. Heavy On My Mind
LIONIZE frontman Nate Bergman on working with Jean-Paul Gaster:
"We've worked with Jean-Paul on many aspects of the band over time – from producing, to touring, to helping us record and pre-produce entire albums. In many instances during an after hours late-night beer session in the studio or simply on a lunch break, Hank, Chris, and myself would find a chance to noodle around and jam with JP. It was always so exciting to play something new with the best rock and roll drummer in the world. When we asked him to record a full album with us and the answer was yes, it was an opportunity I knew would bring the best results the band has ever put forth. He is such a musical force that it's elevated the songs to a level we've never achieved before. I can't wait for everyone to hear the magic we made together."
Clutch's Jean-Paul Gaster on working with LIONIZE:
"I was honoured when LIONIZE asked me to play drums on their new album 'Panic Attack'. While I have worked with LIONIZE on many of their recordings, to be involved as a player this time around was an opportunity of a lifetime. Nate, Hank, and Chris have grown into musicians that inspire as much as challenge me. It was a thrill and the music we created is the best work the band has ever done. I'm excited for the fans to hear this unique mix of rock, funk, and soul music." 
FIND LIONIZE ONLINE:
How useful was this post?
Click on a thumb to rate it!
Average rating / 5. Vote count: