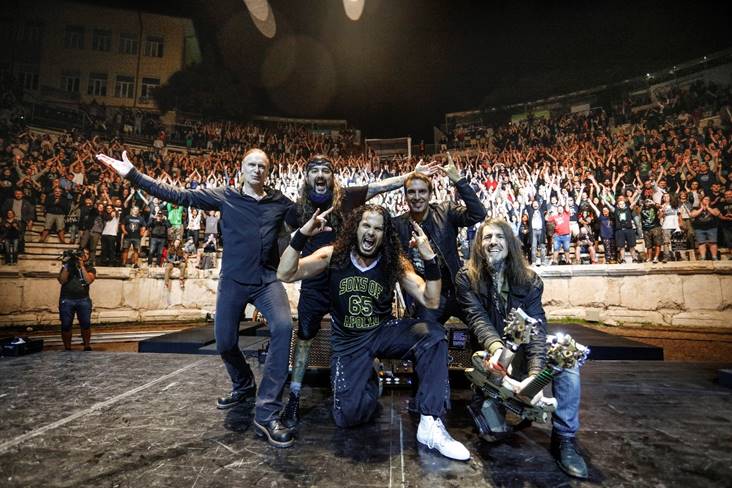 SONS OF APOLLO – 'Live With The Plovdiv Psychotic Symphony' trailer; pre-orders start
9th July 2019
SONS OF APOLLO–former Dream Theater members Mike Portnoy and Derek Sherinian, Ron "Bumblefoot" Thal (ex-Guns N' Roses), Billy Sheehan (The Winery Dogs, Mr. Big, David Lee Roth) and Jeff Scott Soto (ex-Journey, ex-Yngwie Malmsteen's Rising Force) — are pleased to announce the release of 'Live With The Plovdiv Psychotic Symphony' on the 30th August 2019.
'Live With The Plovdiv Psychotic Symphony' documents the band's remarkable one-off performance at the Ancient Roman Theatre in Plovdiv, Bulgaria alongside a full orchestra & choir, playing tracks from their debut album 'Psychotic Symphony' as well as a selection of tracks by legendary bands. It will be available as a limited deluxe 3CD + DVD + Blu-Ray Artbook, Special Edition 3CD + DVD Digipak, Standalone Blu-Ray & Digital Album.
Pre-orders for all formats are now available here: https://soa.lnk.to/LiveWithThePlovdivPsychoticSymphony
Mike Portnoy comments: "I've released several dozen live albums through the years with about a dozen different bands, but I have to say that this live release from Sons Of Apollo may indeed be the most special one of them all!! Everything was aligned that evening: an absolutely beautiful Roman amphitheatre and a perfectly gorgeous summer evening, one set of SOA material and one set of specially chosen cover songs, and to top it all off being joined by a symphony orchestra and choir…it was a magical evening for everybody in attendance and now we can share it with the rest of the world immortalized in this incredible live package.
This package will serve as a nice souvenir to capture the band's first year on tour and should tide over all of our fans while we complete work on our sophomore studio release that will coming in Jan 2020″
The track-listing is as follows: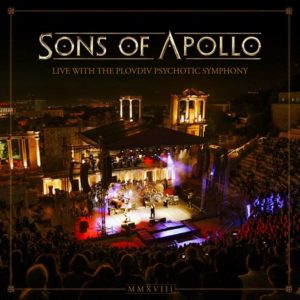 CD 1:
God Of The Sun
Signs Of The Time
Divine Addiction
That Metal Show Theme 
Just Let Me Breathe
Billy Sheehan Bass Solo
Lost In Oblivion
Jeff Scott Soto Solo Spot (The Prophet's Song / Save Me)
Alive
The Pink Panther Theme
Opus Maximus
CD 2:
Kashmir
Gates Of Babylon
Labyrinth
Dream On
Diary Of A Madman
Comfortably Numb
The Show Must Go On
Hell's Kitchen
Derek Sherinian Keyboard Solo
Lines In The Sand
CD 3:
Bumblefoot Guitar Spot
And The Cradle Will Rock
Coming Home
 Released October 20th 2017 via InsideOutMusic / Sony, PSYCHOTIC SYMPHONY is available as a 2CD Mediabook (featuring a second disc of instrumental mixes and extended booklet with an exclusive Studio Diary), Gatefold 2LP vinyl + CD (which comes with an etching on side D and the entire album on the CD), Standard Jewelcase CD & digital download. It was produced by the dynamic production duo of Portnoy and Sherinian, also affectionately known as "The Del Fuvio Brothers," which is the nickname given to them over 20 years ago during their time together in Dream Theater. Get your copy here: http://smarturl.it/SonsOfApolloPS
PSYCHOTIC SYMPHONY picked up fantastic reviews upon release, and got them a nomination at the Progressive Music Awards 2018 for Best International Band:
"Fuck the term 'supergroup', that's not what this is about. Sons of Apollo are simply a group that are super." – Classic Rock
"Psychotic Symphony is fierce, loud, bewildering, brilliantly performed and monstrously entertaining." – Prog Magazine
"God-like in conception, stellar in ambition and perfection in delivery." – Metal Talk
SONS OF APOLLO online:
www.facebook.com/SonsOfApollo1
INSIDEOUTMUSIC ONLINE:
www.insideoutmusic.com
www.youtube.com/InsideOutMusicTV
www.facebook.com/InsideOutMusic
www.twitter.com/insideouteu
How useful was this post?
Click on a thumb to rate it!
Average rating / 5. Vote count: