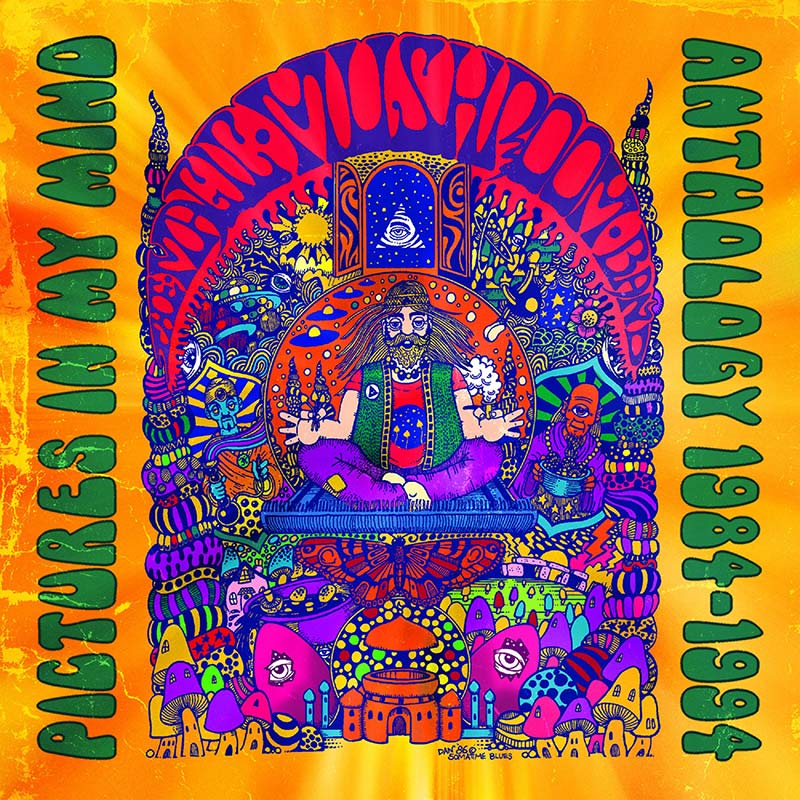 Magic Mushroom Band – Pictures In My Mind: Anthology 1984-1994
10th October 2016
Ozric Tentacles contemporaries Magic Mushroom Band are set to release an annotated compilation of material with 31 tracks exploring a decade of some of the best space & psychedelic music since the head days of Hawkwind.
What's great about this compilation is there is a shed load of previously unreleased live material, rare compilation tracks, alternate versions and recordings from the band's two Aftermath albums (Bomshamkar! and Eyes Of The Angel) that have never been on CD before, the 31 track compilation also includes recordings taken from the five albums the band recorded for Magick Eye Records who celebrate their 25th anniversary in 2016.
This double disc set opens with the classic Magick Eye & is a perfect example of what you're getting on both discs. From there on it just gets better & better.

This is over 2 hours of proper space rock. All re-mastered from the archives & the booklet has a comprehensive overview of the band along with many color & black & white pictures.

Grab your blackout curtains & illuminate the room with a lava lamp & experience the Magic Mushroom Bands hedonistic, technical & psychedelic recordings.
Score 7.5/10 & an essential purchase.

For fans of Pink Floyd

Track List
DISC ONE
1. MAGICK EYE
2. WIDE EYED AND ELECTRICK
3. LIVING IN A DREAM
4. BRAIN MACHINE
5. OPEN ARMS
6. WHO CAN SAY?
7. YOU CAN BE MY L.S.D.
8. IT'S UP TO YOU
9. LIQUID SKY
10. LOVE RESURRECTION
11. EYES OF THE ANGEL
12. BURNING LIKE THE SUN
13. WHAT'S ON YOUR MIND
14. KALEIDOSCOPE
15. TURBAN PARANOIA
DISC TWO
1. PICTURES IN MY MIND
2. AQUASIAN
3. FREEDOM
4. LOOK INTO THE FUTURE
5. SQUATTER IN THE HOUSE
6. FEEL SO FINE
7. ARAVINDA
8. HUBBLY BUBBLY
9. DANDELION PARACHUTE
10. HERBS & SPICE
11. THOUGHT TRAIN
12. LIFE IS SO STRANGE
13. WHEN DREAMS COLLIDE
14. MICROBURST
15. QUEEN OF DREAMS
16. DENMARK ELEPHANT GREY
Label
Cherry Red
Release Date
28th October 2016
Magic Mushroom Band – Pictures In My Mind is available to purchase HERE