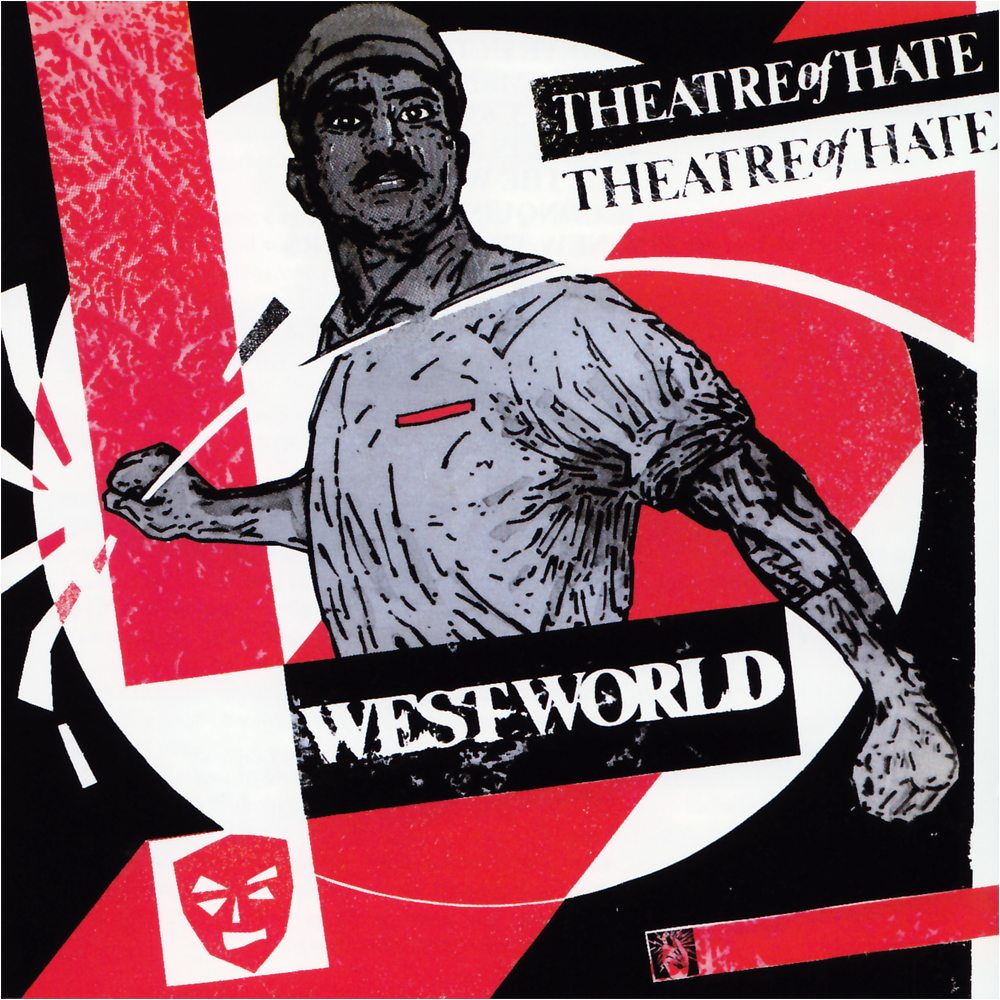 THEATRE OF HATE Westworld 25 November 2016
11th October 2016
Formed from the ashes of punk band The Pack, Theatre of Hate blazed their own trail through the post-punk netherworld of the early 1980s with a string of indie hits, fuelled by an unparalleled reputation as a formidable live act.
The band were fronted by a true star in blonde-quiffed singer/guitarist Kirk Brandon, joined by bassist Stan Stammers, guitarist Steve Guthrie, saxophonist John 'Boy' Lennard and drummer Luke Rendle.
After several acclaimed 45s and a live album He Who Dares Wins. Theatre Of Hate recorded their debut studio album with legendary Clash guitarist Mick Jones producing. The resulting LP, Westworld, was issued in February 1982 and reached No. 17 in the UK charts, promoted by a Top 40 single 'Do You Believe In The Westworld'.
Theatre Of Hate continued to enjoy success throughout 1982 with new guitarist Billy Duffy in tow, releasing a second live album (He Who Dates Wins: Live in Berlin) and more singles. However, sessions for a second album, Aria Of The Devil, were eventually abandoned, and the band broke up. Kirk eventually re-emerged in Spear of Destiny.
For some years now, Kirk has fronted a new-look Theatre Of Hate, who are due to unveil their first studio album since Westworld. Entitled Kinshi, in October.
Unavailable for many years on CD, Westworld has now finally been treated to a deluxe edition. Alongside the original album, which has been Remastered, are bonus tracks from the companion single, previously unreleased tracks from the band's John Peel sessions, a unique Top Of The Pops version of their hit, alternative mixes and a bonus live disc featuring a previously unissued recording of a live concert from the Westworld tour.
Housed in a clamshell box, the package also boasts within the booklet a raft of illustrations and fresh sleeve-notes penned by Moko's Pat Gilbert drawn from interviews with band members.
This Deluxe edition of Westworld is the first of several releases, which will reposition Theatre of Hate as true pioneers of the Post-Punk era. Watch this space!
WESTWORLD
Do You Believe in the Westworld
Judgement Hymn
63
Love is a Ghost
The Wake
Conquistador
The New Trail of Tears
Freaks
Anniversary
The Klan 
BONUS TRACKS
Do you Believe in the Westworld (7" Version)
Do you Believe in the Westworld (Dub Version)
Propaganda
Porpaganda (Ministry Of Broadcast Dub Version)
Original Sin (re-recording)
  BBC SESSIONS & RARITIES
Do You Believe in the Westworld  (Top of the Pops 4.2.82)
Love is a Ghost
Propaganda
Conquistador (Tks 2-4 John Peel 24.8.81)
The Klan (John Peel 2/8/82)
Do You Believe in the Westworld (John Peel 24.08.81)
63
The Wake (Tks 7, 8 John Peel 09.12.80)
Anniversary (John Peel 17.06.82) 
  ALTERNATIVE MIXES
Judgement Hymn
The Klan
The Wake
Conquistador
Original Sin
        LIVE IN VIENNA
The Wake
The Solution
Do You Believe In the Westworld
The Hop
Aftrica
Americanos
Anniversary
Eastworld
The Klan
63
Incinerator
Poppies
Propaganda