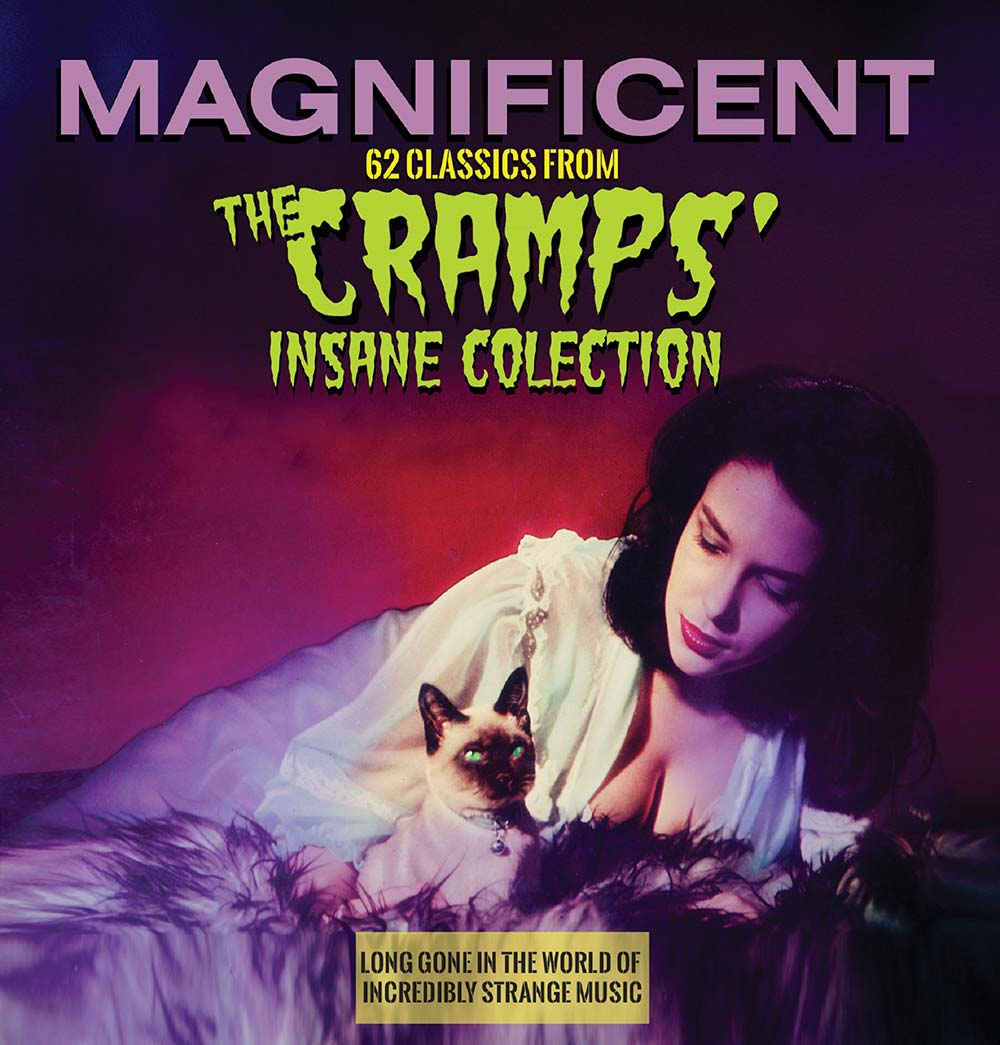 Various Artists – Magnificent: 62 Classics From The Cramps' Insane Collection
31st October 2016
62 tracks of some of the most 'far out man' Doo Wop, Psychobilly & incredible jungle grooves ever assembled in one place, Magnificent: 62 Classics From The Cramps' Insane Collection is exactly what it says on the tin. MAGNIFICENT.
From the ultimate classic & accessibility of The Purple People Eater by Sheb Wooley,

to the ultimately weird
Ken Nordine
s
Fliberty Jib
there is just so much music to discover on this 2 disc set that is beyond belief.
Compiled from
The Cramps
Lux Interior & Poison Ivy's personal & gargantuan record collection, there's a tonne of rare 45's on this collection.
Rudy Thacker & The Stringbusters
Black Train
, which was totally overlooked at the time makes an appearance on this collection.
Every track has been lovingly re-mastered from the original source material & is now perfectly preserved for many years to come.
Full of sax grooves, echo tape guitars & anthemic tunes to make even a goth smile this is a totally worthy purchase.

For fans of The Fabulous Wailers
Score 10/10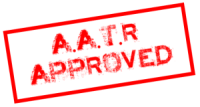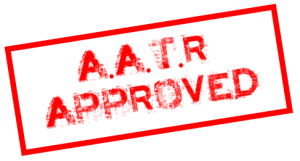 compilation album of the year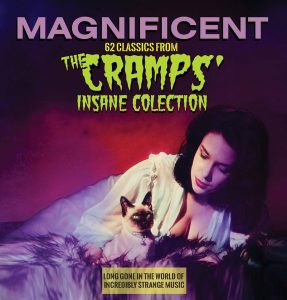 Track List
DISC ONE:
1. BLAST OFF! – Jimmie Haskell And His Orchestra
2. GHOST SATELLITE – Bob And Jerry
3. THE BLOB – The Five Blobs
4. THE PURPLE PEOPLE EATER – Sheb Wooley
5. GHOST TRAIN – The Electro-Tones
6. SCORPION – Jimmy McConville
7. T-BONE – Larry Collins
8. WAIT UP BABY – The Duals
9. YOU'RE GONE BABY – Jimmy Lloyd
10. RIOT IN CELL BLOCK #9 – Wanda Jackson
11. WILD WILD PARTY – Charlie Feathers
12. WILD PARTY – Dicky Doo And The Don'ts
13. LITTLE GIRL – John And Jackie
14. OO EEE – Ric Cartey
15. HOLD IT! – Buddy Starr And The Starliners
16. SICK! SICK! SICK! – Terry Corin And Her Boyfriends
17. TRAIN TO NOWHERE – The Champs
18. BLACK TRAIN – Rudy Thacker And The Stringbusters
19. FOG CUTTER – The Frantics
20. BO DIDDLEY IS A LOVER – Bo Diddley
21. THE HUNCH – Mad Mike And The Maniacs
22. FLIP TOP BOX – Dicky Doo And The Don'ts
23. THE MUMMY'S BRACELET – Lee Ross
24. DEAD MAN'S STROLL – The Revels
25. MAD – The Social Outcasts
26. MIDNIGHT LIMBO – The Tides
27. BI-AZA-KU-SASA – The Mogambos
28. BWANINA (PRETTY GIRL) – The Tokens
29. KING KONG – Albert Elias
30. KING OF THE JUNGLE – The Wildmen
31. TREE TOP – Lee Chandler And The Blue Rhythms
DISC TWO:
1. BAD BAD WAY – Roger And The Tempests
2. ROCKIN BONES – Ronnie Dawson
3. REAL WILD CHILD – Ivan
4. YEAH BABY – Betty Smith And The Rhythmasters
5. WOH! WOH! YEA! YEA! – The Dynamos
6. THE CHASE PT 2 – The Camelots
7. THE U.T. – The Sparkles
8. TEEN TWIST – Buddy Miller
9. DATE BAIT – Ronnie Self
10. NEE NEE NA NA NA NA – Dicky Doo And The Don'ts
11. EVERYBODY OUT'TA THE POOL – The Lifeguards
12. LEOTARDS – The Royal Teens
13. BILA – The Versatones
14. BALLAD OF THUNDER ROAD – Robert Mitchum
15. YOUR CASH AIN'T NOTHIN' BUT TRASH – The Clovers
16. PULLING TIME – Andre Williams And The Don Juans
17. THE BELLS – Billy Ward And The Dominoes
18. MY BABY'S GONE – Chuck Ranado And The Electronaires
19. BLUE SONG OF LOVE – Johnnie Honeycutt
20. TOMORROW NIGHT – Lonnie Johnson
21. THE HEEL – Kay Martin
22. FLIBERTY JIB – Ken Nordine
23. WANTED FOR QUESTIONING – Bob Lee
24. COTTON PICKER – Wortham Watts
25. HONEY HUSH – Johnny Burnette And His Trio
26. LSD-25 – The Gamblers
27. RAMROD – Duane Eddy
28. APACHE – The Chiefs
29. OLDS-MO-WILLIAM – Paul Peek
30. THERE'S A NEW SOUND – Tony Burrello
31. CHLOE – Spike Jones And His City Slickers
Release Date
11th November 2016
Label
Righteous
Magnificent: 62 Classics From The Cramps' Insane Collection is available to order HERE