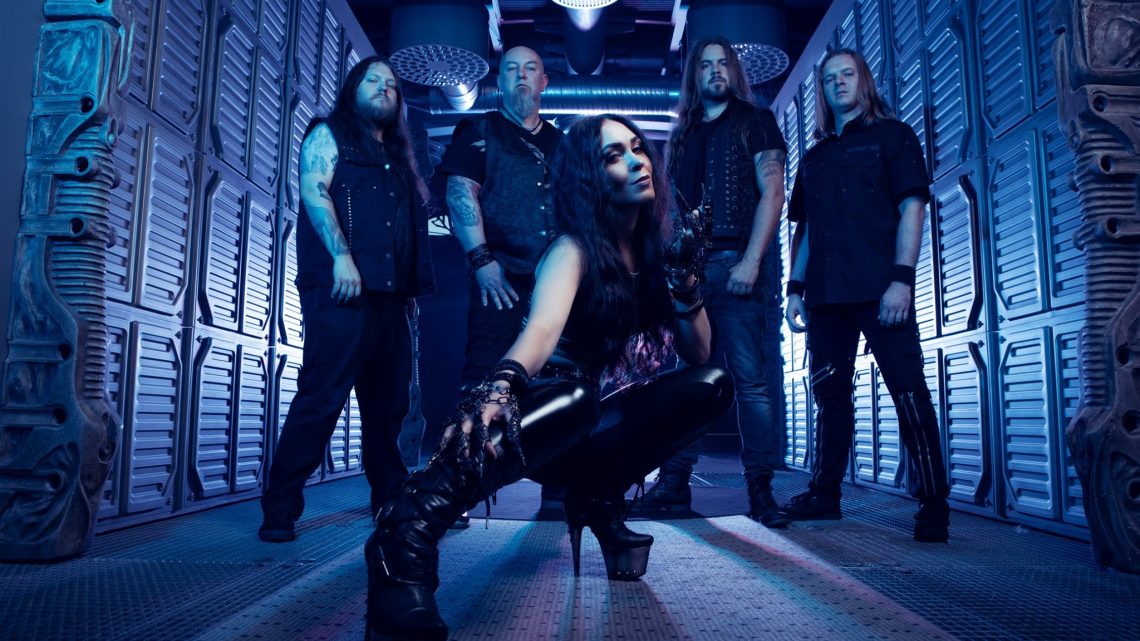 Marta Gabriel of Crystal Viper talks about her Black Metal Cat
20th January 2021
0
By
John Deaux
Crystal Viper have been a reigning name in Polish Heavy metal since the early 2000's. Lead by their furious founder, singer, guitarist and composer, Marta Gabriel, they have been busy, their new album, "The Cult" is out this month! 
We caught up with Marta of Crystal Viper during Covid Lockdown 3.0 to find out about her pet cat, called er… "Cat".
Together with my husband, we belong to a lovely cat. She allowed us to adopt her when she was 2 years old, and now she is a senior, she's 16. We have no idea what her name is, as she never introduced herself, so we call her Cat, however she also reacts on "come here". Oh, and because of the colour of her fur she looks like she was a member of a black metal band.
What is the strangest thing Cat has done?
She keeps on doing that for all the time: sitting in the front of the speakers and listening to music, and meows our loud when we turn the music off. She always meows every freaking time when I'm on the phone, or when my husband is on the phone. We really don't know why. She also likes to make noises by stepping on my piano.
What is the best trick Cat can do?
She takes the cat-sticks (the cat special delicacies) only straight from the package – you can't put them on the floor. Also, when we bring her up she catches mosquitoes on the walls and the ceiling.
This past year has been a total write off, so you've no-doubt, like the rest of us, spent a lot of time at home. How has Cat helped being at home for you? 
She has always been a home pet. We tried to take her out few times but she didn't like that, so nothing has really changed for her. For us it is still the same, because both of us – me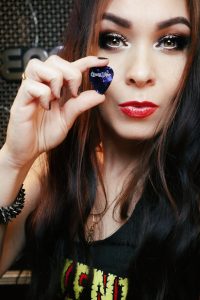 and my husband – are working mostly at home. With the cat on our laps of course.
Have you always been an animal lover?
 I've always loved animals, and since I can remember there always was an animal at home: dogs, hamsters, fishes. I was bringing home all injured animals from the street to heal them. And both of us do the same today. I would never leave poor animal on the street alone.
Have you tried to put Cat in a costume?
No, our cat doesn't like clothes because she knows how awesome her fur is, so we don't force her to dress up. I mean, we don't dare to.
How does she react when you practise at home ? 
When I sing, she sometimes sits on my piano and try to get louder than I am. She also likes to fight against the strings when I'm changing strings in my guitars. I also recently noticed a lot of fur on my bass guitar, so I suppose she is starting her own band or something.
Who looks after Cat whilst you're away on tour/holiday?
My husband's parents live behind the corner, so they look after her when we're out, and we look after their cats when they're on the vacation.
Speaking of practising, any new music in the pipeline? If so when is it due and what can your audience expect?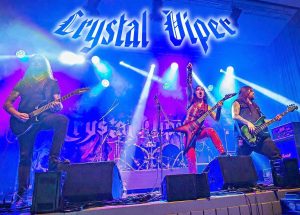 Yes, the brand new Crystal Viper album "The Cult" is coming out in January 2021, and I'm very excited about it. I think it's the best Crystal Viper album, and we managed to return to our roots and early inspirations, so you can except a piece of traditional, classic heavy metal!
Have you anything you'd like to say to your fans/followers?
Yes, if you love animals, adopt them, don't buy. Local shelters are full of abandoned animals that are in desperate need of new, loving house. Some people say you can't change the world if you will adopt one animal, that is not true. You change their world.
Many thanks for your time Marta, it's been great.
For all things Crystal Viper, click HERE and to purchase product, click HERE
How useful was this post?
Click on a thumb to rate it!
Average rating 4.9 / 5. Vote count: 9
No votes so far! Be the first to rate this post.
Related
About the author
Some say Yank My Doodle, It's A Dandy! is a biographical movie based on John. Some have even said that his favorite artist is Chesney Hawke! All we really know is he sleeps inside out and his hair tastes like candy floss.