McFly – Victoria Warehouse, Manchester – Wednesday 15th November 2023
16th November 2023
You'll never guess where this 'star girl' went tonight. That's right… I took myself all by my lonesome to the Victoria Warehouse in Manchester to see pop-rock superstars McFly and I can tell you, they did not let me down. I'm not embarrassed to say this is not my first time seeing them live in action, my first encounter seeing the four member sensation was back in 'motion in the ocean' tour back in 2006. I was OBSESSED. 
For those who have been living under a rock and don't know who McFly are – McFly are a British pop-rock band who formed in 2003. The band is made up of four, may I say it – dashingly handsome young men who go by the names of Tom Fletcher, Danny Jones, Dougie Poynter and Harry Judd (Just saying.. I've always been #TEAMDOUGIE!}.
McFly are currently touring on the 'Power to Play' tour to promote their new album 'Power to Play' launched 9 June 2023. They were joined on this tour with supporting act LostAlone (fronted by Steven Battelle) who are due to make an appearance at all listed UK tour dates. 
Let's start with the supporting act LostAlone, what can I say – energetic.. Hell yeah. Steven's energy radiates through his performance whilst band mates Alan Williamson and Mark Gibson follow en suit. Playing some of their most known hits such as "I'm a Fire You Can't Put Out", "Crusaders" and "Hostages (Destiny)" but there was one track for me that stole the show and that was "The Last Drop Forever" it was just phenomenal and the atmosphere during this song was just electric, the crowd chanting along and Steve being some sort of (self referred) "Ewok Lord" prompting people to get "feral" and "get wild".
Unfortunately, during the set our Ewok Lord encountered some technical issues with his earpieces, he described the experience to be phenomenal regardless and something that he found was a surreal experience not being able to hear anything whilst performing. Overall, having never really listened to LostAlone before even though they have supported some great bands such as My Chemical Romance and Enter Shikari, I can give a verdict that they were a good watch. They announced to be doing their own headlining show for March 2024 with "the deaf institute" in Manchester being one of the tour stops. 
A notable mention would be that between the acts (30 minutes) the crowd had some amazing vibes going on to the nostalgic sounds of Bon Jovi, Queen, and other various hits. You could tell the build-up for the main event was happening…
Now on to the pièce de résistance, the 'Gods of Rock & Roll' who 'Everybody knows' on a 'Friday Night' to bring 'happiness' to people and 'obviously' this ain't no 'Lies' (I mean how many songs they had on their set list can I really fit in a sentence?) McFly. I've found over the years they are like fine cheese or wine, the more mature it gets the better it is. If you compare their earlier stuff released to what is featured on "Power to Play" it only gets better! If you have not yet had the chance to listen to the album, don't walk RUN to SPOTIFY and give it a listen, you'll understand exactly what I mean.
The crowds were memorized by the guys' presence, and so they should be – they have always been the sort of band that 'have it' the full package, 'stage presence', 'humor', and just a lot of talent that will knock your little socks right off. The highlight of the evening for me was just seeing the guys engage with their fans on a personal level, inviting a fan ('Stacey') on to the stage during "Everybody knows" to play alongside the band with the "cowbell" have to say, she smashed it! In fact; see for yourself!
Overall, alongside a magnificent array of lights, high energy, great songs and buzzing atmosphere I'd say if you got the chance to catch them whilst they're on tour, it's definitely something you WILL NOT regret. 
Songs featured at tonight's Manchester Show at the 02 Victoria Warehouse (15/11/2023):
Where Did All the Guitars Go?
Land of the Bees
One for the Radio
God of Rock & Roll
Friday Night
Corrupted
Lies
Route 55
I'm Fine
Too Close for Comfort
Everybody Knows
Star Girl
Happiness
Obviously
Not Alone (Tom and Danny; acoustic)
All About You (Tom and Danny; electric)
Shine On
Red
Encore
Forever's Not Enough
Honey I'm Home
5 Colours in Her Hair
McFly are due to make an appearance at the 02 Victoria Warehouse on the 15th and 16th November 2023 with supporting act LostAlone.
Catch McFly on the 'Power to Play' tour throughout the UK at the following venues/dates: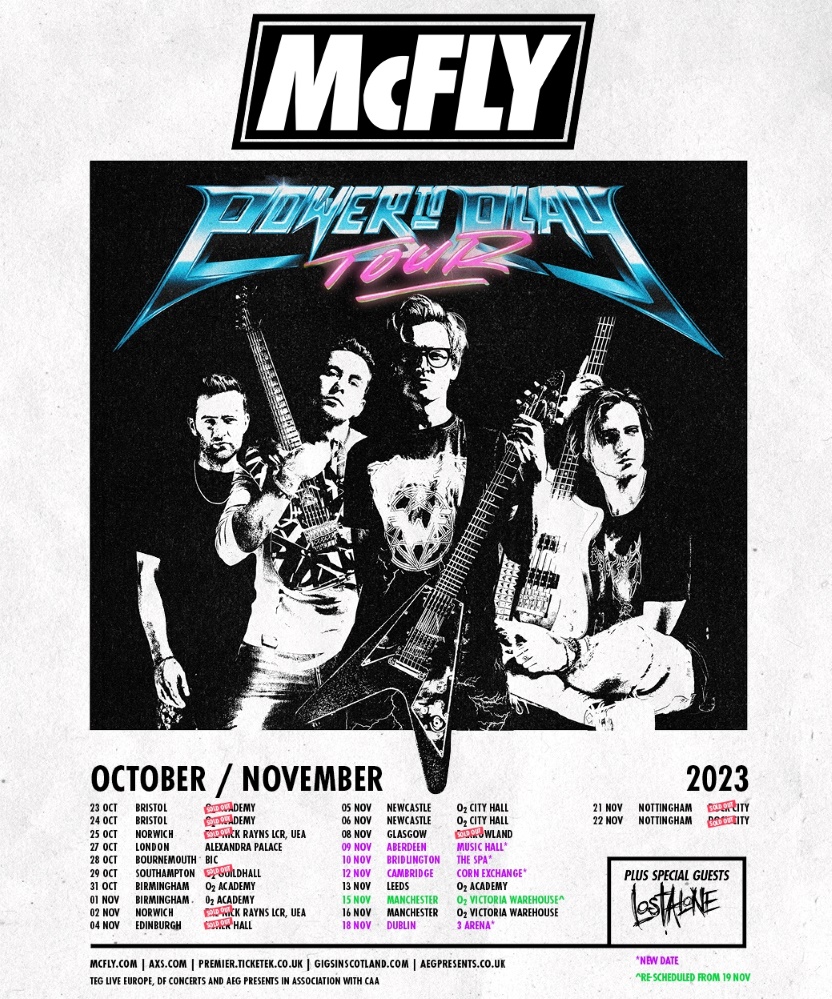 The New Album is available for purchase now.