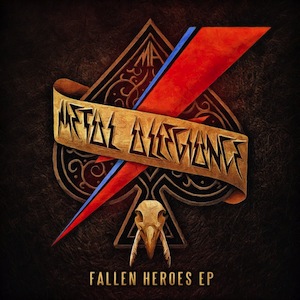 Metal Allegiance – Fallen Heroes CD Review
8th August 2016
0
By
Malli Malpass
 2016 has been a tough year thus far. For music fans it's been the emotional equivalent of the chest waxing scene from '40 Year Old Virgin'. We've lost 'Lemmy Kilmister', 'David Bowie' and 'Glenn Frey'. Each a giant in their respective genre whom Death chose to rip away, suddenly and unexpectedly like hot wax tearing the hair follicles out at the root of our collective, saddened, stinging breast. Leaving us shocked, pained and resolutely assured that we couldn't take any more. 
We all have our own way of paying tribute to our musical heroes, icons and inspirational, often eccentric muses. Some drink a toast among friends, others lock themselves away in solitude and audibly perforate their eardrums while immersing themselves in the music of the departed. Then there are those who find solace in performing and emulating the great musical works that are left behind, whether it be at boozy Karaoke session, or at the other end of the spectrum as part of a metal super group. That's exactly what 'Metal Allegiance' have done with the 'Fallen Heroes EP'. Current 'Metal Allegiance' members, Alex Skolnick (Testament), Mike Portnoy (Ex Dream Theater) and Mark Menghi, have gathered some friends from the metal world to pay tribute to and record one song from  each of the aforementioned Lemmy, Bowie and Frey. 
'Fallen Heroes' crashes in hard with 'Iron Fist', by 'Motorhead', featuring 'Troy Sanders' of 'Mastadon' on vocals. The fist thing that hits me about this cover is how authentic and respectful it is. The familiar, dirty bass tone of the intro is 100% 'Motorhead' and the vocal perfectly emulates Lemmy's throaty, gnarled style without sounding like an impersonation or parody. There's no question that this is a cover at its finest. All the elements that made 'Motorhead' and 'Lemmy' beloved by so many are here and presented to the listener with slick ability and deep, deep respect. 
Track two pays tribute to 'David Bowie' with a cover of 'Suffragette City'. Providing the vocal on this one is 'Death Angel's', 'Mark Osegueda'. Covering any 'Bowie' track is challenging, especially when re-imagining it as a more Heavy Rock/Metal Track than the original. 'Metal Allegiance' have amped up the attitude severely on this track, delivering it as a sleazy rock number that feels and sounds like the best kind of  late 80s 'Hair Metal' at the same time as retaining the eccentric quirk that 'David Bowie' carried throughout his career. As with 'Iron Fist' this cover is unquestionably respectful and dripping in admiration for it's creator.
The third and final track is 'Life In The Fast Lane', by the 'Eagles. For me this is the rocking highlight of the EP. Lending her considerable vocal talents to this track is 'Alissa White-Gluz', from 'Arch Enemy'. In keeping with the energy of 'Suffragette City', Metal Allegiance have hit the gas hard with this cover, taking it from the 'Classic Rock, hands on the steering wheel, cruising vibe of the original to a "pedal to the metal", rock slammer that'll turn your accelerator foot into a lead weight and make you want to drive hard. 'Alissa White-Glutz' vocal performance is simply brilliant and really elevates this track from a respectful cover to an all out head banging classic in its own right.  
It's clear that this short but passionate EP comes from a place of love that sits in the hearts of everyone involved. Each track is a fitting tribute to its respective creators and would be a fantastic addition to the playlist or collection of any hard rocking music fan. 
Score 10 out of 10
Fallen Heroes Information 
Track List:
1. Iron Fist
2. Suffragette City
3. Life In The Fast Lane
Record Label:
Nuclear Blast
Release Date:
12th August 2016
For fans of…
Motorhead, David Bowie, The Eagles, Halestorm, Slash, Guns N' Roses.
Check out Metal Allegiance on Facebook here.
How useful was this post?
Click on a thumb to rate it!
Average rating 0 / 5. Vote count: 0
No votes so far! Be the first to rate this post.
Related
About the author
My friends call me Mally. I'm a vocalist, frontman, performer, and lifelong metalhead. Music has been my passion for as far back as I can remember and tends to dominate all aspects of my life and personality. I've been fortunate to have been asked to share some of that passion through All About The Rock