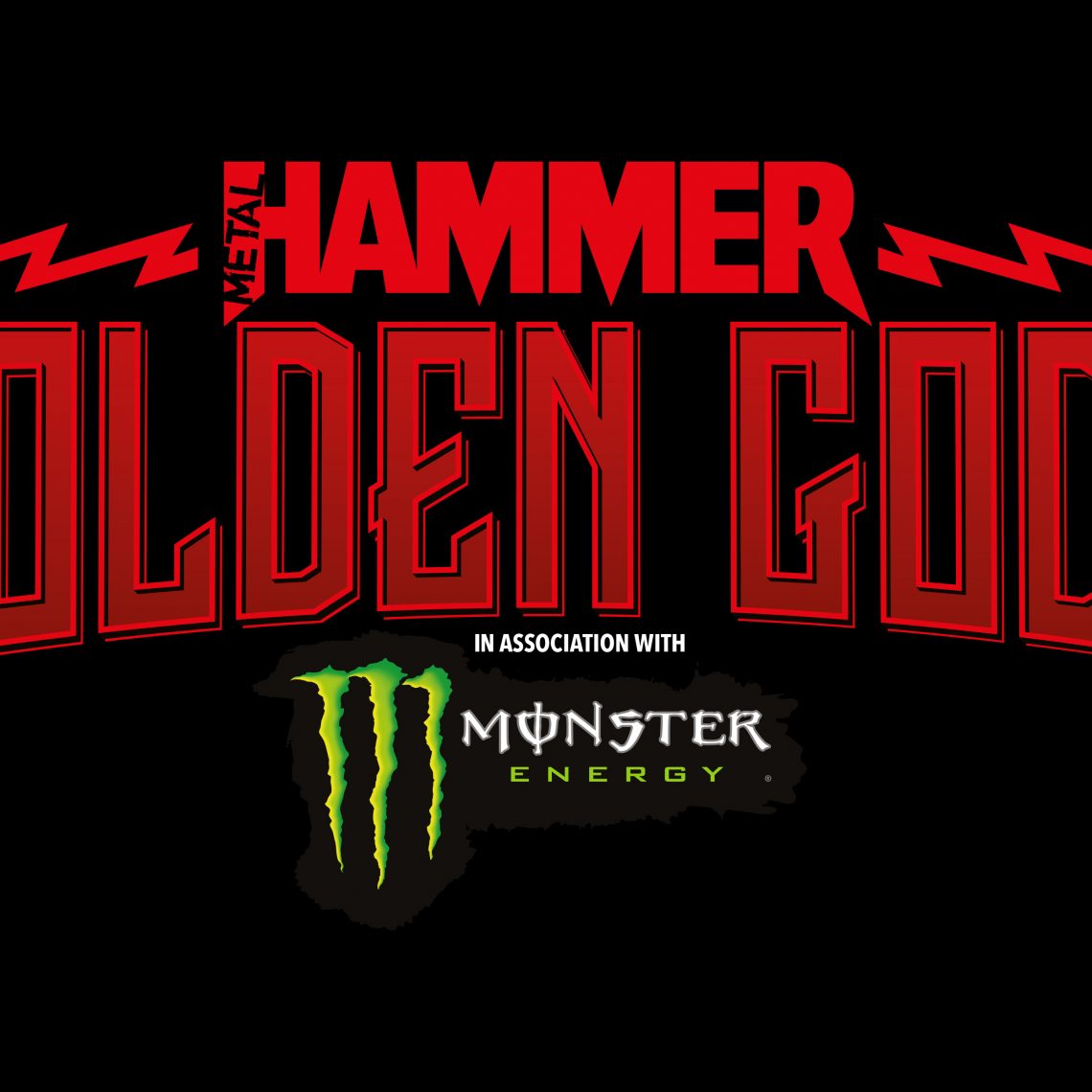 Metal Hammer Golden Gods Awards- Indigo2, London (11/06/18)
13th June 2018
0
By
Dan Peeke
Taking over the Indigo2 tonight is a celebration of metal. I walked into the venue just as 'Best Underground Band' winners Wolves In The Throne Room were having their picture taken, and moments later saw the outstanding corpse paint of Dani Filth as I took a sneaky glance into the VIP bar. I was literally surrounded by metal royalty. "Golden Gods", some may say.
The show kicked off with a short set from 'synthwave' band Carpenter Brut, who filled the room with a huge, explosive sound. It was the perfect way to get the crowd on their feet, but I can't help but feel that three songs was enough, with the only vocals of their set coming from the extensive backing track. Soon after they left the stage, we were introduced to Hatebreed's Jamey Jasta, who filled the room with energy and excitement throughout the entire show. Some early awards highlights came in the form of an excitable Love Bites, who eventually giggled and stumbled through an actually quite genuine acceptance speech for 'Best New Band', as well as a video messages from deserving winners of 'Best British Band', Judas Priest and 'Best International Band', Arch Enemy.
Then it got controversial. Having seen Cannibal Corpse for the first time a few months ago, and being blown away by their minimalistic yet stunning live show, I was (alongside what I feel to have been a large majority of the audience) disappointed when Lacuna Coil took the trophy home. It quickly went to the other end of the scale, and became very much uncontroversial, with Code Orange taking home the 'Breakthrough' award. Following their stunning 'Forever' album, I feel like this win was even more of a guarantee than Ozzy, who had literally already been announced as the Golden God winner. I felt genuine sympathy for the other two bands as Jasta started his 'let's see the top three!' call and response. Winner of 'Best Album', Myrkur, appear with singer-songwriter Amalie Bruun dressed in a juxtaposing outfit that combined a half empty bottle of Peroni with what looked like a wedding dress, before tonight's headliners Parkway Drive take home the 'Defenders Of The Faith' award.
Then we're back to the music. Meshuggah were beyond stunning. Their three song set blew everyone in the room away, with their brutality matching that of Cannibal Corpse, while the complexity of their rhythms would make any 70's prog band hide behind the sofa. The ability for them to keep up with the unbelievable polyrhythms and remain one of the tightest live acts I have ever seen is astonishing. I don't know whether their light show is premade (in which case keeping the music so tight is even more impressive) or being done live (in which case their lighting guy is quite literally a genius and should be a member of MENSA). It was absolutely stunning, and got me ready for some more heavy music. Next up were Myrkur, who I hadn't heard of before the show and couldn't wait to see what they produced, especially after winning 'Best Album'. The emcee for the night screamed 'are you ready for Myrkur!' as he left the stage. I was indeed ready.
Somewhere over the last half an hour Amalie Bruun had made the decision to trade her half-full (or half-empty, depending on how you see the world) Peroni for a cellist, and interesting decision, but as she sang and banged a massive drum, I thought 'this is very atmospheric a really cool intro, I can't wait for the rest of the band to come out!' They bowed and left. For about three minutes I was speechlessly convinced it was a joke- but no. What they played was great, but metal it was not. Were they lost? Had Metal Hammer accidentally booked the wrong band? All I know is that a few minutes later Baroness took to the stage and confirmed that I'd been teleported back to the Golden Gods. Bearded frontman John Baizley confidently commanded the 2000 strong audience and earned themselves a new fan from the moment  the funky opening of 'If I Had To Wake Up' kicked in. Amalie Bruun walked straight past me during Baroness' set, assuring me that I hadn't actually been teleported at all. They really did just play a weird folk tune.
Anyway, we soon returned to the awards, and these were the big ones. Accepting the 'Riff Lord' award was arguably the most normal, least metal-looking person alive, Wes Borland, guitarist of Limp Bizkit and frontman of the divisive experimental outfit Big Dumb Face. I think actual Queen Elizabeth II would make a more convincing metalhead. The most inspiring moment of the night came from Kaoteon, a Lebanese band who told a story of oppression and even imprisonment in the name of metal. When they said that in a 20 year career this was their highlight, I really did believe it. It's moments like this that made the night more than just an industry pandering awards show, and instead a celebration of the genuine achievements of those who deserve it.  
Meshuggah were presented with the 'Inspiration' award, and from the blistering set they just produced, they absolutely deserved it. I was so in awe of their set a few minutes before that they could have taken home every award available and I'd have been happy. Even 'Best Independent Label' if they wanted it. After a long story from guest presenter Daniel P Carter (one in a long line of guests tonight, which included highlight appearances from Dani Filth and Benji Webb) Maynard James Keenan of Tool was presented with the 'Icon' award. Now, he said to expect 'new music next year'. That could theoretically mean anything. He could just ominously be referencing the fact that at least one piece of new music will come out next year, which in fairness wouldn't be a lie. Or maybe some solo work or a side project? But of course I'm just going to assume he was talking about Tool. New Tool music next year. This is important.
We had now finally made it to the two most exciting awards of the night. The 'Spirit Of Hammer' award, which has in the past ended up in the hands of Brian Blessed, Bill Bailey and Sir Christopher Lee, to name a few, and this year went to Jessica Pimentel. I'd never heard that name before, but I had seen (and loved) Orange Is The New Black, and was shocked to find out that loud mouthed-Latino Maria, is the frontwoman of metal band Alekhine's Gun and backing vocalist of Brujeria. She even showed off her impressive guttural vocals during an inspiring speech.
As I expected may well happen, the fantastic Zakk Wylde was introduced as our final guest presenter, ready to hand over the Golden God award to The Prince Of Darkness himself, to the chants of 'Ozzy! Ozzy!' that had filled almost every silence over the course of the night. After a video showing off his life filled with achievements, Ozzy slowly strolled onto the stage like a long-haired Mr Burns, said about 20 words, and was gone in a flash. I'm glad I caught Sabbath on their final tour, because if that was going to be the only time I saw Ozzy then I wouldn't have been complete. I blinked a solid 3 times while he was on stage as well, meaning about half of the time he was there I was in total darkness.
Now that all the awards were out-of-the-way, all we had left was a full-production Parkway Drive set. The light show was blinding (and by that, I mean it literally burned my retina), the pyrotechnics were fantastic, and the huge looping drum kit set up was mesmerising to watch as it left Ben Gordon dangling upside down as he pounded out blast beats. Musically, however, I just don't think Parkway Drive are that good. Their extra-heavy take on metalcore doesn't live up to that of (early) Suicide Silence or While She Sleeps, and frankly they just don't keep me entertained. Their live show is, of course, stunning and if you're into the band then their tightness and obvious musical virtuosity would be a sight to behold, but personally, I'd have loved to have seen Meshuggah take the headline slot. And then carry on playing. Forever. Because they were so indescribably good.
That doesn't change the fact, though, that the 2018 Golden Gods awards was an expertly run, perfectly executed celebration of metal, and the commitment and professionalism of the Metal Hammer team cannot be understated. I can't wait for next year.
Every band from tonight's show continue their respective tours over the coming months.
How useful was this post?
Click on a thumb to rate it!
Average rating 0 / 5. Vote count: 0
No votes so far! Be the first to rate this post.
Related
About the author
I like classic rock like Led Zeppelin and Pink Floyd and Hendrix, Metal like Metallica and Slipknot, into more extreme stuff like Cannibal Corpse and Anaal Nathrakh. Other than rock, I love Bob Marley, blues legends like BB King, Rock n Roll like Chuck Berry, Jazz, Country and Bluegrass. I also like a bit of Elton John and Eminem every now and then (Sorry!). But overall my favourite bands are System of a Down, Five Finger Death Punch, Rush, Children of Bodom, Led Zeppelin, Pink Floyd and Anaal Nathrakh.