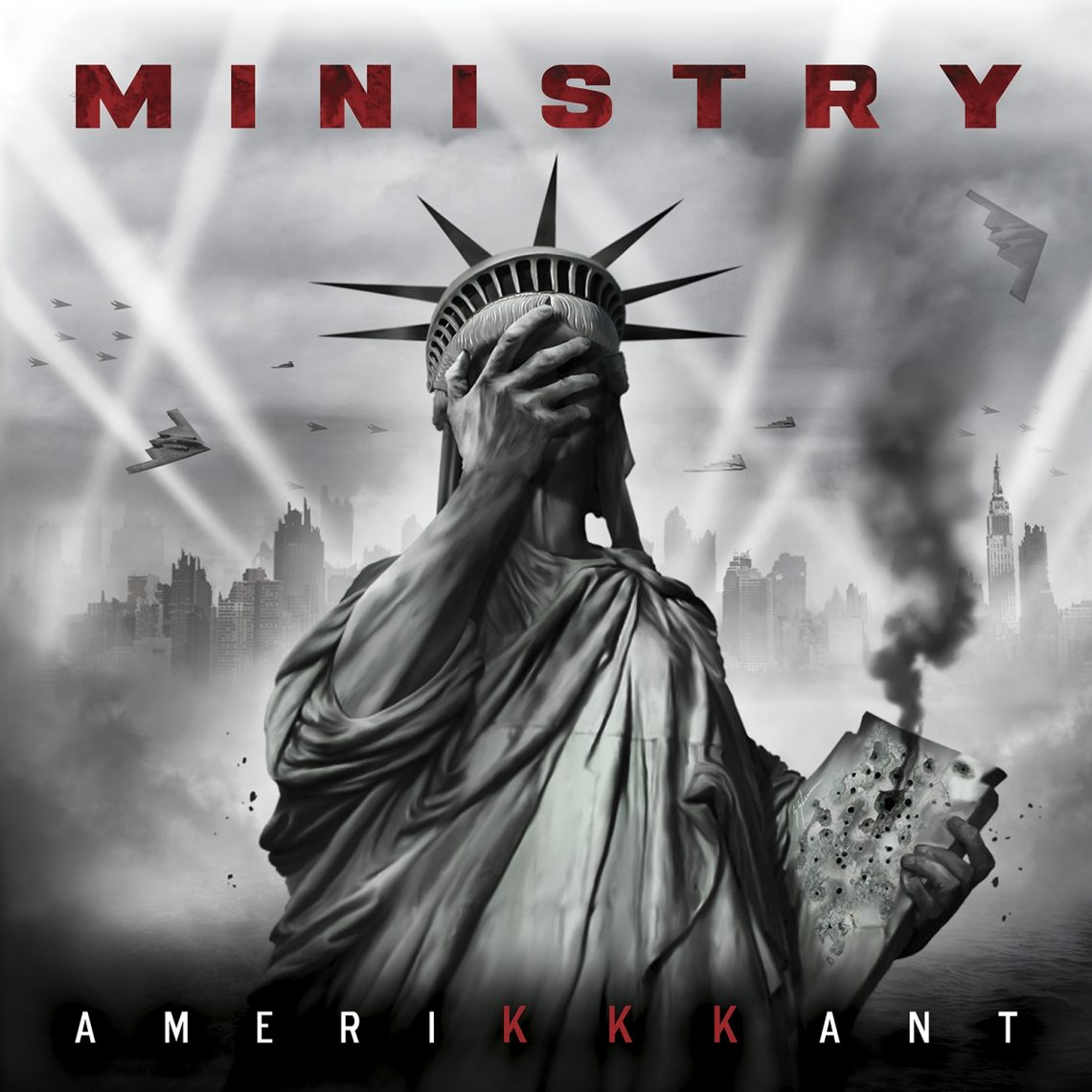 Ministry – "AmeriKKKant"
15th March 2018
0
By
Gavin Griffiths
Back in 2013, MINISTRY released their thirteenth studio album "From Beer To Eternity", and unlucky as the number is, the album was in turn tainted; bittersweet with lingering questions over the band's future. Prior to its release, guitarist Mike Scaccia suffered heart failure on stage at a show in Texas the previous December, ultimately leading to his premature death…he was posthumously credited on the album but, no one knew what would become of Ministry. Front-man Al Jourgensen stated at the time that he didn't know if Ministry could continue; he'd just lost a friend, he was mourning and he didn't want to think about music and everything was put on hold. Time however can heal the deepest of wounds and, as we fast forward five years to the present day, we find Ministry back with album number 14; "AmeriKKKant"…lets checKKK it out shall we?
The album opens up with "I Know Words" and we can immediately guess where this is going before the track even starts…with a distorted, trance-like sound bite of Donald Trump saying "We Will Make America Great Again"…it's like a 90's happy hardcore rave intro, such is it's tone, at least it would be if it wasn't for the traditional sounding middle-eastern instrumentation layered within the electronic samples. The word war comes up a lot and the droning tone of Trumps voice is clearly a direct stab at the President's integrity and the whole track is essentially a middle finger to the commander-in-chief. There's little else to the track in all honesty, it's purely satirical. Transitioning then directly into "Twilight Zone" we're met with heavier percussion but the general tone remains the same; more sound bites and quotes from politicians and news reports etc allowing for continuity, before we finally hear some actual vocals from Jourgensen…it's a half track at best, and the industrial tones are if anything, lackluster and plodding, the album still hasn't really gotten going.
"TV 5/4 Chan" at under a minute is essentially pointless here, with gun shots, more distortion, more quotes and sound bites highlighting social disparity within race and class, but as factual and important as the topic is, it doesn't make this 49 second snippet relevant. Highlighting such issues deserves something more and again, this was a waste of time. Musically there's little on offer in general here to really comment on to be quite frank…"We're Tired Of It" has some decent, thrash-inspired riffs you can bag your head to, while "Wargasm", despite its name which itself is one of few album highlights, does utilize some decent hooks within  its chorus. "Antifa" is pretty self-explanatory; steeped in far-left views on socialism and communism but I doubt it's going to incite any riots any time soon, before "Game Over" takes another jab at Trump…the highlight of the track being the retro video-game sample at the very end which, says a lot really. Ministry are a big name in industrial metal, and  Jourgensen has never held back from anything, so the state of the world today, politically, coupled with the five-year wait for new material left SO much room for potential, this album could have been blistering, it could have been damning, it could have been GOOD…alas, it was none of those things. A collection of samples and ideas that don't even cut it as propaganda, it really is just a mess of an album. I AmeriKKKant listen to this, MinisTRY harder in future.
Score: 1/10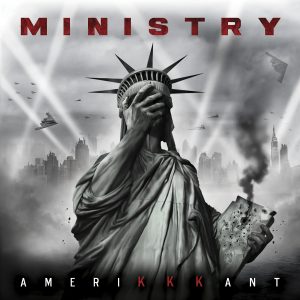 Track List:
"I Know Words"
 "Twilight Zone"
 "Victims Of A Clown"
 "TV 5/4 Chan"
 "We're Tired Of It"
 "Wargasm"
 "Antifa"
 "Game Over"
 "AmeriKKKa"
Record Label:
Nuclear Blast
Release Date:
March 9th
For All Things Ministry Head click HERE & to purchase the album, click HERE
How useful was this post?
Click on a thumb to rate it!
Average rating 0 / 5. Vote count: 0
No votes so far! Be the first to rate this post.
Related
About the author
Gavin Griffiths AKA GavTheGothicChav 31 Based In South Wales Favourite Bands: HIM, The 69 Eyes, Paradise Lost, CKY, Rise Against, Alkaline Trio, Type-O-Negative, Turbonegro, Depeche Mode... Enjoys: Pizza, Jack Daniel's, Comedy Roasts, WWE, Horror Movies, Sloths, Panda's, Eurovision Dislikes: The Concept Of Being "Offended", Hype, Instrumental Tracks, Interludes, Overly Long Tracks