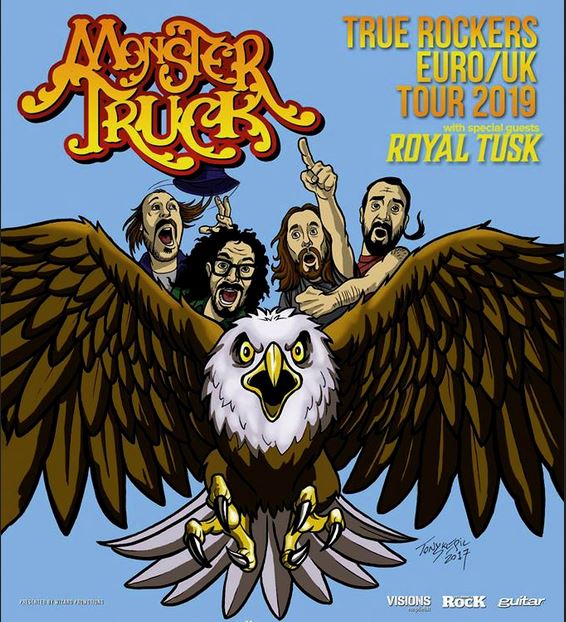 Monster Truck at SWG3 In Glasgow April 22, 2019
23rd April 2019
0
By
John Deaux
Something very strange has gone on over this Easter weekend in Scotland. It's April and it's not snowing. In fact it's more like a summer heat wave. Thankfully the SWG3 had its air conditioning on so it was nice and cool in the TV Studio part this evenings soiree was being held.
Doors were prompt at 7pm and at 7:30, Royal Tusk hit the stage for their debut Scottish show. This 4 piece from Edmonton in Canada were more than I had anticipated. This was a band I had only recently discovered and to find them supporting Monster Truck was an added bonus.
Royal Tusk are stunning on record but live, they're a different breed altogether. It wasn't long before this Canadian bunch had the Glaswegians eating out of the palm of the hand and actually booing when they announced (after a blistering 40 minute set) it was their last track. Simply outstanding and I can't wait for them to come back for a proper headline show. Oh and, go and buy their album Tusk II. It's bloody brilliant.
Monster Truck come bounding onto the stage at 8:45pm and for the next 90 mins were just a full on attack of the aural kind.
I was blessed enough to see Monster Truck earlier in the year as part of the support to Blackstone Cherry (along with Cadillac Three). Since that show I'd been looking forward to seeing them as a headliner in their own right. I wasn't disappointed. In fact it was a severe case of shock and awe.
No chat, no banter, just 4 guys with HUGE shit eating grins having an absolute blast playing for a bunch of rowdy Scots on a bank holiday Monday.
Tracks from all 3 albums graced the set, along with the floor stomper True Rocker (which has Dee Snider appearing on the album/single version) as well as the classics, Evolution, Sweet Mountain River and  Things Get Better.
It's incredibly rare (in my case it is increasingly so) that you walk away from a 2 band bill thinking to yourself 'I'd go back and see them again'. And I honestly can't wait.
IF you happen to see EITHER (or both of these bands) coming to a town near you, do yourself a favor, get out from behind the computer monitor, or from in front of the TV, stop staring at your phone, go and buy a ticket (or 2 to take a friend) and watch both bands. And by watch I mean, live in the moment and don't view it through a screen.
An absolute belter of a gig. Both bands were a joy to watch as Monster Truck AND Royal Tusk were having an absolute blast on stage.
Monster Truck Set List

The Lion
Don't Tell Me How to Live
Devil Don't Care
The Enforcer
Thundertruck
Evolution
She's a Witch
For the People
Denim Danger
True Rocker
Things Get Better
For the Sun
Seven Seas Blues
Old Train
Sweet Mountain River
Encore:
Why Are You Not Rocking?
New Soul
How useful was this post?
Click on a thumb to rate it!
Average rating 0 / 5. Vote count: 0
No votes so far! Be the first to rate this post.
Related
About the author
Some say Yank My Doodle, It's A Dandy! is a biographical movie based on John. Some have even said that his favorite artist is Chesney Hawke! All we really know is he sleeps inside out and his hair tastes like candy floss.