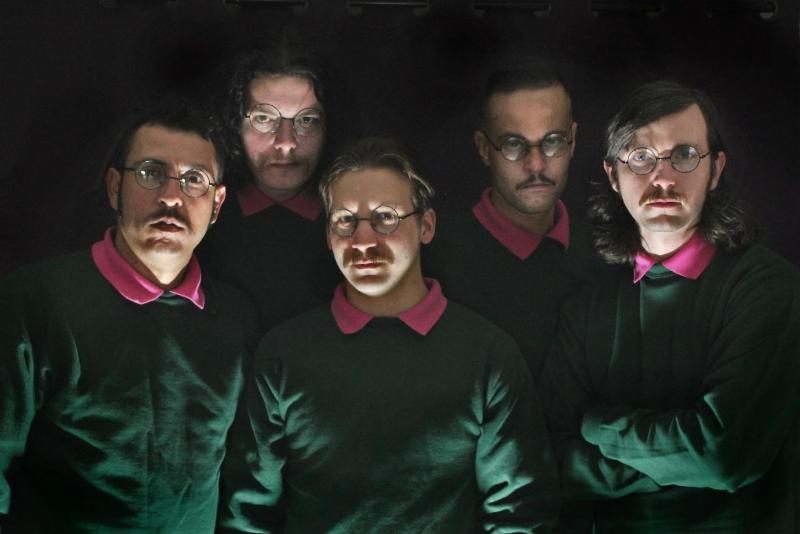 "Nedal" Band OKILLY DOKILLY is Back! Kicking Off Reneducation Tour on February 1, 2019
10th January 2019
Luckily it's sweater weather outside, because you'll want to don your best green during the Reneducation Tour! Phoenix, AZ's
OKILLY DOKILLY
– the world's
only
"Nedal" band – will kick off their tour on February 1, 2019 in San Diego, CA with openers Playboy Manbaby. The tour will visit several Western U.S. cities, coming to an end on March 2 in Austin, TX. Tickets are available now via individual venues or
www.okillydokilly.com
. See below for all tour dates.
Bandleader Head Ned says: "We're really excited about the Reneducation tour. We've got some new songs, new Neds, and some really great tour buddies in Playboy Manbaby. Our main mission with this tour is to thoroughly educate the masses on how to be the best Ned they can be. Us Neds can't wait for Reneducation to begin."
Established in 2015, OKILLY DOKILLY found success before even playing their first show, reaching viral phenomenon status after releasing just a few press photos and a four-song demo. Within two weeks, the band netted nearly 30,000 Facebook fans and was featured by numerous publications including Billboard, Time, The Independent, BBC, Esquire, Rolling Stone, Vice and many more.
In 2016, the band released their debut album
Howdilly Doodilly
(
stream
/
order
here) – a 13-track catalog filled with Flanderisms, rushing guitars and more than enough left-handed puns. In the wake of this release, the bespectacled five-piece dropped the official music video for their single, "White Wine Spritzer", which has garnered
over four million views
to date.
Now, the gentlemen of OKILLY DOKILLY – currently billed as Head Ned (vocals), Dread Ned (drums), Shred Ned (guitar), Bed Ned (bass) and Zed Ned (synth) – are looking forward to a 2019 follow up release to Howdilly Doodilly, details pending.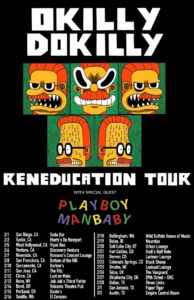 OKILLY DOKILLY's "Reneducation Tour" with Playboy Manbaby Tour Dates:
2/1 – San Diego, CA @ Soda Bar
2/2 – Tustin, CA @ Marty's On Newport
2/5 – West Hollywood, CA @ Viper Room
2/6 – Ventura, CA @ Discovery Ventura
2/7 – Riverside, CA @ Romano's Concert Lounge
2/8 – San Francisco, CA @ Bottom of the Hill
2/10 – Sacramento, CA @ Harlow's
2/11 – San Jose, CA @ The Ritz
2/12 – Chico, CA @ Lost on Main
2/13 – Reno, NV @ Jub Jub's Thirst Parlor
2/14 – Bend, OR @ Volcanic Theatre Pub
2/15 – Portland, OR @ Dante's
2/16 – Seattle, WA @ El Corazon
2/18 – Bellingham, WA @ Wild Buffalo House of Music
2/19 – Boise, ID @ Neurolux
2/20 – Salt Lake City, UT @ Urban Lounge
2/21 – Fort Collins, CO @ Hodi's Half Note
2/22 – Denver, CO @ Larimer Lounge
2/23 – Colorado Springs, CO @ Black Sheep
2/25 – Omaha, NE @ Lookout Lounge
2/26 – Tulsa, OK @ The Vanguard
2/27 – Oklahoma City, OK @ 89th Street
2/28 – Dallas, TX @ Three Links
3/1 – San Antonio, TX @ Paper Tiger
3/2 – Austin, TX @ Empire Control Room
"Okilly Dokilly, Phoenix's self-professed "world's first Nedal band," have got you covered, kicking out righteous riffs while clad in the traditional green sweater, pink shirt, and nerdy glasses of Homer Simpson's eternally cheerful and devoutly Christian neighbor." – Peter Helman, Stereogum
"Their sound… is solid, formulaic metal, with soft, almost classically-voiced verses slashed by the requisite screaming choruses. Let's just say Homer Simpson might think twice about calling them "Stupid Flanders(es)" after hearing it." – Steve Huff, Maxim
"…we have a feeling you'll be nodding your head faster than you can say hi-diddly-ho." – Anthony Domanico, CNET
"My spell check is intent on correcting 'Dokilly' to 'docilely', but docile they are not, with their music revolving around crunchy, lo-fi guitar and shrill, lurching synth." – Christopher Hooton, The Independent
How useful was this post?
Click on a thumb to rate it!
Average rating / 5. Vote count: