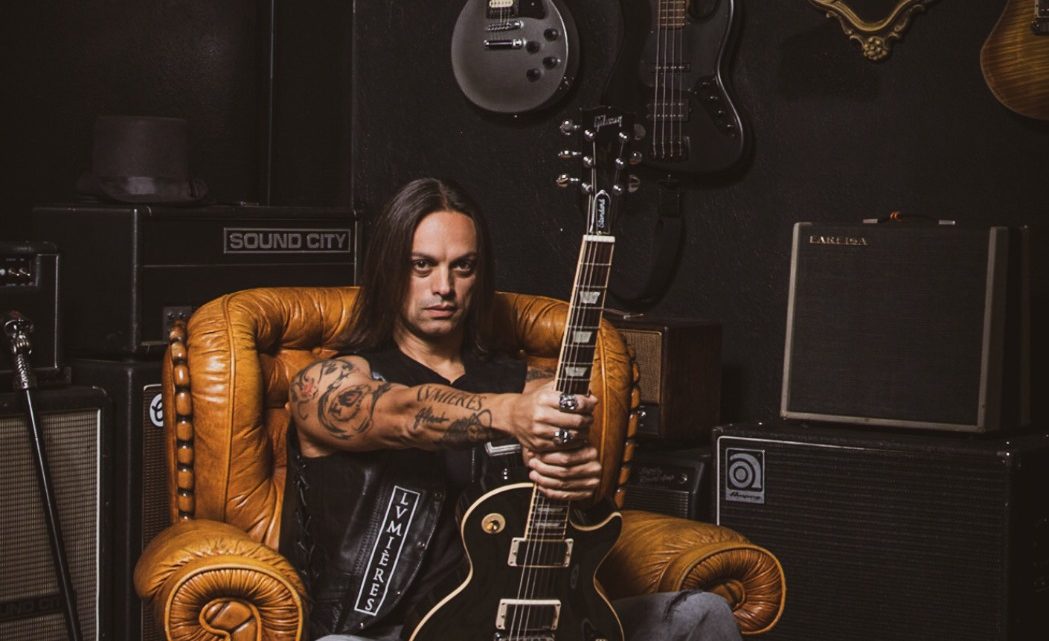 Nic Ciaz of Fenisia is a Cat Lover
10th February 2021
0
By
John Deaux
Fenisia are an alt metal band from Rome, Italy. They released their 3rd album back in October of 2020. We caught up with frontman and guitarist, Nic Ciaz to find out how he's been dealing with lockdown 3.0 with 5 cats.
The first is Ozzy from my idol Ozzy Osbourne of course, then Morgana, a little classic panther cat witch, Leopardi who like the famous Italian poet shows off all his pessimism not through writing , of course, but with his look when he is scolded or when he is left alone in the house.
Then there is Tyson, named after the boxer for his temperament and finally Bonzo for his giant size.
I have had them with me for about 5 years even though Bonzo is much older, about 10 years, I adopted him after he no longer had a house to stay and so did Tyson.
What is the weirdest thing any of them have done?
 I have so many anecdotes to tell but it would take too long! if I had to choose one I would say the time I discovered that my first cat Margot, now gone, loved playing with the PC on YouTube, trying to catch the mice that moved from one side of the screen to the other. It was great, she let me know when she turned on the computer, then she got up on the desk and started playing, after which she spent hours in front of the monitor!
Now it is Morgana who does all this.
Have you taught them anything little tricks?
Leopardi is an excellent model for photos and videos, in fact for some time I opened an Instagram of his own and it's going very well!
During this recent Covid pandemic and lockdown 3.0, have the cats helped you? 
I can say that from this point of view staying at home because of the block has had its positive sides, having the possibility to be with your pets for as long as you want is not easy, they are moments that must be lived to the full and I was very enthusiastic about it. You have to find the positive sides to be able to overcome a negative period and the presence of our four-legged friends is the best solution.
Your cats are all gorgeous. Have you always been an animal lover? 
 I live in the open countryside and I have always been an animal lover but I have never owned other species besides cats and dogs, only for a short time a parrot from Brazil but it was a parenthesis to help a friend during a move.
Are you one of those people that puts your pets into costumes?
 Absolutely yes! hahaha! As I said before I opened an Instagram page dedicated to one of my cats Mr Giacomo Leopardi, and I did it to him because he is the only one who lends himself to various disguises even if he is not very happy to do so, but this is a detail!
Do they like it when you practise at home and have they had any influence on your music? 
Yes, one of them "Ozzy", coincidentally, particularly loves when I start playing guitar at home, sits in the nearest chair and relaxes while I practice. My felines have influenced me so much that one of the songs on the album The Spectator of my band Fenisia, or "Burned in My Brain", is entirely dedicated to Margot the cat I loved very much and who has disappeared a few years ago.
Who looks after your pet whilst you're away on tour/holiday?
If I'm on tour with the band my wife will take care of it, but when we are both on vacation or at least away from home for a few days a friend of ours who is happy to be a pet sitter!!
Speaking of practising, any new music in the pipeline? 
Given the forced break due to Covid-19, we are already preparing new songs, in these months I have a lot of material and we think that in the spring we could record at least a couple of new unreleased songs that will then make up our fourth album.
We will continue to explore our sound trying to dress metal more and more with a classic but never predictable Hard Rock.
Have you anything you'd like to say to your fans/followers?
I thank Matt from All About The Rock and I conclude by telling anyone who is following us to stay connected to our social networks because soon there will be surprises, New Videos and Unpublished work that will not disappoint the expectations of our audience and will surprise all those who do not know us yet.
Nic, on behalf of all of us at AATR Towers, many thanks for the chat. 

For all things Fenisia, click HERE and to purchase product, click HERE
How useful was this post?
Click on a thumb to rate it!
Average rating 5 / 5. Vote count: 279
No votes so far! Be the first to rate this post.
Related
About the author
Some say Yank My Doodle, It's A Dandy! is a biographical movie based on John. Some have even said that his favorite artist is Chesney Hawke! All we really know is he sleeps inside out and his hair tastes like candy floss.