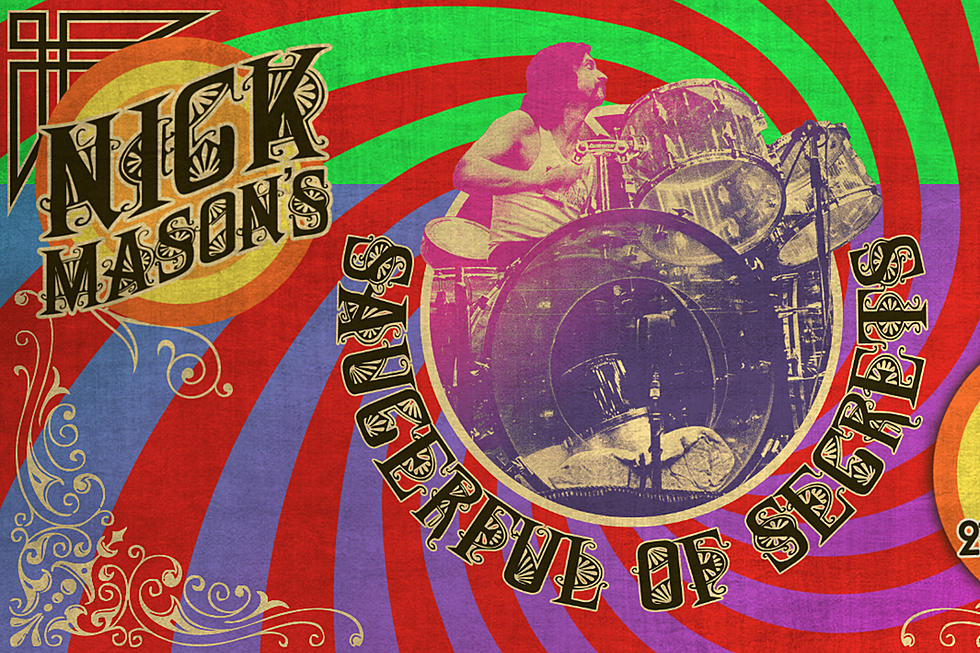 Nick Mason's Saucerful Of Secrets- Dingwalls, Camden (20/05/18)
22nd May 2018
Having kept it *somewhat* secret for a while, tickets for Nick Mason's first musical outing since the overwhelming success of the final Pink Floyd reunion of 2005 came on sale at 10am a few weeks ago. In the time it would have taken to watch the 20 minute set of 13 years ago, they were gone. For Pink Floyd fans as obsessive as myself, getting tickets to see one of the 3 people left alive who have actually been in Pink Floyd was an overwhelming miracle, and the most excited I've been since seeing Roger Waters 5 years ago.
After the perfectly punctual arrival of the band onstage, Nick Mason took to his stool looking… annoyed. 12 years since playing live music, and possibly the first time in about 50 years he'd played much of tonight's set, you'd except a bigger smile. But soon enough, he begins to pummel his way through the opening 'Interstellar Overdrive'/'Astronomy Domine' medley looking focused, flitting between overwhelming concentration and smiles with his impressive band. Made up of Gary Kemp from Spandau Ballet, frequent Floyd live/session bassist Guy Pratt, Blockheads' Lee Harris and respected keyboard player and Rick Wright collaborator Dom Becken, the band is an eclectic mix of talent all brought together by a love of Floyd. 'If you can't keep up, call us The Australian Roger Waters', says Mason.
'You'll know this one', shouts Kemp. 'We know them all!' That bloke was right, we really do. Moving from 1967 'Lucifer Sam' to 1971's 'Fearless', it's clear this is a special set we wouldn't get from a tribute band. Despite Kemp's 80's New Wave vocal not quite capturing the spirit of Waters, Gilmour or original Floyd vocalist Syd Barret, his psychedelic, effect-heavy guitar skill is an impressive jump from his reserved, unremarkable Spandau Ballet days. Guy Pratt, on the other hand, handles his vocal duties with ease, delivering the sinister verses of 'Set Controls For The Heart Of The Sun' and 'Let There Be More Light' with convincing vigour, and his bass parts with the same virtuosic skill that lead to his invitation to replace Roger Waters in the real Floyd.
Of course, it's Mason who everyone is here to ogle and worship, and despite being 74 years old, he still handles his kit better than most. Pink Floyd's experimentation with punk ('The Nile Song') brings with it some complex fills and energetic playing that demands a lot from Mason, and he handles it just as well as he does the subtle, mallet played tom rolls of 'Saucerful Of Secrets'. Despite tonight essentially being a drummer's solo project, Mason never takes centre stage. He doesn't try and become a lead instrument or show off- we never even hear a drum solo. He is playing for himself, not others.
The shows highlights come in the form of an excellent version of the hilarious, album closing 'Bike', the incredible psychedelia of 'Let There Be More Light', and a closer that shows this to be an experience made for real Floyd fans – a version of 'Point Me At The Sky', officially the rarest Pink Floyd song. Unsurprisingly, we never hear any of Mason's bizarre solo efforts, but the lack of Atom Heart Mother tracks is disappointing, especially with a Rick Wright tribute presenting itself so clearly in 'Summer 68'. The set also lacks the more proggy side of Floyd, with the 1967-72 era providing two of their most epic numbers: 'Atom Heart Mother Suite' and 'Echoes', with the latter often working as an encore piece back in the day, but not today. As they didn't hesitate to mention, this was the band's first ever show, maybe more ambitious tracks like those are best saved for the extended tour I'm desperately hoping for.
As Mason said early on in the night: 'To my eternal shame, I recently got only 50% on an online Pink Floyd quiz, so if you don't know something, just turn to the person next to you. They probably know more than me', and he's completely right- everyone in the room is a devoted fanatic. That's why, unlike Waters and Gilmour who are regularly selling out stadiums and are essentially obligated to fill their sets with 'Wish You Were Here' and 'Comfortably Numb', Mason has the freedom to play what he likes, and it shines through, bringing the energy and soul of 50 years ago back to an audience who appreciates it.
Nick Mason's Saucerful Of Secrets have 3 more London shows this week.
Set List
1. "Interstellar Overdrive"
2. "Astronomy Domine"
3. "Lucifer Sam"
4. "Fearless"
5. "Obscured by Clouds"
6. "When You're In"
7. "Arnold Layne"
8. "The Nile Song"
9. "Green Is the Colour"
10. "Let There Be More Light"
11. "Set the Controls for the Heart of the Sun"
12. "See Emily Play"
13. "Bike"
14. "One of These Days"
15. "A Saucerful of Secrets"
16. "Point Me at the Sky"