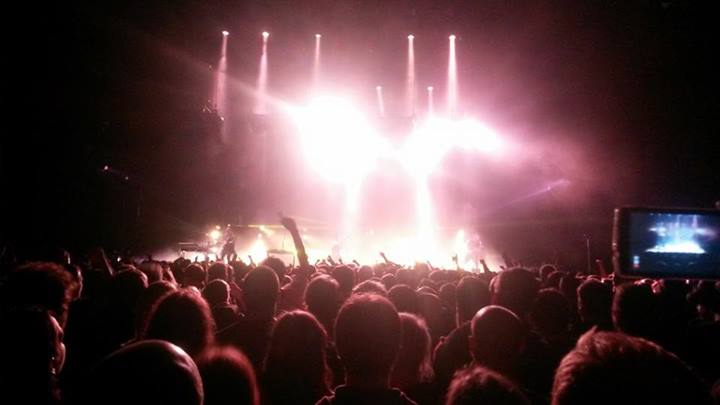 Nine Inch Nails @ The SSE Hydro, Glasgow, 20th May 2014
21st May 2014
This was the second time I'd seen Nine Inch Nails play Glasgow, but my first gig at the recently opened SSE Hydro – an amazing venue with a seating capacity of 12,000 and plenty of standing room.
Support band, Cold Cave, have been described as a "collage of darkwave, noise, and synthpop".  They were, in a word, awful.  My mate Alan described them as sounding like something from Top of The Pops in the 1980's, which I think summed them up perfectly.  We watched for a song and a half and then went to the bar.
Nine Inch Nails on the other hand were absolutely amazing!  They played a set that was almost 2 hours in length and that included songs that spanned their entire career.  The sound quality was fantastic, as was the video / light show –
The balance of tracks was perfect – some old school hits such as 'Head Like a Hole', darker stuff from The Downward Spiral (including an awesome version of 'Eraser'), and The Fragile, some more polished material from With Teeth and Year Zero, and of course a number of tracks from the lastest album, Hesitation Marks.  There were loud guitars, pounding drums, walls of distortion… and moments of beauty with final track, 'Hurt'.
I went home with ringing ears and neck ache, but it was worth it – quite honestly one of the best gigs I've been to in recent years – fantastic !!
Set list
01.  Pinion / The Eater of Dreams
02.  Me, I'm Not
03.  Copy of A
04.  1,000,000
05.  March of the Pigs
06.  Piggy
07.  The Frail
08.  The Wretched
09.  Gave Up
10.  Sanctified
11.  Closer
12.  The Warning
13.  Find My Way
14.  Disappointed
15.  Came Back Haunted
16.  The Great Destroyer
17.  Eraser
18.  Wish
19.  Only
20.  The Hand That Feeds
21.  Head Like a Hole
Encore:
22.  The Day the World Went Away
23.  Hurt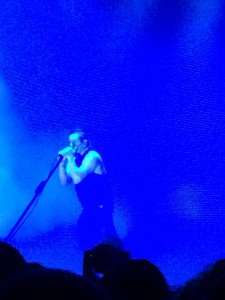 (thanks to Sarah Forsyth for this photo)