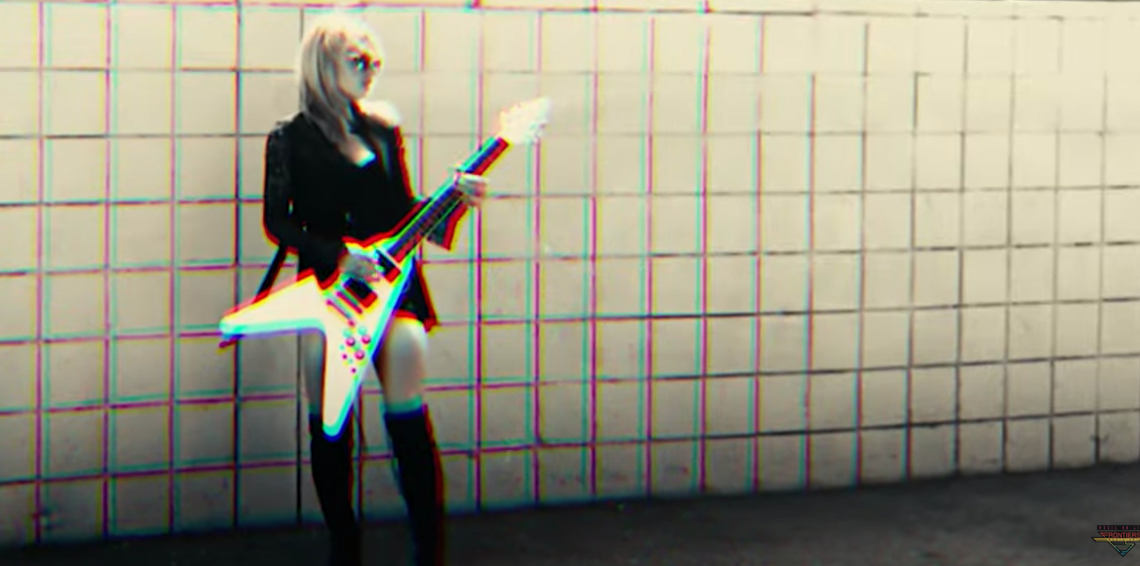 ORIANTHI : 'Sorry' – video for song taken from new album by Australian artist / out now (Frontiers)
23rd November 2020
The platinum-selling artist and world-class guitarist Orianthi has just issued a video for a song entitled 'Sorry'. The track is included on 'O', her long-awaited new album that was released on 6th November.
Born in Australia, Orianthi was inspired to learn guitar as a youngster after discovering her father's LP collection. She rose to international fame at the age of 24 after the release of her hit single, 'According to You', which itself had followed a high-energy performance backing Carrie Underwood at the 2009 Grammy Awards ceremony and a subsequent invitation from Michael Jackson to be the guitarist for his ill-fated run of dates at the O2 Arena in London. Released on Geffen, 'According To You' is now RIAA-Certified Platinum® and has 20 million streams on Spotify alone. The ability of her music to transcend time and remain relevant is clear given its recent resurgence on TikTok, where there are over 100 million views on the #accordingtoyou Hashtag, making it a viral trend that has introduced Gen Z to Orianthi for the first time in a major way.
Of course, long term fans are already familiar with seeing Orianthi performing with other members of rock royalty such as Alice Cooper, Carlos Santana and Steve Vai, while the posthumous release of the Michael Jackson 'This Is It' documentary showcased her masterful playing, creativity and collaboration. Her many accolades include being named one of the Greatest Female Electric Guitarists by Elle magazine, Breakthrough Guitarist of the Year by Guitar International, as well as one of Gibson Guitars' Top 10 Female Guitar Players of All Time.
Orianthi now has a signature acoustic guitar being released in partnership with Gibson Guitars with first-of-its-kind engineering that will be revealed in early 2021.
She has an additional endorsement with Orange Amps.

ORIANTHI : photo by Patrick Rivera 
iamorianthi.com
facebook.com/orianthi
instagram.com/iamorianthi
twitter.com/orianthi
ABOUT GIBSON
Gibson Brands, Inc is the world's most iconic guitar brand and has shaped the sounds of generations of musicians and music lovers across all genres for more than a century. Founded in 1894 and headquartered in Nashville, TN, the company has a legacy of world-class craftsmanship, legendary music partnerships and progressive product evolution that is unrivalled among musical instrument companies. The Gibson Brands portfolio includes Gibson, the number one guitar brand, as well as many other beloved and recognisable music brands, including Epiphone, Kramer, Steinberger and the Gibson Pro Audio Division, KRK Systems. Gibson Brands is dedicated to quality, innovation and sound excellence so that music lovers for generations to come will continue to experience music shaped by Gibson Brands. Learn more at Gibson.com and follow on Twitter, Facebook, Gibson TV and Instagram.
ABOUT FRONTIERS MUSIC SRL
Originally founded in Naples, Italy in 1996 by Serafino Perugino and his father Fernando as a distribution company, Frontiers has developed into one of the premiere independent rock labels in the world. Synonymous with quality music across a broad spectrum of rock and metal genres, the company works with multiple genre heavyweights and fan favourites. However, in addition to providing an outlet for classic and established acts, it has also become home to a wealth of young, up and coming talent whose musical prowess, when combined with the label's savvy and forward thinking A&R and marketing approach, will be developed into the future of rock and metal. With a deep commitment to and passion for THE MUSIC and the artists who create it, plus massive global distribution, sales, marketing and promotion channels, Frontiers is the leading home for both established and emerging rock and metal artists.
Head Office: Naples, IT | U.S. Office: Nashville, TN
Subscribe to be alerted when new videos are added:
radi.al/SubscribeFrontiers
Follow the 'Newest From Frontiers' playlist on Spotify: