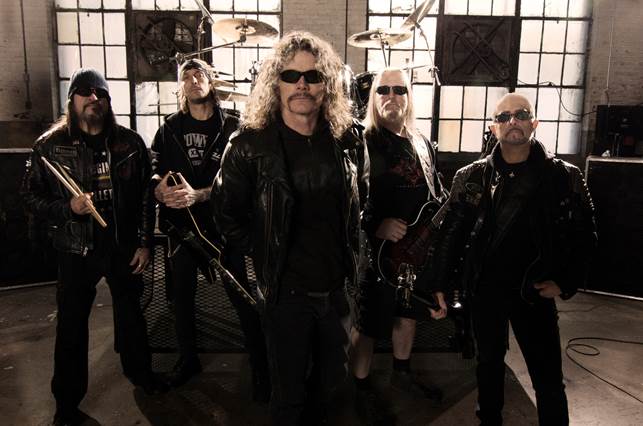 OVERKILL launch pre-orders & unveil 'Hammerhead' live clip!
16th March 2018
Legendary New Jersey thrashers OVERKILL have announced that they will release their 'Live In Overhausen' album on May 18th, 2018 via Nuclear Blast.

Celebrating the band's history, 'Live In Overhausen' captured not one but two album anniversaries. Fans assembled on April 16th, 2016 at Turbinenhalle 2 in Oberhausen, Germany for the 25th Anniversary of 'Horrorscope' and 30th Anniversary of where it all began, 'Feel The Fire'. A full night of 'Kill from the past played loud and in its entirety!
Bobby Blitz comments, "From the stage to your eyes and ears! 'Live In Overhausen', celebrating 'Feel the Fire' and 'Horrorscope' in one, filmed/recorded concert,  in Germany, from 2016.  A rare, two hour look at what has transpired over three decades in one of the world's hotbeds of Metal.  Hang on to your hats kids, it's going to be a 'THRASHY-RIDE'!"
OVERKILL's 'Live In Overhausen' will be available in the following different formats:
Blu-Ray + 2CD Digipak
DVD + 2CD Digipak
Double Gatefold Vinyl
Digital album
Mail-Order Edition:
Blu-Ray + 2CD Digipak & Tour Book
DVD + 2CD Digipak & Tour Book
Limited Edition Neon Green Vinyl

Individual purchase links are below:
Blu-Ray + 2CD Digipak: http://nblast.de/OverkillOverhausenBox
Live In Overhausen Volume One: Horrorscope Double Gatefold Vinyl: http://nblast.de/OverkillOverhausenVin1
Live In Overhausen Volume Two: Feel The Fire Double Gatefold Vinyl: http://nblast.de/OverkillOverhausenVin2
Digital album: http://nblast.de/OverkillOverhausenIT
Blu-Ray + 2CD Digipak & Tour Book (Mail Order Edition): http://nblast.de/OverkillOverhausenNB
DVD + 2CD Digipak & Tour Book (Mail Order Edition): http://nblast.de/OverkillOverhausenNB
Live In Overhausen Volume One: Horrorscope LIMITED EDITION NEON GREEN Double Gatefold Vinyl: http://nblast.de/OverkillOverhausenNB
Live In Overhausen Volume Two: Feel The Fire LIMITED EDITION NEON GREEN Double Gatefold Vinyl: http://nblast.de/OverkillOverhausenNB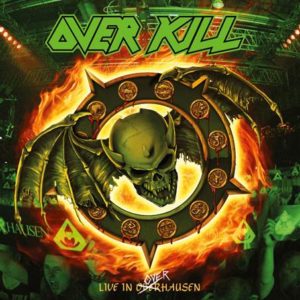 Track Listing For 'Live In Overhausen':
1. Coma
2. Infectious
3. Blood Money
4. Thanx For Nothin'
5. Bare Bones
6. Horrorscope
7. New Machine
8. Frankenstein
9. Live Young Die Free
10. Nice Day – for a Funeral
11. Soulitude
12. Raise The Dead
13. Rotten To The Core
14. There's No Tomorrow
15. Second Son
16. Hammerhead
17. Feel The Fire
18. Blood and Iron
19. Kill at Command
20. Overkill
21. Fuck You
Catch OVERKILL live:
05.05. City – Corona Hell & Heaven (MX)
18. – 20.05. Gelsenkirchen – Rock Hard Festival (DE)
10.07. Dunaújváros – Rock Maraton (HU)
12.07. Viveiro – Resurrection Fest (ES)
13.07. Balingen – Bang Your Head!!! (DE)
14.07. Eindhoven – Dynamo Metalfest (NL)
More on OVERKILL:
'Our Finest Hour' OFFICIAL LYRIC VIDEO:
https://www.youtube.com/watch?v=ElxZ1oz9A68
'Mean, Green, Killing Machine' OFFICIAL LYRIC VIDEO:
https://www.youtube.com/watch?v=5tN-70ESO3A
'Goddamn Trouble' OFFICIAL VIDEO:
https://www.youtube.com/watch?v=GSbgxG-jLMU
'Shine On' OFFICIAL VIDEO:
https://www.youtube.com/watch?v=_U0g9AsieWY