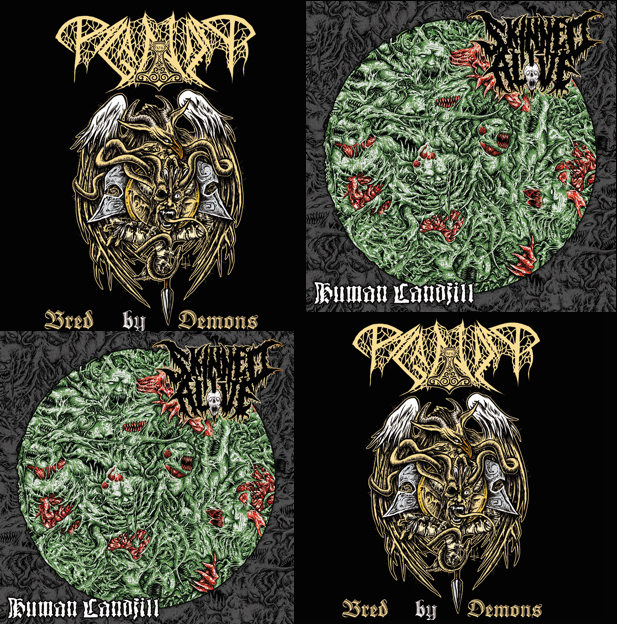 Paganizer / Skinned Alive – Split EP
2nd November 2015
Brutal Art Records from Germany are one of my favourite independent records labels, releasing high quality death and black metal vinyl EPs from a number of established and up and coming bands.
Their latest offering is a split EP featuring two impressive death metal bands – Paganizer from Sweden, and Skinned Alive from Germany.
Side A of the EP gives us 'Bred By Demons' by Paganizer, a band who featured on a previous Brutal Art Records split EP with Humiliation.  I was impressed by Paganizer's heavy and evil style then, and I am again here – because both 'Bred by Demons' and 'Hammerhead' are fast, furious and brutal as fuck !!  This is old school death metal done incredibly well, with pulverising riffs, chugging guitars and guttural vocals to die for.  These guys have been going since 1998 and during that time have released 9 full length studio albums – on the basis of these tracks, those albums are now on my 'must buy' list.  Awesome stuff !
Side B of the EP gives us 'Human Landfill' and 'Gallery Of The Impaled' by Skinned Alive – the one-man project of Ferli Thielmann, guitarist and vocalist from Miseo (whose debut album, 'Lunatic Confessions' was one of my top albums of 2014).  Both of these tracks are perfect examples of how to do old school death metal, with chugging guitars, catchy riffs, pounding drums, and raw vocals that compliment the music perfectly.  Have a listen, and see what I mean –
The sound is similar to Miseo, but subtly different enough to let you know this is a different band.  I'm really impressed with these two tracks and will definitely be keeping an eye out for any future releases by Skinned Alive !
The musical production on all four tracks on this split EP is first class.  The EP, as ever with Brutal Art Records, is beautifully packaged with colour covers and full lyrics.  Not only that, but the vinyl comes in three fantastic colour combinations – clear & neon green, blue & black, and purple & orange

This is another impressive release from Brutal Art Records – so help support this independent label and get yourself a copy of this before it sells out – check out the links below !
Score: 9 out of 10
EP INFO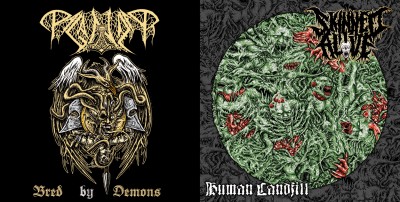 Tracklist
1. Paganizer – Bred By Demons
2. Paganizer – The Hammerhead
3. Skinned Alive – Human Landfill
4. Skinned Alive – Gallery Of The Impaled
Record Label
Brutal Art Records
Release Date
February 2016
Links
Brutal Art Records
Paganizer
Skinned Alive