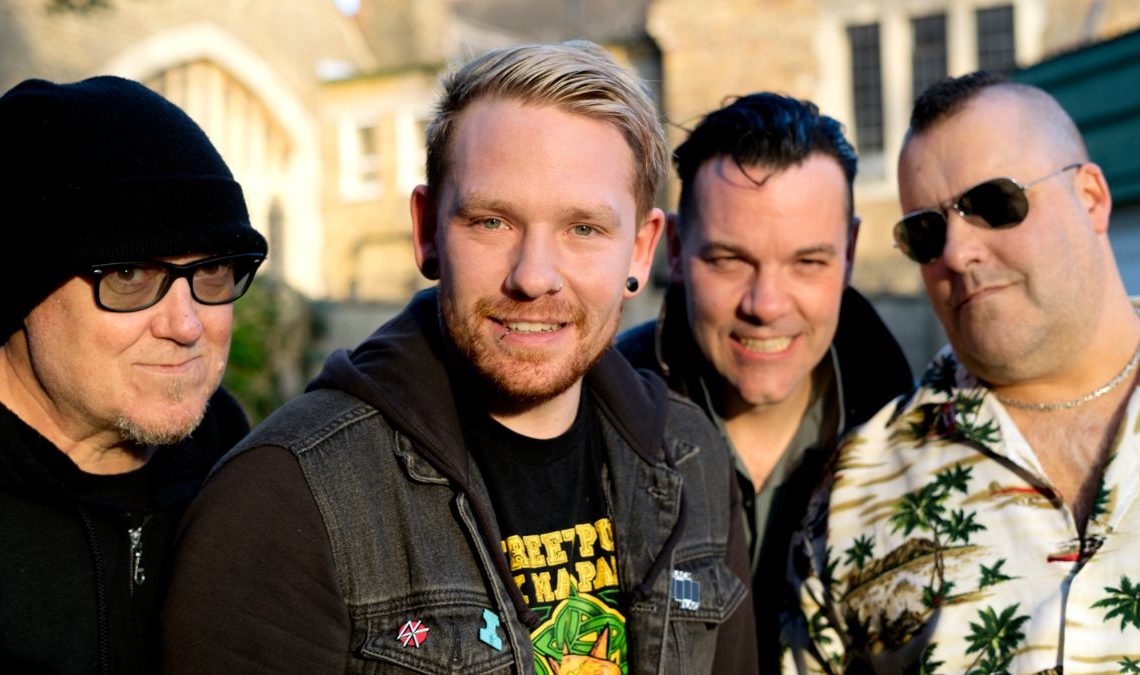 PETER AND THE TEST TUBE BABIES – Fuctifano
6th March 2020
PETER AND THE TEST TUBE BABIES (known from now on in this review as PATTB) are set to unleash their 15th album in a career spanning 40+ years, older than I am and probably a lot of readers of this website! If you're a fan of punk, and especially UK and/or Oi punk then you've probably heard of PATTB. If not then how? No really! PATTB have been flying the flag for UK punk along with other legends such as COCK SPARRER, THE BUSINESS, GBH, COCKNEY REJECTS, THE LAST RESORT, UK SUBS, ONE WAY SYSTEM to name just a few for years and are a tour de force in the scene , especially live! (worth checking out by the way if you get the chance).
Now a few of the latter PATTB releases seem to be following a similar pattern, over half the album is the punk you've come to expect from PATTB and the rest of the album is experimental and is hit or miss if am being honest. 'Fuctifano' (great album title may I add) starts off with a atmospheric piano piece intro track reminiscent of a black/death metal album but then launches into the song "Facebook Loser", the first single released from the album, and showcases the punk we come to expect from PATTB. The album follows in this way with the next tracks "Hell To Pay" and "Cydrated". While "Saturday Dad" starts out like a classic PATTB track but then adds a slight ska/horn section which is comparable to early LESS THAN JAKE and works quite well. The next track, "Gravy Train", goes back to the formula laid out in the first songs. Then we stray far from the path with the next two tracks, "Ain't Missing Her Yet" and "Wanker", the form sounding like a ROY CHUBBY BROWN song from the early/mid nineties and then "Wanker" sounding like a mid to late 90s Britpop song with a (unknown) female taking lead vocal duties.
The album then starts to vear back to punk with "Small Victories" and by the time "Punched Awake" blares from your speakers PATTB are back to the punk we have come to love and continue this with "Tales Of The Bleedin' Obvious" and "Screwed Down" brings back the brass/ska section to great effect and this experimentation works like a charm and the penultimate song, "Queen Of Fucking Everything", throws a nod to the glam rock of the 70s but still has a punk rock element at itc centre (check out the video). The album then finishes with a reprise of the piano driven intro "Liver's Lament" and has Peter singing about his poor liver and all the cider that its drowned in!!!
'Fuctifano' is a stellar release from one of the forefathers of the UK punk scene, and the lyrics are still as clever as always (which is what we expect from PATTB). Some new fans might have difficulty understanding some of the lyrics and the accent, but this release (on a whole) is about having a drink and a good time. Does it contain any songs that will be added to PATTB classic back catalog (songs like "Banned From The Pub", "The Jinx", "Elvis Is Dead" "Up Yer Bum"…) nope it doesn't, but its a fun release (although some tracks could have been cut in my opinion)
SCORE – 7
Track Listing
01. Liver's Lament
02. Facebook Loser
03. Hell To Pay
04. Cydrated
05. Saturday Dad
06. Gravy Train
07. Ain't Missing Her Yet
08. Wanker
09. Small Victories
10. Punched Awake
11. Tales Of The Bleedin' Obvious
12. Screwed Down
13. Queen Of Fucking Everything
14. Liver's Lament (Reprise)
Label:
Arising Empire
Release Date:
6th March 2020
To purchase the album, click HERE
https://www.facebook.com/PeterAndTheTestTubeBabies/