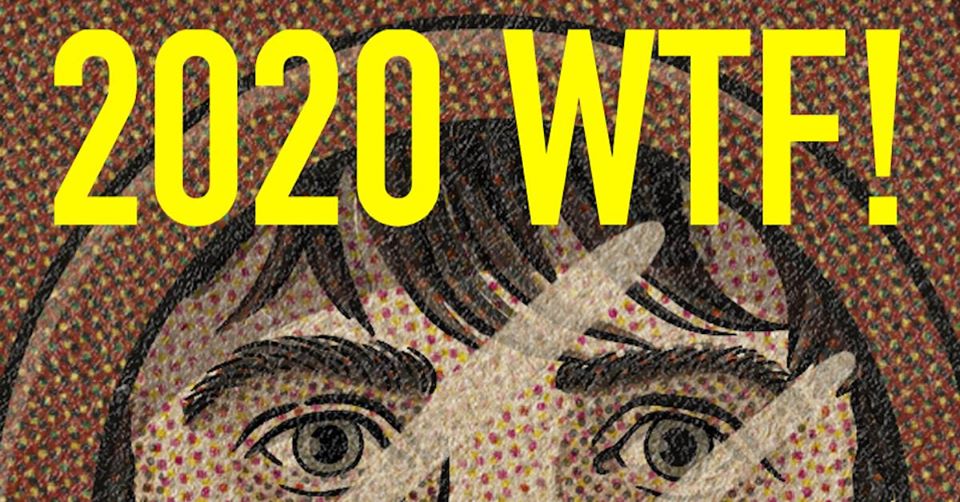 POP UP JIM BOB – The brand new album from JIM BOB of CARTER USM – out 14 August 2020 on Cherry Red Records
15th May 2020
It's been seven years since the last set of brand-new songs, written by a man who can't escape being compared to Jim Bob from Carter The Unstoppable Sex Machine*
 
What's happened in that time? Well, more things than you can write in a press release that's for sure. Colombia's President struck a peace deal with Marxist guerrilla group FARC, both Brazil and South Korea impeached their presidents, Pokémon Go was invented, a military coup against Tayyip Erdogan in Turkey failed, Netflix added offline downloads, Russia interfered with the U.S. election and Britain voted to leave the EU. Oh and Donald Trump. All this was in 2016 alone and we haven't even mentioned David Bowie yet.
None of those events though are linked to Jim Bob's album that year (Jim Bob Sings Again – old songs reinterprated on the piano) or indeed his last album proper (2013's That's What I Think About When I Think About You). It does however lead us seamlessly to his 2020 opus Pop Up Jim Bob. After a successful career shift as an author of both fiction and autobiographies, Jim found himself writing new songs for the first time since 2013.
 
As Jim says himself: "Much of the world seemed to be going to hell in a handcart/basket/bag and people would frequently suggest what was needed was a new Carter The Unstoppable Sex Machine like album to document or make sense of it all. Sting even said it, when he saw my manager at a David Bowie tribute concert wearing a Carter shirt."
The main reason, though, he started writing songs again is because as Jim Bob said "I binge-watched 'Succession' and became obsessed with the theme tune. I tried to copy it on my iPad using GarageBand, which I'd never used before." (Season three is out before this album, just as a fyi).
 
As importantly to us here Jim Bob is simply one of best songwriters in the UK. His ability to connect with everyday life in a thoughtful, funny and compelling way has rightfully earned him a legion of dedicated fans. The time is now right for them to hear new music from him. 
 
One thing Jim has never stopped doing in this time is playing live, including sold out shows in 2018 and 2019 at the Shepherds Bush Empire. Jim Bob gigs remain euphoric, singalong and acoustic affairs. Recently, though, he's performed a handful of explosive shows with a full band, in Jim's words: "It was like being in the Sex Pistols." It's this band 'The Hoodrats' that backs Jim Bob on this album, along with a few other guests to boot.
 
In between the 2019 shows Jim was listening to the audiobook version of James Acaster's 'Perfect Sound Whatever' – a memoir about how he listened to over five hundred albums released in 2016 to help him deal with a breakdown. Jim says: "I was moved by James's enthusiasm for new music and some of the stories behind how and why many of the five hundred records were made."
 
The music Jim was inspired to make as a result of James' book (and indeed 'Succession') is a return to his honest and intelligent indie-pop-rock. From the frank, dark humoured lyrics of Jo's Got Papercuts ("Jo knows it is what it is now, she knows she can't dance to The Smiths now"), to the much darker meander of Truce, Jim provides us with ten full songs of his most unique views on life. Kidstrike! is a lyrically busy snapshot of modern life in London, while #Thoughts And Prayers is a sardonic number that shines a light on the downtrodden in our society. From TED talks to drinking in the park, Jim's vivid descriptions of his characters let us in on his world. A place that, deep down, we knew all along – and live every day.
 
This one's for you Sting.
 
TRACKLISTING
SIDE A:
1. Turn On, Tune In, Pop Up!
2. Jo's Got Papercuts
3. KIDSTRIKE!
4. Ted Talks
5. Truce
 
SIDE B:

If It Aint Broke
2020 WTF!
BIG Boy
Barry's on Safari (In His Safari Suit)
#thoughtsandprayers
You're Cancelled and We're Done

 
Jim has live shows planned for late 2020 (depending on what happens with gigs this year). Jim Bob will be backed by The Hoodrats, performing songs from the new album plus other Jim Bob and Carter classics. And of course, there'll be the usual glorious solo acoustic singalong where you'll get to belt out loads of USM hits and faves with Jim. Just don't expect to hear him cover the Succession theme tune.
 
Those dates so far:
 
26th November – Manchester: VENUE TBA
27th November – London: VENUE TBA
28th November – London: VENUE TBA
4th December – Hebden Bridge: The Trades Club
5th December – Edinburgh: Summer Hall
6th December – Newcastle: The Cluny
 
 
*he is Jim Bob from Carter The Unstoppable Sex Machine.