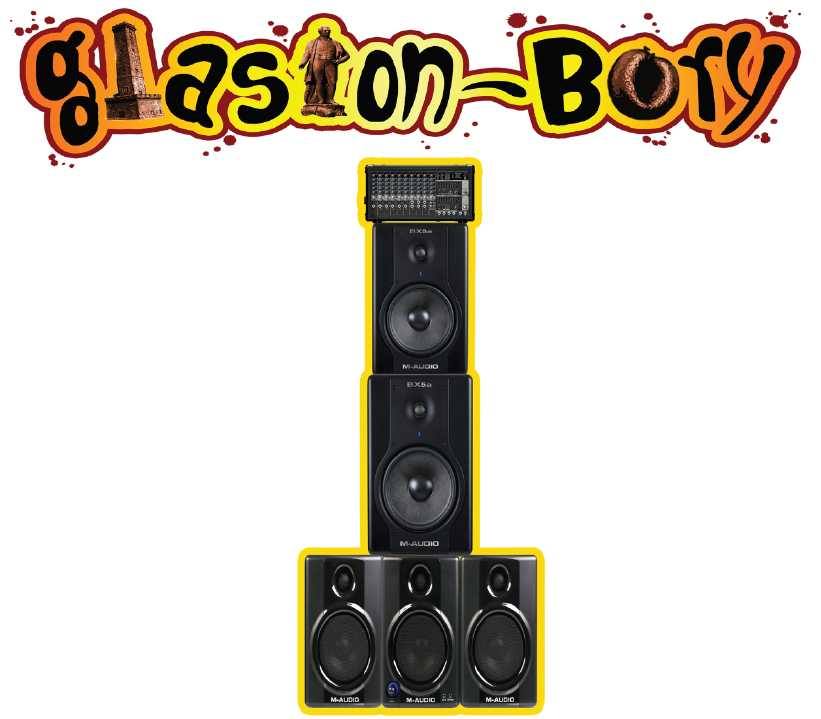 Pre Festival Interview With Christopher Buckley Glaston-Bury Festival Organiser
3rd September 2018
Glaston-Bury was first held back in 2007 in Blind Tiger in Bury to raise funds for their local hospice.
Thanks to the continued support of their sponsors, performers and everyone who attends the festival, the festival is now in its 11th year and has raised over £127,000 for Bury Hospice and other local causes.
Last year over 120 bands played across 13 venues across Bury town centre.
This family friendly event is one not to be missed!
Pre Festival Interview
It's that time of year again, and we are all ready and raring for Glaston-Bury to see what you have in store for us this year!
We would like to Thank you for taking time out to speak to us here at All About The Rock.
How did you end up getting involved with Glaston-Bury and is there a concept behind it?
I had the Idea for Glaston-BURY in either late 2007 or early 2008 I know that when I first pitched the idea the then manager of the venue wasn't interested so there' a bot of confusion as to exact date. The concept was and still is to create a day for the people of Bury and surrounding areas and to showcase the talent of these areas. The event has grown that much that we have now had to extend from just local to nationwide. But Bury Talent is at the core of what we want to showcase.
How much organising goes into the festival and are there any tips you would give to people thinking about organising their own festival?
It takes me a year to organise and Mostly in my spare time. If anybody wants to run their own event, Either start small and see where it leads or make sure you have financial backing.
What changes have you implemented this year? Have you expanded/added more food vendors/stalls etc?
We had a few things in the pipeline for this year which we had no choice but to pull at the last-minute. When these things happen and are out of our control we strive to make sure the plans happen next year. Food Vendors and more market space will be a priority without letting too much out of the bag at this early stage.
Why is the music festival important to the people of Bury and what effect does it have on the community?
Bury has a rich heritage of Music and bands and the support given just locally is massive The Bury music community really is like One big Family. Glaston-BURY has become a highlight of the music calendar in these parts and people really do look forward to it and revel in it on the day. Glaston-BURY has a massive effect on the community as it brings everyone together. People are dancing in the streets having photos taken with policemen and there are smiles all around. Obviously we are a charity event with our main beneficiary being Bury Hospice a place that brings people together through their own experiences and they are shown great support here.
What would you say is the best this about attending Glaston-Bury?
The best thing about visiting Glaston-BURY is the choice and selection of bands you get (Around 140) all for just £7. You get to see bands you wouldn't Normally go to watch and bands in return get new fans.
How would you describe the festival in 3 words?
In Three Words………………ONE BIG FAMILY
Who are you personally looking forward to seeing this year?
Personally this year i cant wait for The Appy Mundays, The Brotherhood Bhangra Band and Torch Boss the later Two bringing something a little different to this years event.
Which artist/band do you think is the most anticipated?
Hard question really as we always have a big selection of new bands but we also have returning bands each and every year. The local returning bands such as Broken Biskits who headline the main stage will definitely be eagerly anticipated.
From personal experience, I'd recommend seeing Ward XVI, they were fantastic at Bloodstock, they will not disappoint!
Who would you say was the most difficult to book and why?
Broken Biskits were the most difficult to book because Dougie Bailey is a Diva, He makes such demands and has to have an entourage at his whim. His rider was ridiculous and he would not sign up until i had agreed to everything.
Ah good old Dougie! You can always rely on him to be a huge pain in the arse, but god love him he's a good un!
Who was your highlight from last year?
My Highlight from last year?????? Everyone, Every Band and every Glaston-BURY supporter.
Post Festival
From the comments left after the event, we see that this years event went down a storm.
Bury Hospice left this message for the organisers of Glaston-Bury
Glaston-Bury 2018 was a great success as it always is, and it continues to be one of the biggest, most joyous and vibrant of all the community events on our fundraising calendar.
Yes, there were a few issues this year, but they never detracted from people's enjoyment, not for a single moment, and that's what it's all about.
I wonder how many know what goes into an event like this.
Glaston-Bury takes a year to plan. It takes a multitude of dedicated volunteers, helpers, donors and sponsors, the generosity of the venues, technicians, bands and musicians to make the event work on the day, but it also takes hour upon hour upon week upon month of time and effort, dedicated to the planning and organisation of Glaston-Bury, fitted in between jobs and family commitments, sacrifices made, family time missed.
We want to make sure that EVERYONE who has had a role in Glaston-Bury, however big or however small, knows how much they are appreciated and how much they are valued for bringing about its phenomenal success and for helping to raise almost £130,000 for Bury Hospice in the last ten years.
Glaston-Bury isn't just about this year, it's about an eleven year journey and the part you have all played along the way.
The road may sometimes be a bit rocky (excuse the pun) but the destination never changes, you pull together and you always get there in the end.As a member of Bury Hospice staff, and someone who has been around for the last ten years, I can tell you that everyone here feels immense pride to be associated with Glaston-Bury, but aside from work, I am so privileged that I can call so many of you my friends.
Thank you so much, each and every one. Michelle King & all at Bury Hospice <3 xxx
A message from the organisers!
THANKYOU FOR YOUR SUPPORT IN 2018!
A note from the organiser: "I'd like to thank everyone who took part in the 2018 event. From our wonderful team of Volunteers, our sponsors, our stage teams and Media pals, all our performers, Kim and the gang from Smoke Free Summer, Michelle, Paul and the team from Bury Hospice, Greater Manchester Police, Big Fish Rentals, MASH Audio, Bury Council, our security staff, the guys at Pizza Pioneer (for their donation of food!) and of course to the wonderful members of the public who attended the event itself. It's always truly brilliant to see all the happy faces on the day"
How useful was this post?
Click on a thumb to rate it!
Average rating / 5. Vote count: