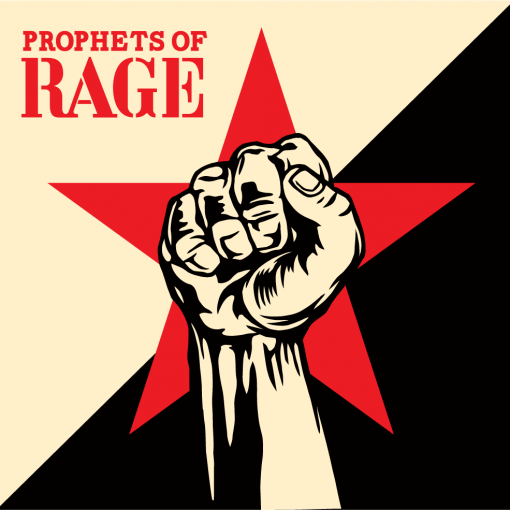 Prophets Of Rage – Prophets Of Rage
21st September 2017
The most hyped supergroup of recent times have finally brought out a full length album, after a year of touring and promotion. Made up of 3 members of Rage Against The Machine (one of the most politically outgoing bands ever), 2 members of Public Enemy (who have pumped out anti-racist tracks since the 80's), and a member of Cypress Hill (they love weed), their signature styles mix into… A Rage Against The Machine clone.
With the only instrumental change to Rage Against The Machine being the addition of turntablist DJ Lord, before Chuck D begins to spew politicized lyrics, 'Radical Eyes' could easily be a RATM song. The thick sound and guitar groove is reminiscent of Red Hot Chilli Peppers, and Tom Morello's unique guitar tone is nostalgic, but it's just so RATM that it sounds like karaoke. Even in the vocal delivery, the main area they had to find a different sound, is wasted on Chuck D's to repetition of political messages over and over again just like Zack De Le Roche. When B-Real takes over vocal duties it just sounds like he's being featured on an early RATM album.
'Unfuck The World' picks up a bit, sounding far more unique than track 1, with the call and response intro between the two rappers creating an interesting texture and the instrumentation taking a break from the spotlight to allow the lyrics to fly out. The message is in the right place, but subtlety is not a word that exists within the vocabulary of this band. No wasting their time on metaphor or imagery, shouts of 'Unification' and 'Fuck Racists' leave nothing of their political stance to the imagination, but at least B-Real's verse allows him to take the stage with some more serious lyricism, separate from the 'legalize weed' babbling from Cypress Hill.
Ah the irony. Track 3 is titled 'Legalise Me', and is more Cyprus Hill-ish than any Cyprus Hill track. The lyrics, again, don't deal in subtlety but strangely, this track is far better than either we've heard so far. It doesn't sound just like a RATM song, and the effects covering B-Real's voice match the tone of the song perfectly, and contrast the slower, straighter delivery of Chuck D later on. It's a fun, bouncy track which is sure to be a hit with the festival crowds. 'Living On The 110' is a step back towards the groove based riffing of RATM, but the delightful rap rock is reminiscent of early Limp Bizkit, with the harmony in the chorus leading to a genuinely catchy tune. This is followed by an interlude designed to give DJ Lord a turn in the spotlight to show off his turntable skills.
As the album goes on, RATM backing to two established rappers starts to become a lot more of an exciting prospect, with track 6 highlighting the vocal skills of both vocalist, as well as subtly incorporating impressive turntable work. 'Take Me Higher' opens with an almost flamenco style introduction, giving a vibe totally different to the rest of the album (much like 'Legalize Me' did). It only gets weirder when a jazzy, again Red Hot Chilli Peppers-esque, accompaniment allows for a 'Mama Said Knock You Out' parody to materialize out of nowhere. Tom Morrelo is still intent on providing weird guitar effects, but on this bizarre track, they work a lot better.
As the album starts to wrap up, the idea that it actually got better gradually seems more and more strange. The first two tracks seemed like RATM karaoke knock offs, but by 'Who Owns Who' the lyrics have become more subtle, the sound is more unique and the vocalists start to fit into the music with a lot more ease. The album ends with 'Hands Up', which is virtually guaranteed to get any crowd jumping right from the start, with its gradual build into one of the densest songs on the album, it becomes a great live addition, even with some mixing problems.
Overall, it's a slow burn. They open the album with their two most 'famous' but sadly, worst, tracks. The B-Real fronted 'Legalise Me' is the most unusual track on the album and 'Hail To The Chief' allows a turn in the spotlight for every talented member. While admittedly, it does in general sound like it could be turned into a fully fledged RATM album within 15 minutes, it's really not bad. There is clear chemistry between the members, and their political stances combine into clear (definitely unsubtle) lyrics, pounded out over repeatedly impressively grooving riffs.
Score 7/10
Prophets Of Rage Information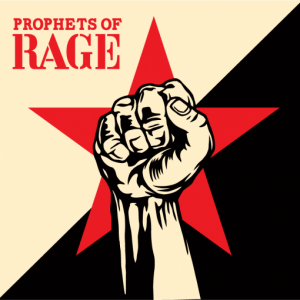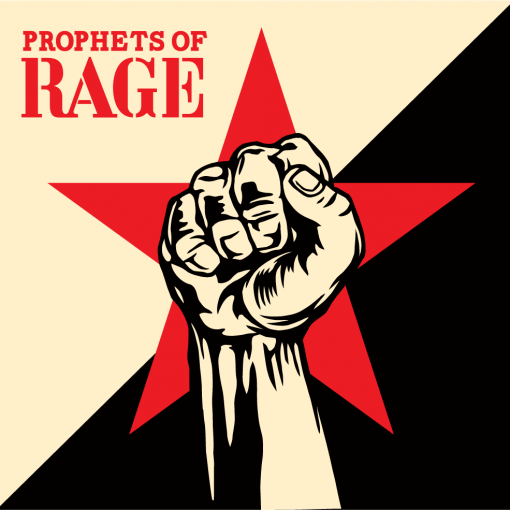 Track Listing:
Radical Eyes
Unfuck The World
Legalize Me
Living On The 110
The Counteroffensive
Hail To The Chief
Take Me Higher
Strength In Numbers
Fired A Shot
Who Owns Who
Hands Up
Smashit
Record Label 
Fantasy Records
Release Date
September 15th 2017
For all things Prophets Of Rage, click HERE. To purchase the album, click HERE
For Fans Of- Rage Against The Machine, Public Enemy