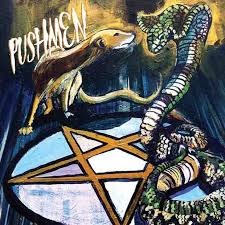 Pushmen – The Sun Will Rise Soon On The False and the Fair
18th June 2013
Band: Pushmen
Album: The Sun Will Rise Soon On The False and the Fair
Record Label: The End Records
Release Date: 30th April 2013
Reviewed By: Mark
Tracklist:
1) Child From Chaos
2) Vortex Philosophy Blues
3) Amass
4) Blaze Some More Hate
5) The Year of Hands & Neck
6) Born Again Too Late
7) …Silenus Beside Me
8) Crime Again
9) Western Medicine
Stand out tracks: – "Child From Chaos", "Vortex Philosophy Blues", "Blaze Some More
Hate", "Crime Again"
Sorry for the delay in the review for this album my good followers/readers I know it has been out for awhile and I forgot that I was reviewing it for All About The Rock so my mistake! Anyway PUSHMEN hail from Austin, Texas and are a super group, comprising of members from THE SWORD, MADE OUT OF BABIES, BAD POWERS, HEARTLESS BASTARDS, RATKING and SEA OF 1000 (to be fair I haven't really heard of any of them bands apart from THE SWORD). The band's biography states this about them:
"The Pushmen goal is to find the right combination of notes, beats and rhythms that will in effect create a wormhole large enough for the listener to travel back in time and punch himself in the face for all the years they are about to waste [not listening to us]."
So PUSHMEN want to basically beat the listener senseless and then urinate on you while you lie in a pool of your own blood…so is that what you get then with 'The Sun Will Rise Soon On The False and the Fair'?
Well PUSHMEN musically are as raw as a bulimic throat after a vomit binge, sludgy metal. The songs are driven by a thunderous and driving rhythm section and intelligent riffs, however a lot of people will be put off by the vocals. They are loosely hardcore driven with a medley of death metal screams thrown in, kind of in a similar vein to IRON MONKEY and a harsher SOILENT GREEN. Some people will be put off by the vocals and will dismiss PUSHMEN, however if you don't mind the vocals then this is a decent gem of an album.
The first song 'Child From Chaos' is probably the most chaotic on the album and the melodic chorus is outstanding, however the opener is probably one of the better tracks on the album and slightly overshadows the rest of the album (Also the vocals are probably the harshest on this track, apart from the chorus). While 'Vortex
Philosophy Blues' has a more groove, stoner/doom metal feel to the song, if someone said to me describe PUSHMEN quickly then I would say a more up tempo IRON MONKEY but without the catchy riffs from "Our Problem".
'The Sun Will Rise Soon On The False and the Fair' is a good album and most bands would love to write this as their debut album, it isn't outstanding as the inconsistence in song quality. However this won't be the last time we hear from PUSHMEN and maybe then they might make me go back in time and punch myself senseless? So if you can get past the first song then this is a good album and if the song is too intense for you then just skip the track…
SCORE – 7.5/10