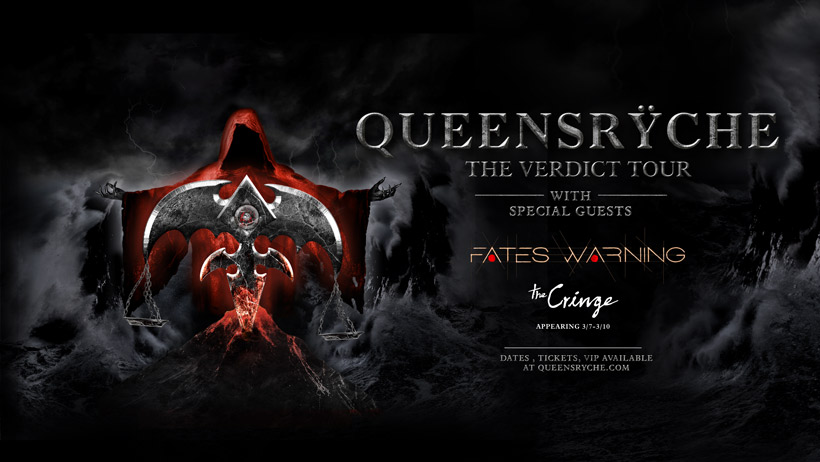 Queensryche – The Verdict
25th March 2019
0
By
David Missildine
Can a band still be relevant when it has lost core members? Will hardcore fans accept such drastic changes?  Well Queensryche 2019 is here to answer those questions with their 15th studio album The Verdict.
Queensryche formed in 1981 in Bellevue Washington, and have sold over 30 million records worldwide, building a dedicated legion of fans.  With three Grammy award nominations and a few essential classic albums from the 80's and 90's, that every metalhead should own, which spawned a string of hits that dominated rock radio such as "Jet City Woman" and "Silent Lucidity", this version of the band has a lot live up to.
A messy disagreement with original vocalist Geoff Tate had led to various other versions of the band and legal disputes that ended up in courts.  In the end, we have this version of Queensryche with Todd La Torre (former Crimson Glory vocalist).  He has sung on the last two well received records.  He also impressively performs the drums on this new record as Scott Rockenfield has been on hiatus for the last 2 years. So what is the verdict?
The Verdict finds vintage Queensryche. It has all the hallmarks of their early classics. It's fun, energetic, and feels familiar and comfortable.  Because of that, there's also no surprises.  As someone who hasn't followed the band closely and was not familiar with their newer output, I was very surprised how enjoyable this album was. Todd La Torre sounds very similar to Geoff Tate but also different enough.  He has great range and his vocals soar throughout the songs.
"The Verdict, is that statement for us – in much the same way that [1984's] "The Warning" was," says founding guitarist Michael Wilton. "This one's the creative convergence of this lineup. We got together and worked on every song as a band. The spontaneity, the creativity; it came out of all of us, working together as a band should."
The songs are heavy and progressive, ranging from aggression tempered with melodic ballads.  Groovy riffs, satisfying hooks, and catchy choruses carry many of their songs.  Queensryche has always had a political edge with deep thought provoking lyrics, speaking out against injustice and societal neglect. The Verdict is no different.
"The first track on the record is called 'Blood of the Levant'," La Torre explains. "That really is about the Syrian war and how it started with these two kids spray- painting: 'You're next, Doctor!' referring to Assad, because he was an ophthalmologist before he took power. That song has to do with the people becoming rebels against their own Syrian government and the one's that support it, i.e. Iran, Russia, Hezbollah, and ISIS which took advantage of the war to invade Syria. Then you have the song, 'Bent', that isn't political but has undertones in lines like: 'The poisoning of tribes.' Which is basically referring to how we devastated the Native Americans. "To the lifeline of Flint" which is basically about the bad water in Michigan. 'Now the black snake it crawls deep within sacred grounds, we will never consent." Talks about the oil pipelines going through Native American land."
Queensryche influence is undeniable in metal history.  The Verdict finds the band hungry and energetic. It is well mixed and produced by Chris "Zeuss" Harris (Hatebreed, Rob Zombie). The songs are short, for the most part, leaving little bloat.  It never gets boring or overstays its welcome. At the same time, I would have liked to have heard more experimentation and chances taken. Also, ending the album on a ballad, left me unsatisfied. But it's a very good album that showcases this band's passion and talent.  Most Queensryche fans will be ecstatic at this release, while everyone else might be surprised how good this is. Give it a chance and relive a retro throwback to circa 1980's and 1990's progressive metal.
Score: 8/10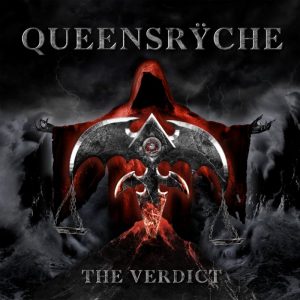 Track listing:
Blood Of The Levant
Man The Machine
Light-years
Inside Out
Propaganda Fashion
Dark Reverie
Bent
Inner Unrest
Launder The Conscience
Portrait
Record Label:
Century Media
Release Date:
March 1st 2019
For all things Queensryche, click HERE and to purchase the album, click HERE
Catch
Queensryche
for the remainder of leg one of their The Verdict headline tour in The US. The band has been performing to SOLD OUT shows all across the US. Leg two of the world tour starts on July 25
th
in Berlin and wraps in Essen on August 17
th
, hitting all the major European tour markets. Tickets are available for purchase on the band's website
HERE
.
QUEENSRYCHE US HEADLINE TOUR DATES
March 20 – Dallas, TX – House of Blues
March 21 – Houston, TX – House of Blues
March 22 – San Antonio, TX – Aztec
March 23 – Albuquerque, NM – El Rey
March 26 – Tempe, AZ – The Marquee
March 27 – San Diego, CA – Observatory
March 28 – Los Angeles, CA- Fonda
March 29 – San Francisco, CA – Slim's
March 30 – Sacramento, CA – Ace of Spades
April 2 – Portland, OR – Crystal Ballroom
April 3 – Seattle, WA – Neptune
QUEENSRYCHE "The Verdict European Tour"
w/ Firewind, Mirrorplain
July 25 – Berlin, DE – SO36
July 26 – Rottenburt-Seebronn, DE – Rock of Ages *+
July 27 – Szekesfeherva, HU – Fezen Festival+
July 28 – Ljubljana, SL – Kino Siska
July 30 – Munchen, DE – Free & Easy Festival
July 31 –
Aschaffenburg, DE – Colos-Saal
August 2 – Wacken, DE – Wacken Open-Air*+
August 3 – Eindhoven, NL – Effenaar
August 4 – Paris, FR – Petit Bain
*
August 6 –
Pinarella di Cervia, IT – Rock Planet
August 7 – Pratteln, CH – Konzertfabrik z7
August 9 – Kortrijk, BE – Alcatraz Festival+
August 10 – Leeuwarden, NL – Into The Grave Festival*+
August 11 – Walton-on-Trent, UK – Bloodstock Open Air Festival*+
August 13 – Norfolk, UK – Waterfront, Norwich*
August 14 – London, UK – o2 Islington Academy*
August 15 –
Saarbrücken, DE – Garage*
August 16 – Dinkelsbuhl, DE – Summer Breeze Festival*+
August 17 – Essen, DE – Turock Festival*+
* FIREWIND do not appear
+ MIRRORPLAIN do not appear
How useful was this post?
Click on a thumb to rate it!
Average rating 0 / 5. Vote count: 0
No votes so far! Be the first to rate this post.
Related