Ramblin' Man Fair – Latest Line Up Announcement!
16th March 2018
Spirit Of Rock Presents Ramblin' Man Fair Mote Park, Maidstone, Kent UK30th June & 1st July 2018 Further Acts Announced For 2018
 
MYLES KENNEDY
Skinny Molly
Thomas Wynn And The Believers
Second Relation
No Hot Ashes
Praise for Ramblin' Man Fair 2017
"If you're into Classic Rock then Ramblin' Man could be 'The Greatest Show on Earth'!" – Daily Mirror 
 "What a corker…Ramblin' Man has a rep for warm sounds and cool vibes.. this fests got legs!" – The Sun
"Ramblin' Man Fair: they came, they banged and they conquered" – Daily Express
 
"This is where you'll find all the classic rockers…a bit special" – Evening Standard Festival Guide
"Some say the classics never go out of style, when it comes to hard rock they are right" – GQ Festival Guide
 "The Summer's finest Classic Rock gathering gets motors running and good times a-rollin' down south" – Kerrang Magazine 
"An Absolute Triumph" – Prog Magazine
 
"Triumphant" – Record Collector
 
 "Ramblin' Man Fair is a welcome victory" – Planet Rock Magazine
Following on from the critically acclaimed and commercially successful third year in 2017, Ramblin' Man Fair returns in 2018! This year the festival will move from its traditional end of July slot to the 30th June and 1st July 2018.
Ramblin' Man Fair is pleased to announce further acts for 2018 as Myles Kennedy, Skinny Molly, Thomas Wynn And The Believers, Second Relation and No Hot Ashes.
 
Myles Kennedy (Country Stage. Special Guest. Solo Set) – As the singer/songwriter of Alterbridge and also Slash's band Myles Kennedy And The Conspirators, Kennedy has established himself as one of the defining rock voices of his generation. 2018 saw the release of his first solo album "Year Of the Tiger". The sound and lyrical content of the album is very different to what fans of Kennedy might expect – "I've always wanted to make a record where I could have the opportunity to explore and document a different element of my musical DNA," he says, citing his love for the blues, R&B, and acoustic based music and listing such influences as Mississippi John Hurt, Chris Whitley, K.D Lang, Nick Drake and the acoustic songs on Led Zeppelin 3 and 4. "I was trying to tap into something a little more subtle, as opposed to a big, bombastic, high gain sonic attack." Ramblin' Man Fair are hugely honoured to welcome Myles Kennedy as the Special Guest on the Country Stage in 2018 – his first UK festival appearance as a solo artist.
 
 
Ramblin' Man Fair is the must see event for discerning festival goers. A quality musical line up with a number of UK exclusive performances. The event is a unique experience fast becoming a staple of the UK festival calendar.
 
The festival will take place in the beautiful Mote Park in Maidstone, Kent – the garden of England. The park is one of the largest in South East England with more than 450 acres of mature parkland and a 30-acre lake. With multiple travel links via train (Ashford International, Maidstone East and Maidstone West in close proximity) and road (with three park and rides available around Maidstone). The festival site is also perfect for European festival goers with easy links to the London airports, Eurostar via Ashford Int'l and Channel Ferries to and from mainland Europe.
Ramblin' Man Fair will take place on Saturday 30th June and Sunday 1st July 2018.
Announced acts to date are: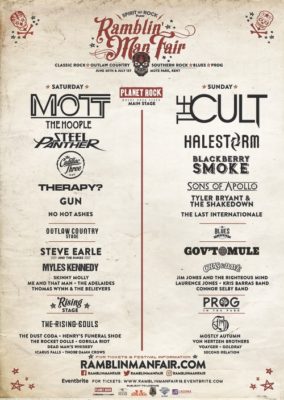 Main Stage
Mott The Hoople (Headliner)
The Cult (Headliner)
Halestorm (Special Guest)
Steel Panther (Special Guest)
Blackberry Smoke
The Cadillac Three
Sons Of Apollo
GUN
Therapy?
Tyler Bryant & The Shakedown
The Last Internationale
No Hot Ashes
Country Stage
Steve Earle & The Dukes (Headliner)
(UK Exclusive Set 'Copperhead Road plus Hits!')
Myles Kennedy (Special Guest)
Me And That Man
Skinny Molly
Thomas Wynn And The Believers
The Adelaide's
 
Blues Stage
Gov't Mule (Headliner)
Chas & Dave
Jim Jones and the Righteous Mind
Laurence Jones
Connor Selby
 
Prog In the Park Stage
Fish
(Playing Material From The "Clutching At Straws" Album)
Mostly Autumn
Von Hertzen Brothers
Voyager
Goldray
Second Relation
 
 
Tickets are available now priced as below:
 
VIP Admission Saturday & Sunday – £256 plus booking fee
General Admission Saturday & Sunday – £156 plus booking fee
Camping Starts at £49
Tickets available from http://ramblinmanfair18.eventbrite.co.uk
 
To keep up to date with all Ramblin' Man Fair announcements please like, follow and visit us:
 
www.ramblinmanfair.com   
www.twitter.com/RamblinManFair
www.facebook.com/ramblinmanfair