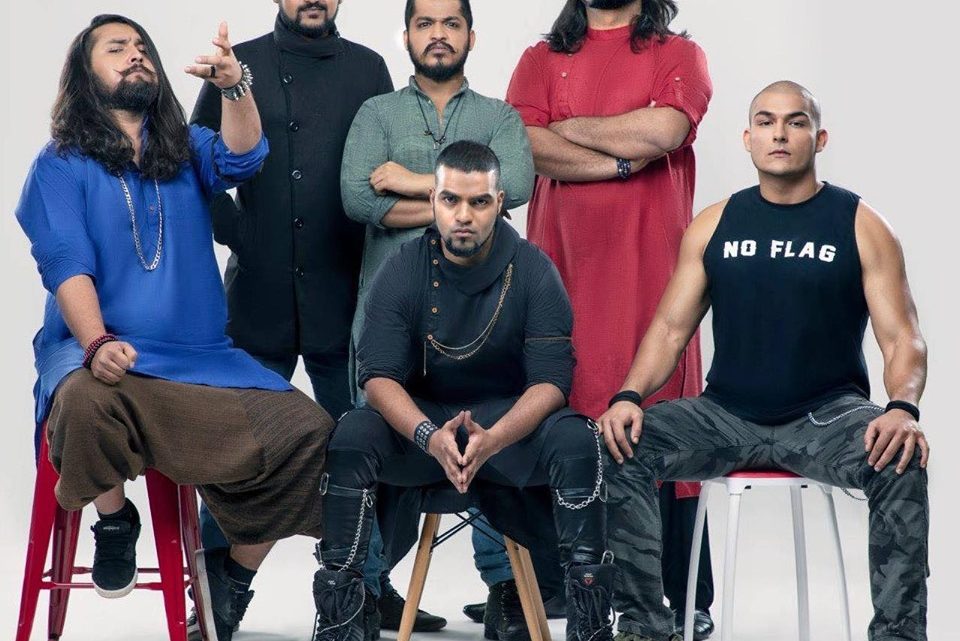 Raoul Kerr of Bloodywood Interview at Wacken 2019
22nd August 2019
0
By
Queen Nikki
Bloodywood absolutely shattered the W.E.T stage on Thursday the 1st of August, at Germany's Wacken Open Air 2019. Not only was this show was the biggest of their lives to date but it was a part of their first international tour, 'Raj against the Machine'. The video's of their Indian Street style of Metal went viral last year and they've been on the up ever since. They combine traditional Indian instruments with metal grooves and hard hitting lyrics with an impressive array of vocal techniques. Their performance was a highlight of the festival for many this year, including me and the moshpit was an emotional roller-coaster ride of 90's jumping, teary moments and absolute joy. Their live lineup consists of vocalist Jayant Bhadula, Karan Katiyar on guitars and flute. Roshan Roy on bass guitar, Vishnesh Singh on drums and Sarthak Pahwa on the Dhol drum/Indian percussion. I caught up with Raoul Kerr who brings in the rapping vocals to their sound, to see how he felt post gig and to talk about all things Bloodywood. Raoul sits down with me in his shirt that reads "No Flag" as I thank him so much for making time for me. 
First of all, we just saw the Bloodywood show and it was ridiculous. That was such a high energy performance and the tent stages were bursting at the seams at capacity, they had stopped letting people in! Is that what you expected or did today's show exceeded your expectations?
"I will start by saying it wasn't exactly something that we expected, but it was something we hoped for, I'll tell you that for sure. To be given the opportunity to play here at Wacken, the 'Mecca' of Heavy Metal, when we've only been a band for a little over a year is amazing. Before this, we were known as an online sensation, where we were putting our messages out through music video across the internet, across the world and we had a lot of success. But to be able to prove ourselves in real life, playing in front these audiences and to perform for real to get our messages out there face to face, is what its all about.
For me, you can project yourself a certain way online, but when you're there, raw and in the flesh, that really is the bigger half of the picture. So to be given that opportunity and to see the numbers, its everything we could've hoped for. One thing I will add though, which is something we wanted to push over the course of this tour. We started at the Dong Open Air and we wanted to build up momentum to the point where we would have people come out to see us and it would be visible how hard we had worked."
Well it worked! Honestly after watching you just this afternoon, I can say your hard work as a band really showed on stage. As someone who has been following you guys since the first video went viral, you exceeded everyone's expectations and that was the crowd were saying too.
Even in the queue to the bathrooms after the show, hoards of people were chanting "Ari, Ari, Ari", how do you feel hearing that?
"Wow Nikki, Thank you so much for saying that! That was literally the goal of this tour. To put everything on the line to prove ourselves and to hear that you used to watch our videos, then you felt like this now watching us, is the highest compliment so cheers to that!"
As I'm out of booze, Raoul pours half of his drink into mine so we can cheers!
Bloodywood obviously have a very strong stance politically and thats another reason why alot of people are drawn to you. Do you feel that your message is being heard well enough through your music?
"Of course! I mean with our song Ari Ari, the message is simple. Despite our differences, we are one and this is the war for peace.The idea behind it is the weaponization of compassion. Enough asking for it nicely, we need to fight for it. This is fire with fire and the message is simple, its time to unite. Right now, its become evident to us that there is a large environmental crisis at play and more than ever the human species has to unite and be better. The source of alot of the worlds problems are based on our division. Ari Ari hit that across the board and its lyrics are open ended, even Machi Bhased, our next political song is open ended. But the spirit is what gives people the ability to lay claim to it. We want to crystallize that again with our next few songs.
for example Endurant talks about bullying and Jee Veerey talks about depression. Although we cover a lot, the main message is that despite our differences, we are one but the elaboration is still open ended which is why I feel a lot of people can relate to it. We will get more and more specific with time, we were just giving people an idea, now we're giving them the spirit and the spirit has to result in some action.
I can already tell you with the most confidence that the Bloodywood community has an identity of its own. A big hearted community that want a better world, who believe we can be so much better than we are and that's something that drives our music. The rebellion against hatred, in its finest. These messages don't have to come from leaders or politicians, music can and it will change the world and we are living the proof of that right now."
You're blowing me away with these incredible answers Raoul, I love it. Now, globally, you have a massive Bloodywood community, but what about in your home country, India?
"Well Nikki, its sad to say, our Bloodywood community in India is a minority, but they are a passionate minority, I'll give you that much. Metal itself is not a big genre in India, but they are the few and the proud. The people who do support the music, are hardcore. We received the craziest send off and it was a big night for metal in New Dheli.
A fun fact, we played our hearts out and at the end of the show, they started chanting the bands name at the end. Usually we would take our phones out and start recording but we had no phones, it was just us, soaking it up listening to our home, our people cheer us on.
They knew this was big for us, they knew we'd never toured internationally and they also knew this was only our second show as a band. They knew we were taking a huge risk, we were going to go from zero to nothing and expect to not break under that pressure. They just gave us nothing but love. They said, "Go out there and fucking smash it boys" and we played hard for them.
Fast forward five days later to Dong Open Air in Germany, after the show people started chanting the Bloodywood name and we couldn't believe it was happening. If people are giving us that sort of love of support, we have no choice but to put our bodies, our hearts and our souls on the line, every time we get on that stage, no matter where we are."
That is such a beautiful outlook and I cant wait to see whats on the horizon for Bloodywood. What is the plan now, after the tour when you get home?
"Well, we definitely will get back into the studio. I dont know if you know this, but half our set are cover songs, we do have originals, but the plan had always been to create more originals. When Karan and Jayant first started with cover videos, it was meant to draw an audience and it was funny but it also was to show that even pop songs can sound great played as metal. So now our main plan is to jump back into the studio and come back with our full originals set to solidify that Bloodywood message through our music. New materials, new music, new videos then we can come back and smash our next tour."
That sounds very promising, I for one cannot wait to follow your journey but also hear the new music you guys create. Is there anything you would like to say to Bloodywood fans?
"We appreciate the love so, so much, but also, we never say fans, 'supporters' might be a better word, but that doesnt even cover it. Bloodywood is a family in its own movement, its not 'us' and 'them' its just 'us' as simple as that. Everyone on that stage is an extension of that audience, whatever the crowd gives us, we throw it right back, its like synergy. We are a family, we are a movement and so far its been about creating an identity. But to everyone out there listening, the time for action will come and together we will change the world."
As we hugged it out, I thanked Raoul for his time and his incredibly in depth answers which he assured me were not reheasred at all. I believe him and after watching the fire burning in his eyes as he spoke you can absolutely consider me a part of the Global Bloodywood family. If youre still not hooked, even after reading this, take your time, we'll be waiting. Lets all be better and be a part of the solution.
For all things Bloodywood, click HERE
How useful was this post?
Click on a thumb to rate it!
Average rating 5 / 5. Vote count: 13
No votes so far! Be the first to rate this post.
Related
About the author
"It does not require a majority, but an irate, tireless minority, keen to set bushfires in people's minds." Hail Satan!