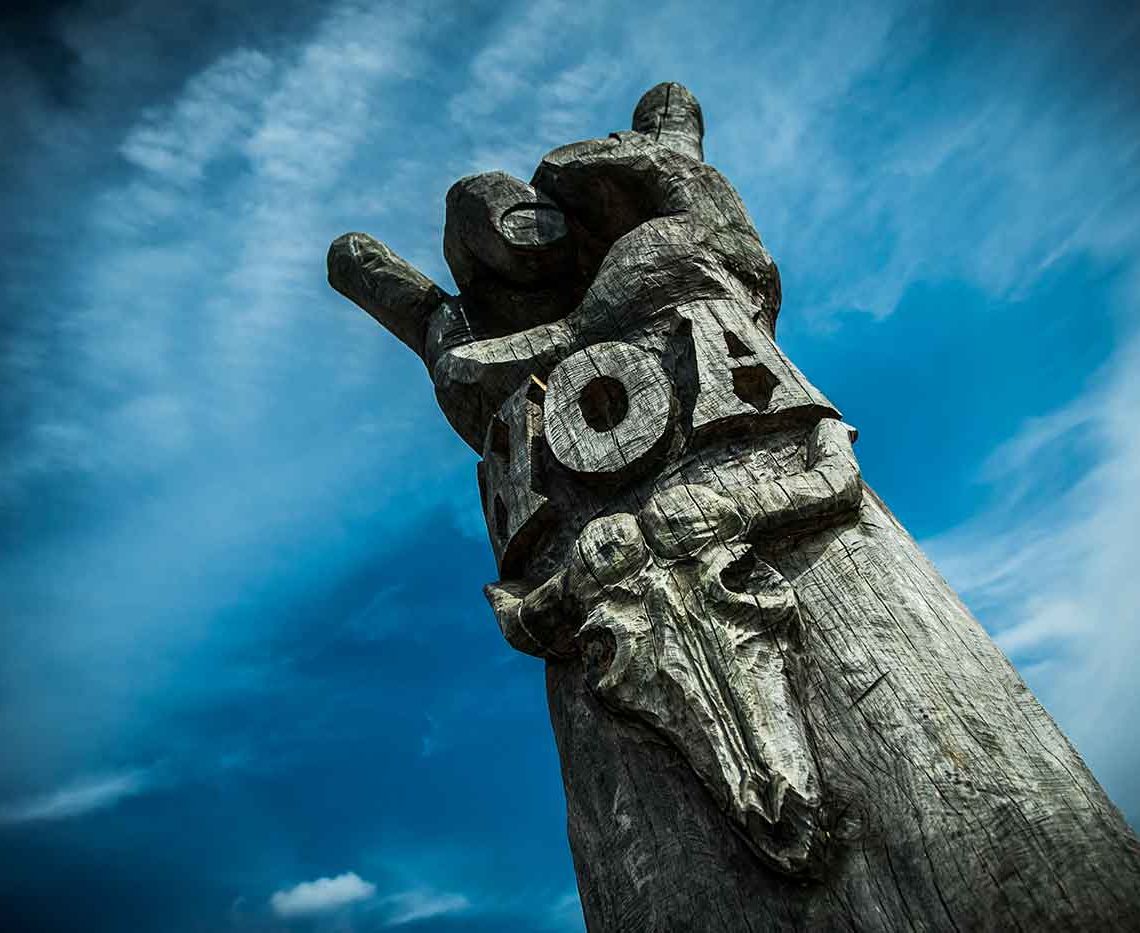 Wednesday 31st July and Thursday 1st August of Nikki at Wacken 2019
22nd August 2019
0
By
Queen Nikki
Adventures to the Holy Land of Wacken, always begin with the journey and although this was my 6th consecutive time attending, it was the first time I was flying solo to get there. This was set to be the biggest yet, for the 30th anniversary of Germany's Wacken Open Air Festival 2019, it was sold out and was off to a mental start from the get go.
Rushing through the airport, for an Early Wednesday morning flight from London, flashing 'Final Boarding call', I was pleased to see the hordes of metal heads standing in the queue to the gate. Out of breath, I look up at a big guy holding a pillow and a Wacken hat, "It's all ok mate, you made it!" The relief washes over me as I take my lucky random seat next to the Quireboys at the back of the plane.
Our Captain announces, "Welcome passengers, ladies, gentlemen and metal heads travelling to Wacken!" Even the Gama Bomb boys have a giggle as we erupt in the first of many Wacken chants of this pilgrimage, this really was an all-star flight.
The train to Itzehoe is as always an interesting mission, I'm with some Russians, Germans and Israelis. We make new friends, talk about playing chess and have a sing-along to Grease.. "Wop ba-ba lu-mop and wop bam boom!"
Bags stacked upon bags, a trailer gets on full of tent equipment, trolley's carrying ten crates of booze arrive and all the while we share beers and cheers to each other in many different languages.
Then there is the Wacken shuttle bus, which is one big metal party, the driver is always hilarious and growls over the microphone, he also plays Highway to Hell very loud on repeat. We all scream as loud as possible as the bus passes the infamous WACKEN sign.
After all, this place is the Mecca of metal and there is nowhere else in the world quite like it.
Dragging bags through the camp grounds, we go passed many metal heads having bubble baths, some brought entire hot tubs and even tractors. With just enough time to say hi to my long lost camping pals, my comrade Capsy and I run for the Wackinger Village stage. Aussie party pirates Lagerstein are in ship- shape, playing to a mammoth crowd for a Wednesday afternoon. We join the Australian Wacken contingent of mates I haven't seen in years, in the front row.
This sprightly seven piece throw out a giant sized beach ball, urge us to drink and pump the crowd with a much needed energy fix after a long day of travelling. Vocalist Captain Gregarggh encourages the mass to sit down on the ground for Drink 'till We Die, which of course causes everyone to start rowing. "Heave!" They finish off the set by introducing
the band and all members smash a beer bong, except the captain who polishes off a duck shaped decanter of rum of course, followed by much cheering. After watching them play some 9 years ago on a tiny stage in Brisbane, it was truly heart-warming to see the lads play at the mighty Wacken and what a great way to start the festival.
Filling our steins with beer we swing by the Wasteland stage to see Gama Bomb show us how thrash is done with their comedic Irish flare. Front man Philly Byrne is his usual charismatic self, shrieking high down in the crowd, head banging with the best of them, wearing his signature strange printed garments. Back to camp we decided to check out the new Camping Plaza area and boy had it changed. We now have the Metal market- an entire fricken shopping centre on the camp grounds, a gaming village and even a cinema! Not to mention moving the Welcome to the Jungle stage to the camp grounds and a 24 hour bar, talk about non-stop.
Moving along to the Bullhead City Circus, we waited patiently for British rock legends Sweet to hit the W.E.T stage. We danced, we swung each other around like hooligans and sang like fools to Ballroom Blitz. I love that they had to announce that Andy Scott's white fringed hair was in fact not a wig and asked everyone to cheer for his hair, hilarious.
Next we kept our dance moves up for Aussie Rock and Roll dads, Rose Tattoo. Angry Anderson is adorable, veins protrude from his shiny scalp as he bounces around the stage making his way through their discography, including a crowd favorite, Nice Boys!
Time for some food, we grabbed some Wacken Knacker and danced the night away at the Rendsburger Wacken Fans camp to enjoy some tap beer and the amazing view of the camp grounds from the top of their trailer.
Waking up to the Baby Shark song, inappropriately loud on repeat, it was a clear sign that we were in fact waking up at Wacken Open Air. We had a baby wipe shower, smacked on some red lipstick and headed in early for Indian Metallers Bloodywood. These guys came out as a viral YouTube sensation and hit the W.E.T Stage to 15,000 Wacken goers chanting their name.
Now I will say that this performance was absolutely a big highlight of the entire festival for me. Every member of the band was working so hard and it really showed. The fusion of metal with traditional Indian folk instruments mixed with the raw emotion their lyrical content brings out, I was brought to tears. "Diversity is a gift!" Vocalist Jayant Bhadula talks passionately about the monster that is depression and asks anyone who has suffered from depression to raise their hand. He then asks the crowd to take a look around at everyone who has suffered and seriously all I could see was hands. This broke me. Between Karan Kaityar's eerie flute melody's and Sarthak Pahwa's Dhol drum beats, there wasn't a standstill body in the house. This was a crazy, jumping Punjabi metal moshpit like I'd never seen. By the time they played Ari Ari and Raoul Kerr was rapping, it was amazing to see the amount of fans in the crowd singing in Hindi, this made me feel so happy and proud for them. My concentration was broken when a giant Swedish Viking who was wind milling with his beard for the entirety of their set, kept whipping me in the forehead with his beard braid, I had to laugh!
Off to queue for the bathrooms after the show and you could hear everyone still singing "Ari Ari" as they left the tent stages. I was lucky enough to then meet them backstage and I caught Raoul for an interview about his experience.
In the press area, we sat for an Interview held by Thomas Jensen (W.O.A. Co- Founder) and Gunner Sauermann (W.O.A./ Metal Hammer) with the Cambodian band Doch Chkae who had been brought as orphans from the slums of Phnom Penh to Wacken. This was another tear jerking moment, when the boys were asked why they play metal they said, "We have a lot of anger, we lived in the slums before so when we play we can let our anger out through the metal." Why didn't I bring tissues?
In the VIP, I get my hair braided by another Wacken Mother who adopts me, we catch up with the Lagerstein guys and drag them back to camp for some Bundy Rum necking and the Captain drinks a shoey from his dirty festival boot. My camping buddy Frisbee's a condom packet at me and cuts my lip, but thankfully this was my only injury this year. My first year at Wacken with no broken bones or trips to the medic tent! Hail Satan!
By this time, Wacken veterans Skyline had opened the infield playing on the Faster stage, with of course a cameo from Thomas Jensen on bass.
Later on, Aussie's Airborne are playing to a packed infield, Joel O'keeffe screams down his mic. "Wacken? How tha fuck are ya? Let's get that circle pit happening!" We grab ourselves a Langos and settle in for Sabaton on the main stages. The bullhorn lights up during Ghost Division and they take over both main stages for two hours of absolute Sabaton craziness. On the Harder stage, the old line-up for the band appears and they play along to the same songs simultaneously, it's quite the production. They have a choir, flame throwers, army tanks, smoke bombs the punters love it.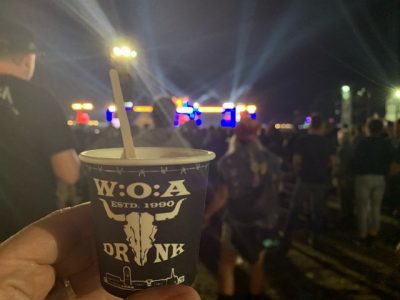 Smashing a coffee back we went to the front of the W.E.T. stage for the much awaited Hellhammer performed by Tom Warrior's Triumph of Death. For me and most, if not all here tonight, this was a magical experience of finally seeing Hellhammer songs performed live and by one of the bands original members. Mia Wallace on bass is mesmerising to watch, her stance is abrasive as she plays flawlessly through Horus Aggressor. While Andre Mathieu's guitar and vocals really bring that unfiltered Hellhammer sound to life. Tom's eyes drip with dirty black make-up as he husks, "This song tells the story of my life", and he leads the band into Revelation of Doom. This was not only a highlight off the festival for me, but a highlight of my life.
Back at camp, we set off some casual fireworks, tell stories of the day and swig the last of our daily bottle of Jack Daniels. I snuggle into the hair of a handsome German babe and drift off to sleep listening to the sounds of the flame throwers in the Wasteland.
How useful was this post?
Click on a thumb to rate it!
Average rating 5 / 5. Vote count: 6
No votes so far! Be the first to rate this post.
Related
About the author
"It does not require a majority, but an irate, tireless minority, keen to set bushfires in people's minds." Hail Satan!