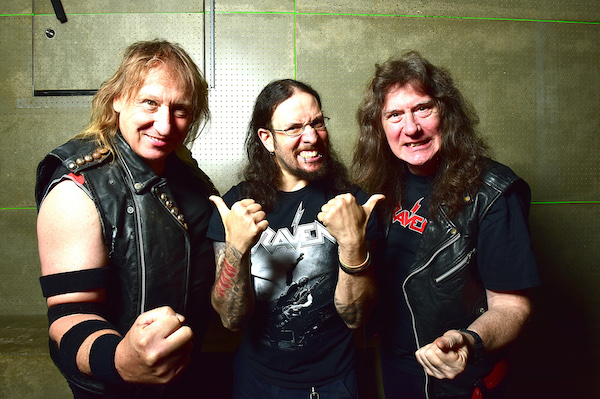 RAVEN – Metal City – Review
24th August 2020
0
By
Mark Booth
Underrated NWOBHM and early influencers and pioneers to the thrash and speed metal scene and also of "athletic rock"…the legendary RAVEN are back with their fourteenth studio album 'Metal City'. This is their first release in 5 years and the first without long time serving drummer Joe Hasselvander, who had to step aside due to ill health. They have however managed to fill the hot seat with American drummer Mike Heller of MALIGNANCY and FEAR FACTORY fame. If you are new to RAVEN then a good general description would be that they are speedier than JUDAS PRIEST and heavier than IRON MAIDEN.
The album opens with 'The Power' and the influence of the younger American drummer is plain to see, the explosive double bass kicks, the rolls and fills fired off at a furious pace and with deadly precision. The drumming assault is beautifully entwined with the rumbling bass of John Gallagher and the razor sharp guitar riffs of Mark Gallagher. The album also has other speedy numbers, such as 'Human Race', 'Cybertron', 'Motorheadin' and 'Break' which pummels through everything in its path like an out of control juggernaut. The influence of Mike Hellers previous bands can be showcased on these tracks with RAVEN intensifying the raw aggression of earlier albums. Some tracks such as 'Top Of The Mountain' and 'Not So Easy' meanwhile maintain some of the more rock n roll vibe of early RAVEN.
Keeping with the early vibe are the loud, singalong anthems RAVEN are great and doing and 'Metal City' has such tracks in 'Battlescarred' and the title track 'Metal City'. With the catchy riffs, pummelling drums and singalong choruses that will have you banging your head and pumping your fists in the air! Throwing a curveball into the mix is the album closer, 'When World' Collide', which is an IRON MAIDEN inspired epic track. Although it's nowhere near as faultless as some of IRON MAIDEN epic tracks (Rime Of The Ancient Mariner, Alexander The Great, Hallowed Be Thy Name, Seventh Son Of A Seventh Son and so forth) it's still a fairly ambitious track and they don't do themselves any injustice. However it does showcase that epic song writing isn't a strong points of theirs, and that the more energetic, anthemic and athletic song structures are what they do best.
One of my main gripes with 'Metal City' is that the drums are way to prominent in the mix, especially for the first half of the album. They drown everything out and take centre stage and make hearing and enjoying the riffs and vocals seem like hard work. I truly believe that if the mix was better then 'Metal City' would be adorning maybe top album lists for 2020, however unfortunately the production takes away some of the punch from this release. Yet its still a highly enjoyable slab of NWOBHM / athletic rock and if your a fan of RAVEN, and especially the 'Wiped Out' era, then you'll love this release. If your only just discovering RAVEN then this is a good starting point, but you need to go back and get 'Rock Until You Drop' and 'Wiped Out'
SCORE – 7/10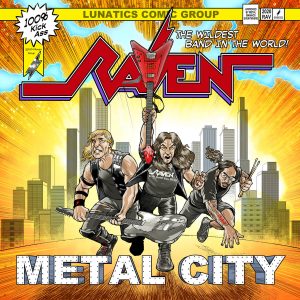 Track Listing
01. The Power
02. Top of the Mountain
03. Human Race
04. Metal City
05. Battlescarred
06. Cybertron
07. Motorheadin'
08. Not So Easy
09. Break
10. When Worlds Collide
Label:
SPV/Steamhammer
Release Date:
18th September 2020
For all things Raven, click HERE and to purchase the album, click HERE
How useful was this post?
Click on a thumb to rate it!
Average rating 3.5 / 5. Vote count: 2
No votes so far! Be the first to rate this post.
Related
About the author
Devotees and followers of the Cult of Cletus, I am your true God and my word is law! I come forth to spew daemon loving music at your ears and to corrupt your little mind. My words maybe harsh but I want only the best for my minions! So when I discover a new deadly spawn of music take heed and purchase...