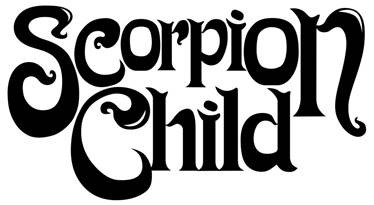 SCORPION CHILD Announce headline UK tour for October/November
3rd August 2016
Texan heavy psych rockers Scorpion Child are very pleased to announce a headline UK tour for this coming October/November alongside young Wisconsin-born, Los Angeles-based blues artist Jared James Nichols and British Rock n' Rollers The Bad Flowers. The run will kick off at The Borderline, London – taking the five piece across eight UK cities before wrapping up at The Craufurd Arms Milton Keynes.
"It is our pleasure to announce a return to the United Kingdom. Now that 'Acid Roulette' is in play, we will have some real fun. We can't wait to see you all! Thank you for your support and spread the word" commented vehement vocalist Aryn Jonathan Black.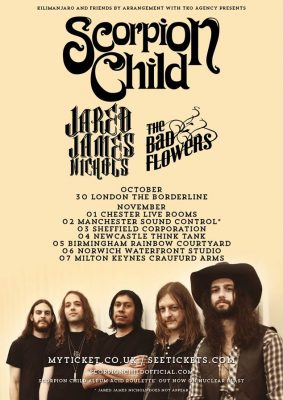 Tickets for Scorpion Child's shows will go on sale on Friday 5th August.
Tickets will be available to purchase from here:
www.myticket.co.uk
www.seetickets.com
30th Oct @ London, The Borderline
1st Nov @ Chester, Live Rooms
2nd Nov @ Manchester, Sound Control *
3rd Nov @ Sheffield, Corporation
4th Nov  @ Newcastle, Think Tank
5th Nov @ Birmingham, Rainbow Courtyard
6th Nov @ Norwich, Waterfront Studio
7th Nov @ Milton Keynes, Craufurd Arms
*without Jared James Nichols
Scorpion Child are touring in support of their recent album release – 'Acid Roulette', which is available now via Nuclear Blast Entertainment. The record was produced by Chris 'Frenchie' Smith (The Answer, And You Will Know Us By The Trail Of Dead…) and mixed by Dave Schiffman (The Mars Volta, Dead Meadow, Jane's Addiction, Rage Against The Machine).
"a wicked uppercut of a second album"  – Classic Rock
"the riffs are meaty and the songs full of bluesy swagger" – Metal Hammer
"packed full of Led-Zep vibes… (and) some vintage Thin Lizzy riffing" – Total Guitar
"a bottomless mine of fat riffs and smoky, psychedelic mystery" – Kerrang!  
"this is just a blast from start to finish" – Powerplay
You can purchase 'Acid Roulette' here:
'Acid Roulette' CD
'Acid Roulette' Limited Edition 2LP Vinyl
'Acid Roulette' Limited Edition 2LP Light Blue Vinyl
'Acid Roulette' CD + T-Shirt Bundle
More on Scorpion Child and 'Acid Roulette':
'Reaper's Danse' Official Video
'My Woman In Black' Official Lyric Video
'Moon Tension' Official Track
'She Sings, I Kill' Official Lyric Video
Scorpion Child originally formed in 2006 and have spent their interim years intensively perfecting and honing their song writing skills and live performance. Moving to Austin to form the band with a single vision, they found the Texan city a great place to cultivate their expertise. Their sound heralds back to early 70s classic and psych-rock with an entirely original, and contemporary flourish.
Scorpion Child Links:
Website
Facebook
Twitter
Scorpion Child are:
Aryn Jonathan Black – Vocals     Christopher Jay Cowart – Lead Guitar     Jon 'Charn' Rice – Drums
Alec Caballero Padron – Bass     AJ Vincent – Keyboards