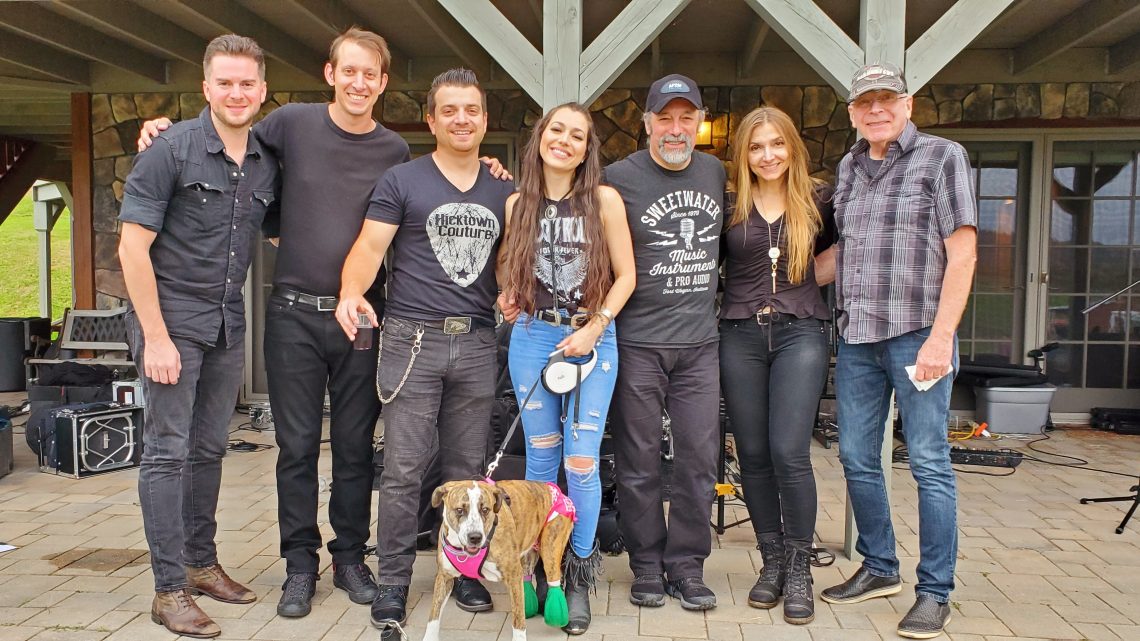 Singer Songwriter Jessica Lynn Talks Dog Rescue
3rd February 2021
The incredibly talented Jessica Lynn granted us a socially distanced interview to discuss her gorgeous pooch and her music. She recently released the single Getaway Car, but has Jessica ever been a getaway driver? Read on to find out.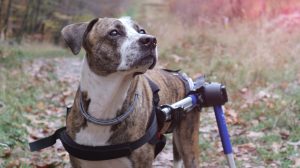 Hi Jessica, thank you for taking the time during this unprecedented time for an interview. We here that you have a rescue dog. What are they like?


My pleasure! Thank you for having me!  I have one rescue dog.  Her name is Audrey! She is an American Staffordshire terrier, Hound, Boxer, and Lab mix.  I actually got her during quarantine in March.  She was found in an abandoned house in Texas with both of her back feet severed and a spinal injury that left her incontinent.  She is an immense amount of work but every second is worth it.  She inspires me every day to wake up smiling, regardless of what life throws at me. We got her from an incredible rescue, SNARR Northeast.
How did you decide on which dog to rescue?
I have heard that you don't choose the dog but that the dog chooses you.  I now believe this whole-heartedly.  I saw her face come across my newsfeed on Instagram just as the world was shutting down and even though I was planning to leave for my world tour for 5 months straight just 2 months later, something inside told me she had to be mine.
What is the weirdest thing Audrey has done?
She is honestly the quirkiest dog I have ever met.  One of her things she does is when you sneeze, she has to run over and check to see if you are okay and lick your nose.
Aww bless her, that's really cute (and maybe a little creepy) but it shoes that despite what she's gone through she's incredibly loving. 
Was training a rescue dog hard? What's the best trick they've taught you?
We actually never had to train her because she is incapable of using the bathroom on her own because of whatever happened to her back.  It is extremely difficult having a dog in diapers but it saved us from potty training!
This past year has been completely unforeseen, like the rest of us, you've probably spent a lot of time at home. How has Audrey helped being at home for you? 
She got me through this quarantine, 100%.  After losing everything as a musician that I had worked for and was very depressed, she gave me a purpose….something to wake up every day and look forward to.  I didn't save her.  She saved me. 
Have you always been an animal lover? Have you ever owned any exotic or different pets?
I have ALWAYS been an animal lover. I volunteered at a farm every summer when I was a kid as well as at an animal shelter walking all the dogs every weekend.  I have owned rabbits, frogs, ferrets, hedgehogs, parrots… you name it, and I've probably had it lol. 
That's really very cool. It's always nice to give something back. Such a good feeling
If you could own any animal as a pet, what would it be and why?
I have always wanted a pig or a monkey! They are just so smart!
 Are you one of those people that puts your pets into costumes? 
Of course. I'm not shy about it.  I will scream it loud and proud.  She has several fashion diaper covers for every occasion.
Fashion diapers! There's someone who works in our office that would totally rock them. 
How does Audrey react to you practicing?
Audrey absolutely loves when I practice.   She always wants to be right under my feet, even when I'm livestreaming. 
Speaking of practising, you're due to drop a new album soon. What comes first is it the music or the lyrics?
I am so excited about my "Lone Rider" album.  I write everything all at once, always.
You're due to drop a new album soon. Where did the title for this album come from?
Lone Rider is the title of one of my favourite tracks on the record.  Being an Italian, a New Yorker, and an independent artist for all of my journey, I have always had to take the path less travelled and do a lot of things alone, as well as in this business, have a lot of people come around that didn't have my best interest at heart.  That's where the name of the song and album comes from. 
Where does your inspirations come from? You've just released 'Getaway Car'. Have you ever been the Getaway Driver?
All of my songs are about my life and things I've experienced and been through.  Oh I totally have!!
Really?? We must get that story from you at some point
How many tracks did you write for the album and is there anything you've cut from it and now wish you hadn't?
There are 13 songs on the album.  Nothing got cut because it wasn't even supposed to be a record, so it was only added to.  It was supposed to be released right before our world tour this May and when it got cancelled, we found the silver lining within the tragedy and decided to make it a full record!
What musical accomplishment are you most proud of and why?
This is such a hard question because I'm very proud of so many things for different reasons.  I have to say one of my biggest accomplishments has to be being named one of Pollstar's Top 40 Livestreamers of 2020.  I was very proud of I was able to take something so negative and make it a positive. 
Is there anywhere in the world you haven't played but would love to and why?
I would love to get to play in Greece.  It looks so beautiful!
 Would you rather a pet sized dinosaur or a dinosaur sized pet? What would it be and why
A dinosaur sized pet. Lol.  I love the unusual. 
Thank you so much for your time Jessica, it's been a pleasure. Is there anything you'd like to pass on to your fans/followers
Thank you so much for having me.  I would love to keep in touch with you guys! You can follow me at:
www.JessicaLynnMusic.org
Social media:
https://twitter.com/Jessica__Lynn_ 
http://instagram.com/JessicaLynnMusic
Hope to see you on tour!
For all things Jessica Lynn, click any of the above links or FACEBOOK. To purchase product, click HERE