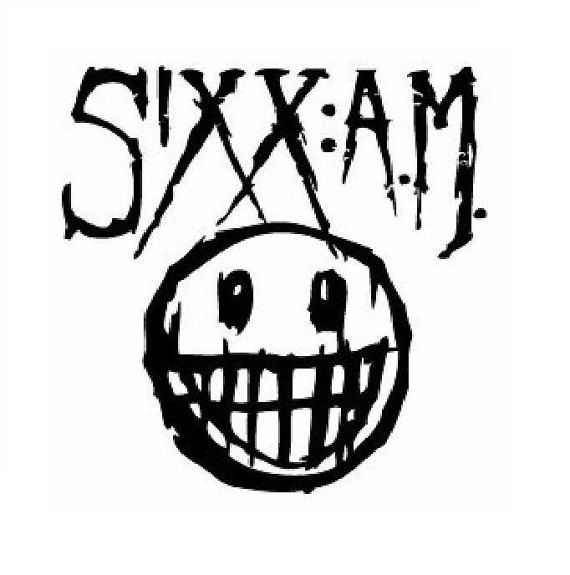 SIXX:AM Upcoming Announcements
28th April 2016
Sixx:AM (Nikki Sixx, James Michael and DJ Ashba)
have just released their new
'
#REASONTORISE'
campaign following their latest album, "Prayers for the Damned (Vol 1)' that is being released TOMORROW April 29th, with single "Rise" rising on rock charts—currently at 
#6 in the US. The band is setting off their US tour in Jacksonville, FL on April 30th, and their worldwide tour begins June 3rd in Nuremberg, DE!
 In addition to this exciting news, SIXX:AM is using their album promo and tour announcement to speak about
artists' rights and fair payment from YouTube
.
Without a structure to support them, young artists will not be able to make a living from the music industry and we will as lose out on great music in the future.

This is the letter they have issued to YouTube:

DON'T BE EVIL, YOUTUBE

We recently completed our fourth album called Prayers For The Damned, in our singer/producer James Michael's recording studio. We are a lucky band, grateful to have all had success prior to the creation of Sixx:A.M. Nikki came from Mötley Crüe, DJ played guitar in Guns N Roses for the past seven years and James has had a successful career as a writer and producer. Releasing an album and being part of a tour going on sale, allows us to use the promoters marketing money to create a larger platform to get our message out, and having a record company that generates publicity gives us an opportunity to speak up about issues we think are important—specifically the crisis with the music business and YouTube. Sixx:A.M. has always been vocal about artists' rights. We stood with Taylor Swift when she spoke up about the absence of royalty payments to artists by Apple Music. The band has also long been an advocate of new artists, and Nikki has featured them heavily on his radio show, Sixx Sense, and via his social media. We chose today to speak up about how YouTube unfairly pays artists and labels an estimated 1/6 of what it's competitors, Spotify and Apple pay and why this must be addressed, along with a revision of the antiquated Safe Harbor provision of the Digital Millennium Copyright Act (DMCA).
YouTube's parent corporation, Google, has the second highest market capitalization in the world and its two founders, Larry Page and Sergey Brin are worth a combined $75 billion, and total 2015 revenue of Google was $75 billion. The total annual revenue of the global music business, in comparison, is less than $15 billion. We have deep respect for Google's spirit of innovation and YouTube's contribution to the field of technology and entertainment, in fact the data we are citing comes from Google itself, but the facts don't lie: Our large community of hardworking artists is being exploited to make a very small percentage of people extremely rich.

This is an important issue to us. We are the lucky ones, like so many veteran artists, who came up in an era where there was much more income from record sales. Today, streaming is a fraction of income from that time. This is not about us. We are speaking up for the current and future generation of musicians who must be compensated fairly for their hard work. We would not have had Prince, Blondie, Bruce Springsteen, Ice Cube, Taylor Swift, or many other artists without a system to support and nurture them.

We support technology and its ability to bring music to more people around the globe. All we ask, is for ALL artists to receive fair pay. When Google first started, its corporate motto was "Don't Be Evil." That motto has since changed to "Do The Right Thing." It's time to live up to your corporate mottos, Google and YouTube, and invest in the future of music.

Nikki Sixx James Michael Dj Ashba
YouTube is owned by Google, which has the second highest market capitalization in the world.
Google's two founders, Larry Page and Sergey Brin, are worth a combined $75 billion. 
Google's original corporate motto was "Don't Be Evil".
YouTube pays an estimated 1/6 of what Spotify and Apple pay to its artists. 
Music is the top subscribed channel on YouTube with 93 million subscribers.
Artists have little to no control over whether their content is distributed by third parties on YouTube.   YouTube is an open system, available to everyone, as opposed to a closed system like Spotify and Apple, i.e. if an artist chooses not to have their content on Spotify, it cannot be uploaded and distributed by somebody else (somebody who is not the rights holder).  On YouTube it can be uploaded and distributed by anybody at any time.
If unlicensed content is uploaded to YouTube, YouTube is protected from liability by the Safe Harbor provision in the Digital Millennium Copyright Act (DMCA). 
The Safe Harbor provision requires artists to serve YouTube a take down notice for EVERY SINGLE instance of unlicensed uploads.  For example, if 1 million people unlawfully upload a Taylor Swift song to YouTube, Taylor Swift must serve YouTube with 1 million separate take down notices.
Because it knows that artists will not wish to serve near infinite take down notices, it offers an alternative – a license with YouTube.  These licenses provide a certain level of fingerprinting technology to automatically remove unlicensed content, but these systems are not perfect and unlicensed content still makes its way onto the platform. 
YouTube has developed technologies to identify licensed content uploaded by an unlicensed user.  This technology is not fool-proof and does not prevent all unlicensed uploads.  These technologies are only available to users with official YouTube licenses, which pay artists and content owners significantly less than other services like Spotify, Apple Music and Pandora. 
Artists are faced with a choice:  Either license content to YouTube for a fraction of what should be paid and enjoy limited protection from YouTube's content ID systems or be forced to issue take down notices for every single infringement on the system.
It is very clear:  YouTube uses its market power and corporate muscle to extort content creators into licensing their music for well below what its worth, thus driving down the entire value of music worldwide.