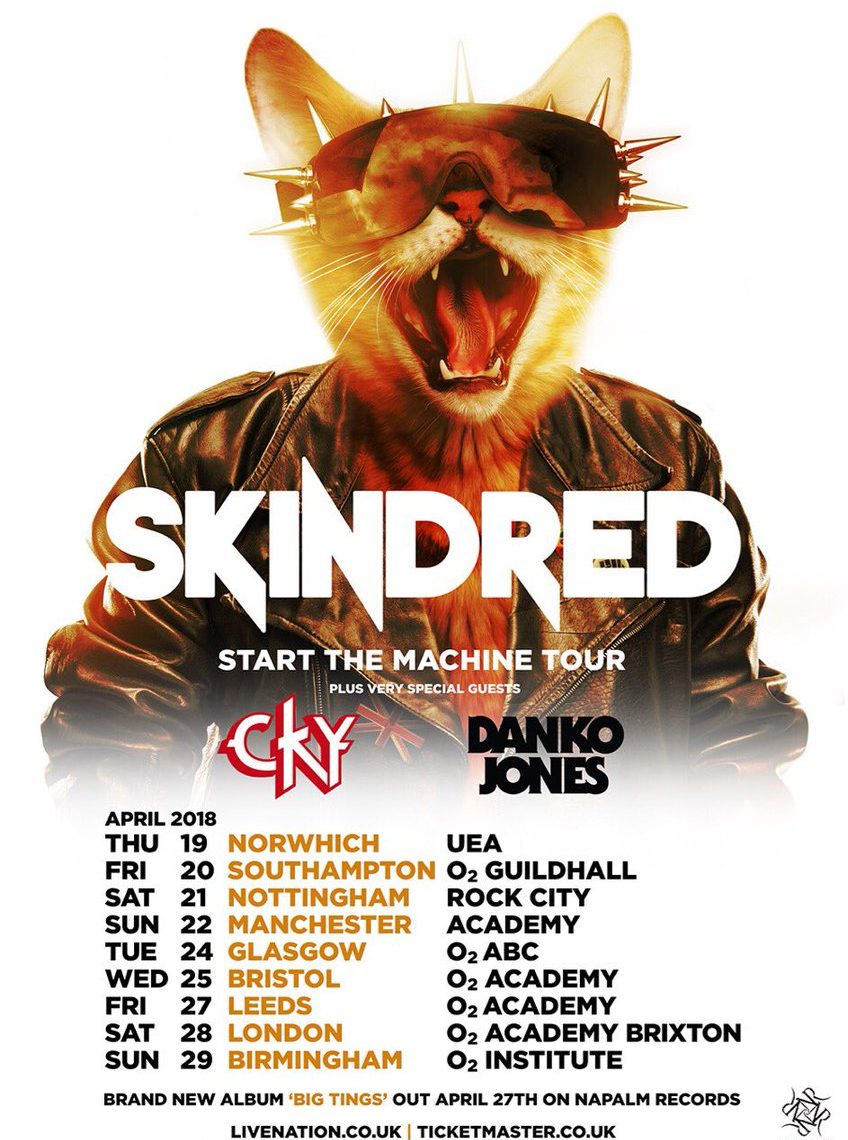 Skindred – Bristol 02 Academy (25/04/18)
2nd May 2018
Everyone has, at some point in time conjured up their 'dream line-up' for a live show; be it a tour or a festival, we've all done it…cherry picking our favourite bands for what we believe to be the perfect gig experience, but sometimes a tour will spring up and be so outside the box it can't help but impress and excite you! On April 25th All About The Rock was lucky enough to witness one of these shows. Skindred are on the road promoting their brand new album "Big Tings", but they've brought along with them not only Danko Jones, but a born-again CKY! It's the tour we literally never knew we needed…here's what went down in Bristol…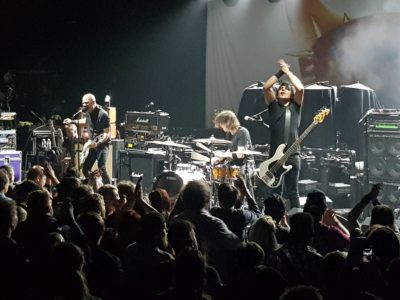 It's a long day in Bristol it has to be said as AATR has interviews scheduled, so we're there pretty damn early for a couple of beers in the sunshine which we naturally took advantage of! After all, with interviews at 02:30pm and 06:30pm that's a lot of down time, vlogging and beer before the gig even starts! Interviews aside (The Dan Pugsley Of Skindred interview is HERE) doors open at 7pm and there's an impressive number of people here ripe and early, the venue is almost at capacity from the word go! This only encourages tonight's opening act DANKO JONES [6] to give it their all in the warm-up slot. Kicking off with "I Gotta Rock" off of their latest album "Wild Cat" they set the tone VERY early on…this is going to be a raucous night if ever there was one! With their blend of classic rock 'n' roll swagger and attitude they rip through the new material such as this and "My Little RnR"…but the older tracks go down just as well; even going as far back as "Sugar Chocolate" which was introduced with all the charm of a sexual predator. A brief but bombastic set, but everyone is pumped now for sure!
Tonight's special guests CKY [8] are a spectacular treat on this tour is has to be said, given their renaissance following last year's come-back album "The Phoenix" it's surprise they've come back so soon given the level of touring they did in 2017, but I'm sure as hell not complaining! The surprising thing was the lack of newer material…with only "Replaceable" and "Head For A Breakdown" appearing from the new album, and the rest of the set being heavy on their early material (Minus ANYTHING from "Carver City" or "An Answer Can Be Found"???)…yes tracks like "96 Quite Bitter Beings" and "Flesh Into Gear" are established crowd favourites but with Chad I Ginsburg taking the helm on vocals now you'd think they'd focus a LITTLE more on their new songs, but they did include their now infamous cover of GG ALLIN classic "Bite It You Scum" to rapturous applause…raising questions aside and having no actual intentions of being picky, they still tore the 02 down like the seasoned veterans they are you could have sworn this was their own show given the level of feedback from the fans singing along, it's just so good to have them back! CKY Alliance in full force tonight!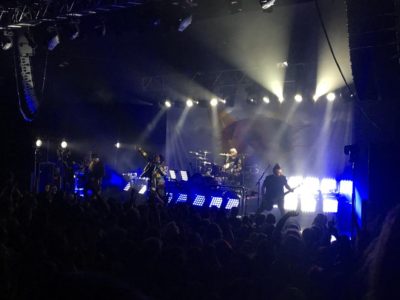 Finally then, it's SKINDRED [9] who take the stage and to be fair they absolutely owned it. Front-man Benji shines with all of his trademark charm giving the crowd his wonderfully Welsh banter, in-between a barrage of hard-hitting tunes and an equally intense light show. Recent singles like the title track from the new album "Big Tings" and the incredibly infectious "That's My Jam" go down a treat, especially the latter given all of its hooks, couple that with absolute banger's such as "Stand For Something" and "Warning" they ensure the crowd are in a near constant frenzy! The highlight of the set however was arguably the beautiful acoustic rendition of "Saying It Now" which was more than touching it has to be said. Ultimately tonight, halfway through this "Start The Machine" tour, it's fair to say that it's running at full speed and there's no doubt whatsoever that Skindred are one of the strongest forces in the UK music scene right now, and despite the fact they already have a well established career, there's still big ting's coming their way.
For all things Skindred click HERE and to purchase Big Tings, click HERE