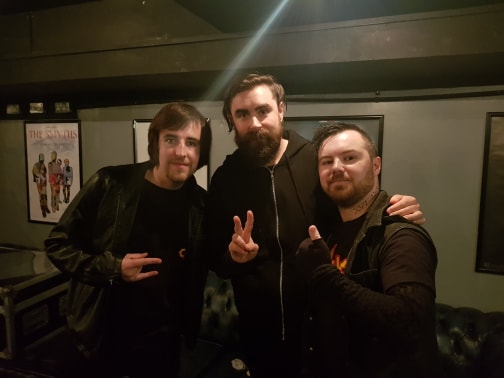 Skindred Interview: Dan Pugsley
27th April 2018
On Wednesday 25th April, AATR sent Gavin and James down to Bristol to catch up with SKINDRED on their headline tour; "Start The Machine" ahead of their newest album "Big Tings"…bassist and all-round nice guy Dan Pugsley was on hand to answer our questions…
Ok so, we're here representing All About The Rock and joining us now is Dan Pugsley from Skindred, Dan thank you very much for taking this time to chat with us…
Dan: Nooo problem!
How are you doing?
Dan: Yeah I'm good, I'm good thanks, back in…well actually I live in Bristol so uh, I just like ran home, said hello to my girlfriend basically, dumped some stuff at my flat and then came back! *Laughs*
Straight back on the job like!
Dan: Back in the mines! *Laughs* But no it's good.
I'm glad of that man! But obviously, why we're here today now in the 02 Academy Bristol, you are currently around halfway through the "Start The Machine" headline tour with Skindred, how has that been so far for you?
Dan: It's been pretty overwhelming actually! I mean the response, because I mean…I was starting to worry I felt like we'd left it a little too long between records? You know? Because um, if you know anything about the history of the band you know that between our first and second record, because we had so much record label stuff going on…
There were a few re-releases and reissues at first…holding you back ever so slightly?
Dan: Yeah it was like, basically six or seven years between records and so, after that we've really strove to like, to just keep getting music out there, new things, develop the band, evolve and get it out there, and…it was just a bit like "Oh no we've left it too long this time" kinda thing, but the shows have been amazing, the response to the new songs has been amazing, so yeah I cannot complain, we've really thought a lot about the new show, the production of the show, everything…the response from the fans has been great you know?
That's great! On the way in we saw the lighting being set up it does look like a crazy stage show!
Dan: Bonkers mate! Wait until you see the actual thing, it's mad!
Obviously you're on tour promoting the new album "Big Tings" now which comes out April 27th, what can you tell us about the story behind it? What influenced "Big Tings"?
Dan: I think it's uh…you know there's always a promise with this band that the next record is going to be the record that takes us to that next level…and we were like, let's fucking just go for it! So that's sort of the idea with it, I mean it originally came up as an idea that we were potentially calling our greatest hits compilation "Big Tings", like the Aerosmith "Big Ones"? That was the idea, and then it became this thing so we were like let's just do it as the album…and it's kind of like, what we wanted for "Roots Rock Riot" or "Kill The Power"…obviously the last record was a very riff-rock oriented record, but this one is very song based, so we'll see how it goes, but as I said the response so far it's been amazing!
You mentioned the new songs being huge in ambition already, I have to come back to the recent single, "That's My Jam"…the album artwork has the leather clad cat, rocking out, and the cat itself plays a prominent part as the main character in that music video, what's the concept behind all of that?
Dan: Well…when we had the album name we were thinking of ideas what we could do for the record and like, for the cover art, and we were joking around saying "What about a kitten?" *Laughs*…and then we were saying no! What about a kitten with Benji's sunglasses?! And yeah we just went with it as a cool thing, people are identifying with it already and going with it, it's already like, THE most popular t-shirt right now, without a doubt, like, we've never really done that sort of characterization kind of thing…I mean you have bands, look at Iron Maiden or Megadeth…bands who've had a character over the years…it's something we'd never looked at really in that sense.
Benji is already pretty iconic in terms of his look as we know…
Dan: Exactly, he walks into a rock show and THAT's Benji!
That's cool though, everyone knows Benji man. With the new songs now; "That's My Jam", "Machine" being another huge song…really infectious, really big…is that a direction you've gone for overall in terms of sound?
Dan: Again it's like any of our records there's peaks and troughs you know? There's moments where it's quieter, there's more introverted songs on this, I feel people focus so hard on the singles with us, and what ends up being our live show, and like, playing for example, we play "Big Tings" live, it's no secret it's out online, we're opening with it…and it's a different vibe when we play it because it's…it's always strange to play a new song in front of people, and it's always stranger to open a set with a new song, because of that anticipation, but when we play that song we're really enjoying it…like when you see people getting into it and enjoying it we enjoy that even more…but like our other albums like I said it's all peaks and troughs.
You mentioned the title track there, how have you found slotting the new songs into the set so far and will there be any surprises from the new album on the tour? What can fans expect?
Dan: Well…it's ten years since the release of "Roots Rock Riot"…so we wanted to do something special for that so that's an aspect of this set, but it gets harder and harder the more records you make! We've got 70+ songs to choose from to play!
That's quite a back catalog really fair play…
Dan: Yeah! It's being really conscious of not going out and doing the same set again and again though, because you do have this little safety net you know? This is what we do, our half hour set is this, our festival set is this, our hour headline set is this etc…but this is a really different set as well, there's some tunes that we've not played in YEARS…
Some obscure cuts? That's good to know!
Dan: You'll have to see it man…you'll have to see it…
I have to mention your special guests for this tour; CKY…great guys, they're on a bit of a revival right now, what's it been like playing with them?
Dan: Amazing! When they played Marble Factory last year, I went to that…and um…what's their blue album called now?
"An Answer Can Be Found"
Dan: That's right! I listened to the first record a lot, and I remember listening to that one on tour in the van when it came out…and I really like that, and so, I went to the Marble Factory to see them play…and I'm like, I'm super low-key, I live in Bristol, I like rock music, I go to all the rock pubs, people know me but I lay low, I'm the opposite of Benji in that respect you know? *Laughs* But I went to that gig and people were recognizing me and I was there thinking like, "This is OUR crowd!"
Is that where the initial seeds were sewn for you guys to tour together?
Dan: There was a little bit of that, a little bit of conversation with people who used to work for us internally like, putting it out into the ether you know and that, it may be a good shout to put together, but it helped for sure…because when it came out I was like "Let's do it!"
Obviously as well you have Danko Jones in support too so you've got one hell of a line-up…
Dan: Danko Jones who are fucking grand as well! They're a great band, wicked songs, great live they just get out there and do it man if you know their music, you'll know man.
OK so, the tour culminates in Birmingham on the 29th…a few dates left but it's heading into festival season, what are the plans looking forward regarding Skindred in terms of festivals and leading into the rest of 2018?
Dan: Um so…UK wise we've been announced for Reading & Leeds already, a lot of European festivals outside of that but after this tour we're heading to Mexico for a festival…after that it's like, Grasspop etc, some heavy hitters but following that, there's some talk of maybe going to America late September but, nothing's been announced as of yet. I guess you could say we're working on getting across to America towards the end of the year, but at some point we'll have to do some European dates, it's weird for us not to go right into Europe, but obviously it's all about scheduling.
Dan, thank you so much for chatting, best of luck with the new album, "Big Tings" which you can find on Napalm Records, and all the best with the rest of the tour!
Dan: Thanks guys!

For all things Skindred click HERE and to purchase Big Tings, click HERE