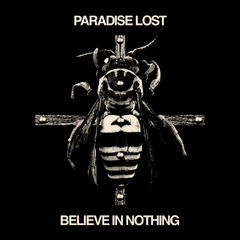 Paradise Lost announce 'Believe In Nothing – Remixed & Remastered' / Unveil lyric video to 'Mouth'
27th April 2018
On June 29th, British cult metallers Paradise Lost will release a new version of their eighth full-length album 'Believe In Nothing' that initially saw the light of day in 2000. The band were never really satisfied with the overall production and artwork for this record but Jaime Gomez Arellano has remixed and remastered the twelve tracks and Branca Studio designed a dark and moody new cover artwork, to bring it closer to the initial vision that the band once had for their gothic rock album.
"It's no secret that we were never entirely happy with the production on this record, despite really liking the songs," states singer Nick Holmes. "It's been a long time coming, but we finally found the right moment to go back into the studio with Gomez and play around with it. We hope you all enjoy the remixed version so you can hear how the songs were meant to sound." 
The album will be available as digipack (with two bonus tracks) and for the first time ever, as 180g double-vinyl in three different colours (black, white and the mailorder exclusive bi-coloured black&white). Pre-order starts today, you can get your copy here:
Pre-order digitally and receive 'Mouth' instantly at:
You can catch the band live at the following festivals or on their Latin America tour:
04.-07.07. D Ballenstedt – Rockharz Open Air
11.-14.07. E Vivero – Resurrection Fest
20./21.07. FIN Laukaa – John Smith Rock Festival
08.-11.08. CZ Jaromer – Brutal Assault
10./11.08. NL Leeuwarden – Into the Grave
15.08. D Dinkelsbühl – Summer Breeze
21. – 24.03.2019     UK       Pwllheli – Hammerfest
31.08.              BR       Rio de Janeiro – Teatro Rival
01.09.              BR       São Paulo – Carioca Club
02.09.              BR       Limeira – Bar da Montanha
04.09.              RA       Buenos Aires – Uniclub
06.09.              RCH     Santiago – Blondie
08.09.              PE        Lima – CC Festiva
10.09.              CO       Bogotá – TBA
12.09.              MEX    Guadalajara – C3 Stage
13.09.              MEX    Monterrey – Café Iguana
14.09.              MEX    Ciudad de México – Circo Volador
Greg Mackintosh | lead guitars
Aaron Aedy | rhythm guitars
Waltteri Väyrynen | drums
More info:
How useful was this post?
Click on a thumb to rate it!
Average rating / 5. Vote count: