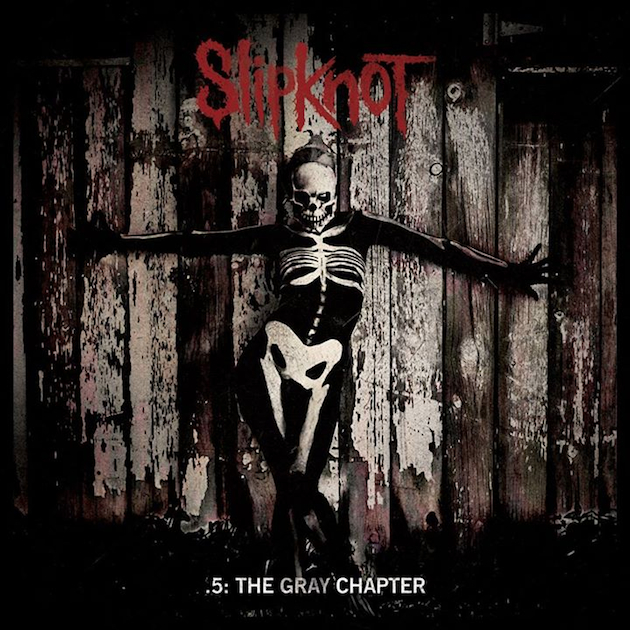 Slipknot – .5 The Gray Chapter Review
10th October 2014
Just when you thought Metal albums were getting safe.. … Along comes Slipknot with a brand new album.
After all their video teasing & the hype surrounding the 2 new members. The album has finally landed. This recording was always going to split the fans..
So lets break it down track by track:-
1. XIX – Kind of a dirge…. Nice clear vocal by Corey.. But not a typical Slipknot intro (sic)
2. Sarcastrophe – Alot more like the Slipknot we have come to love…Although it's lacking the attack & technical ability of Joey on the drums.. But it is a full on thrasher
3. AOV – Much of the same…. .. samples & scratching are up in the mix which is great
4. The Devil In I –  The 1st OFFICIAL single release from the album… Nuff said.. Slipknot always try to go for "radio friendly" (Left Behind for example)
5. Killpop –  A ballad…… Actually my favourite track on the album.. Reminiscent of Stone Sour
6. Skeptic –  Back to normal Slipknot.. Nice guitar effects at the start.. But again stock Slipknot (Self titled)
7. Lech  – Some nice samples.. The chorus is catchy enough to suit an arena audience. But it's lacking a certain.. . Something
8. Goodbye – 1st track on the album that appears to be attributed to Paul Gray.. Another ballad 😮
9. Nomadic – Another Stone Sour sounding track
10. The One That Kills The Least – Another "radio friendly" track.. Don't be surprised if this is another single
11. Custer – A quick trip back to the 1st album in style..
12. Be Prepared For Hell –  A sample based dirge. That is more suited to be the album intro & not part of the main flow
13. The Negative One – The teaser track. Allegedly about Joey.. The worst track on this album.. I wasn't a fan when it was released as a taster of this record..
14. If It Rains This Is What You Want – A 6minute filler & thankfully it's the last track
Runtime : 01:04:00
Overall this album is lacking obviously the 2 main songwriters & it shows..  If I'm honest I'm on the side of the fence that says they should've stopped when Paul Gray unfortunately died before his time.. The sacking of Joey should really of been the nail in the coffin.
Slipknot are one of those bands that really should've gone out on a high & never released a greatest hits package (sadly they did… Antennas From Hell) 5 albums & done (4 studio 1 live) would've been perfect.. But they spoiled it with this album
The production is awful. The snare drum sound is that of Metallicas' dire album St.Anger.. It's not breaking any ground (apart from the 2 ballads) this is a typical Slipknot album.
This album is probably a grower.. (It took me 5 years to get into All Hope Is Gone. which in my opinion was just a Stone Sour record)
It's not a bad album.. Just not a great one.. It's a shame.. I had really high hopes for this & I feel disappointed & a little cheated.
I score this 6/10 (& that's being generous)