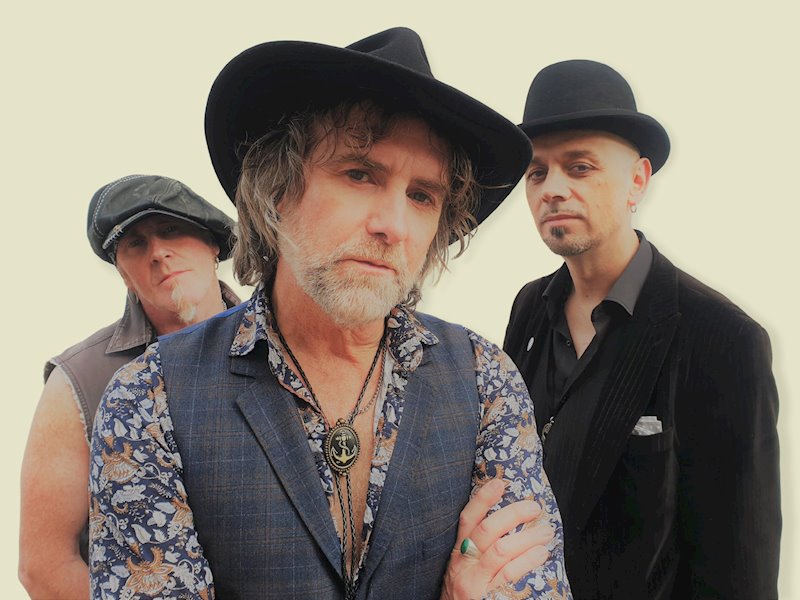 Slyder Smith & the Oblivion Kids will release their debut album, 'Charm Offensive' ahead of a UK tour as special guests to groove rockers Electric Boys this August.
5th August 2022
Slyder Smith first swaggered onto the stage as lead guitarist with glam-tinged power popsters, Last Great Dreamers. After releasing four studio albums and one live album on Ray Records, Slyder has toured extensively throughout the UK & Europe with LGD headline shows and special guest slots to The Quireboys, The Wildhearts, Terrorvision, The Darkness, Enuff ZNuff, and more. 
Slyder now takes centre stage leading his new power trio, Slyder Smith & The Oblivion Kids (featuring Tim Emery on bass and drummer Rik Pratt) in an honest outpouring of grit, glamour and emotion.


Stepping out of the shadows and into the spotlight, the self-confessed 'frustrated lead singer' has been forced to delve deep into his own psyche, carefully crafted lyrics and melodies that speak from the heart. Slyder's emotive vocals are powerful, yet melancholic, the perfect balance of light and shade sitting effortlessly within the sonic landscape of his varied rhythm guitar sounds and highly melodic & anthemic lead lines. 
The debut album from Slyder Smith & The Oblivion Kids is no ordinary guitar-based rock album. Together with legendary producer Pete Brown (George Harrison, Siouxsie & the Banshees, Marc Almond, The Smiths and Sam Brown), Slyder has allowed the songs to dictate the direction they have gone in; discovering melodies and hook lines along the way. Making use of Hammond organ and piano with the help of Neil Scully (Richard Davies & the Dissidents), a 1950s Phillicord organ, lap steel guitar and even a bit of banjo. 
'Charm Offensive' is a chocolate box of sonic sensations offering up a little something for everyone – from heavy riffage with walloping drums akin to AC/DC to the anticipated sleaze rock shades of Hanoi Rocks.
However, this band is not afraid to step away from their rock roots, instead, with nods to the likes of The Doors, Velvet Underground, The Stranglers and The Kinks from the past and the alternative rock sound of Manic Street Preachers, The Oblivion Kids have reimagined an 80s synth pop classic and mastered singalong pop, gothic, dark Americana, and dare we say it, funk rock?!
There are a few firsts for Slyder on here too in the form of an instrumental track with a western feel to a duet featuring the ethereal vocals of Nina Courson (Healthy Junkies). The result is an idiosyncratic 14-track album of outstanding versatility that takes risks but at the very beating heart of this new album is a love of music and a passion for songs.  
"This album has been a real labour of love for me, I've really put my heart & soul into it. Over the last year or so I've been working very hard developing my guitar playing, music & lyric writing pulling myself in all sorts of directions, and really stretching myself. I feel I have accomplished what I set out to do, create songs from the heart in no specific genre & perform them to the best of my ability on the record. I guess for years I have been a frustrated lead singer so I have relished the opportunity to showcase what I can do vocally too." – Slyder Smith.
Charm Offensive by Slyder Smith & the Oblivion Kids will be released through Ray Records on 12" black vinyl, digipak CD and digital download on 19th August 2022, and is distributed worldwide via Cargo Records.
Pre-order the album here:  https://cargorecordsdirect.co.uk/products/slyder-smith-and-the-oblivion-kids-charm-offensive 
Track listing:
1. El Encantador
2. Calico Queen
3. I'm Done
4. When The Rain Comes
5. Crash Landing In Teenage Heaven
6. I Don't Want To Run
7. Maya
8. Pleasure Victim
9. Road Love
10. Hope Without Warning
11. NeverEnding Story
12. Oblivion Kids
13. El Encantador (Reprise)
14. No More Mr. Bad Guy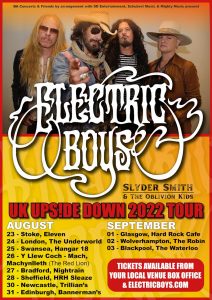 Tour dates:
2nd May – HRH Ibiza Road Trip
3rd July – LONDON – Power Pop Weekender
23rd Aug – STOKE – Eleven (w/ Electric Boys)
24th Aug – LONDON – The Underworld (w/ Electric Boys)
25th Aug – SWANSEA – Hangar 18 (w/ Electric Boys)
26th Aug – Y LLEW COCH – Mach, Machynlleth (w/ Electric Boys)
27th Aug – BRADFORD – Nightrain (w/ Electric Boys)
28th Aug – SHEFFIELD – HRH Sleaze
30th Aug – NEWCASTLE – Trillians (w/ Electric Boys)
31st Aug – EDINBURGH – Bannermans (w/ Electric Boys)
1st Sept – GLASGOW, Hard Rock Cafe (w/ Electric Boys)
2nd Sept – WOLVERHAMPTON, The Robin (w/ Electric Boys)
3rd Sept – BLACKPOOL, The Waterloo (w/ Electric Boys)
Slyder Smith & The Oblivion Kids are:
Vocals & Guitar – Slyder Smith
Bass – Tim Emery 
Drums – Rik Pratt
Connect with Slyder Smith & The Oblivion Kids:
. Official website: https://www.slydersmith.com
. Spotify:
. Instagram: https://www.instagram.com/slyder_smith
. YouTube: https://www.youtube.com/channel/UCRJya7QcdImW-Y2OUS0StfQ
. Twitter: https://www.twitter.com/SlyderSmith