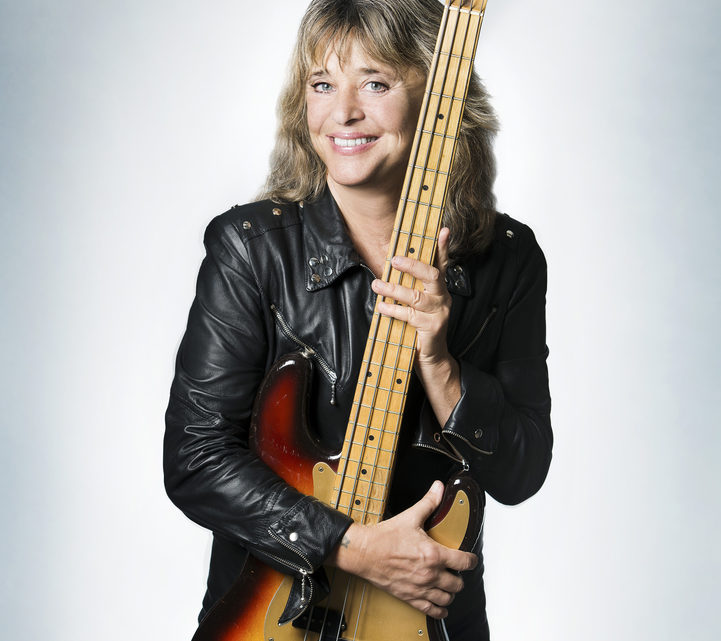 SPV/Steamhammer signs worldwide contract with the "Queen Of Rock N' Roll": SUZI QUATRO!
7th January 2019
Suzi Quatro more than lives up to her name as "Queen Of Rock N' Roll". The American musician has been in the music business for more than 50 years, delivering her greatest hits such as 'Can The Can', '48 Crash', 'If You Can't Give Me Love', 'She's In Love With You' and 'Devil Gate Drive' with unbridled energy, mixing them with her current material. 29 March 2019 will see the arrival of her new studio album No Control on SPV/Steamhammer, the lead single 'No Soul/No Control' is scheduled for release on 15 February 2019.
Suzi Quatro has recorded eleven new songs (plus two bonus tracks), No Control featuring for the first time a collaboration with her son Richard Tuckey.
Suzi plans to present a couple of choices from her new album during her major UK/Australian/European tour this year: "I've never stopped releasing through the years. Back To The Drive in 2006, In The Spotlight in 2011, Quatro, Scott & Powell in 2016," the holder of an honorary doctorate of music says. "These albums were thought about and planned out in great detail. I'm proud of all three releases, very proud. But my new album No Control is its own animal."
Suzi says about the signing with SPV/Steamhammer: "I am very pleased to be releasing my new album on SPV/Steamhammer. I am more than ready to rock n roll my way into 2019!"
Olly Hahn (A&R/Product Manager at Steamhammer) is delighted with his latest signing: "Suzi Quatro, the ultimate Queen Of Rock N' Roll, has now joined our roster at SPV. Many of us have grown up with her fantastic hits, so did I. That's why we feel proud and honoured to release her new studio album."
SUZI QUATRO live 2019
Australian Tour
16.02. AUS-Barossa Valley – Seppeltsfield Wines
17.02. AUS-Hobart – Royal Tasmanian Botanical Gardens
23.02. AUS-Bendigo – Bendigo Racecourse
24.02. AUS-Canberra – Stage 88 Commonwealth Park
02.03. AUS-Wodonga – Gateway Lakes
03.03. AUS-Kiama – Kiama Showground
09.03. AUS-Kariong – Mount Penang Parklands
10.03. AUS-Jacobs Well – Harrigans Drift Inn
16.03. AUS-Port Macquarie – Westport Park
UK Tour
04.04. UK-Manchester – O2 Apollo
05.04. UK-Leeds – First Direct Arena
06.04. UK-Cardiff – Motorpoint Arena
07.04. UK-Brighton – Brighton Centre
09.04. UK-Newcastle – Metro Radio Arena
10.04. UK-Nottingham – Motorpoint Arena
11.04. UK-London – The SSE Arena
12.04. UK-Birmingham – Genting Arena
13.04. UK-Liverpool – Echo Arena
14.04. UK-Bournemouth – BIC
German Tour
24.04. DE-Berlin – Friedrichstadt Palast
30.04. DE-Schopfheim – Stadthalle
06.05. DE-Hamburg – Laeiszhalle
11.05. DE-Bremen – Metropol Theater
12.05. DE-Neuruppin – Kultur-Kirche
14.05. DE-Rostock – Stadthalle
15.05. DE-Hannover – Theater am Aegi
29.05. DE-Munich – Circus Krone
30.05. DE-Frankfurt – Alte Oper
30.08. DE-Plauen – Parktheater
31.08. DE-Thale – Bergtheater
01.09. DE-Kranichfeld – Freilichtbühne Niederburg
22.09. DE-Leipzig – Gewandhaus
28.09. DE-Dortmund – Westfallenhalle 3A
01.10. DE-Reutlingen – Stadthalle
02.10. DE-Kassel – Stadthalle
04.10. DE-Wuppertal – Stadthalle
05.10. DE-Osnabrück – Osnabrückhalle
07.12. DE-Heilbronn – Harmonie
13.12. DE-Dresden – Kulturpalast
14.12. DE-Jena – Sparkassen Arena
15.12. DE-Nürnberg – Löwensaal
European Tour
22.03. SLO-Trencin – Sportova Hala
23.03. SLO-Bratislava – Istropolis
24.03. CZ-Olomouc – Clarion Congress Hotel
27.07. CH-Fahrwangen – Open Air
14.09. DK- Knebel – Fuglsocentret
____________________________________________________________
https://de-de.facebook.com/Suziquatrorocks/

https://twitter.com/suzi_quatro?lang=de

https://www.facebook.com/steamhammerofficial
How useful was this post?
Click on a thumb to rate it!
Average rating / 5. Vote count: