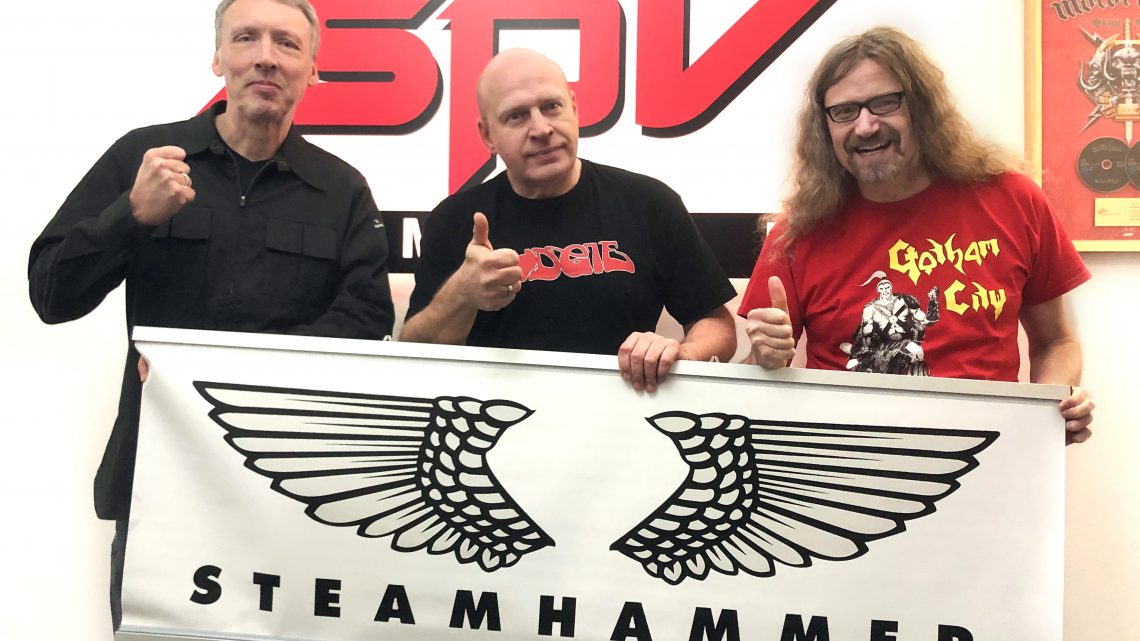 Steamhammer/SPV's longtime bands renew their contracts yet again. Positive outlook for 2022/2023!
17th January 2022
It's been an eventful year, but having responded confidently to the huge challenges of a dramatically changing market, the Hanover-based imprint Steamhammer/SPV, one of Europe's longest established and most successful rock and metal labels, has continued to offer its artists/bands exciting prospects even in tough economic times. That's why SPV's managing director Frank Uhle, head of Steamhammer Olly Hahn, Steamhammer head of promotion Björn von Oettingen and the whole SPV team can reflect on a successful 2021 and are now looking forward to the challenges that lie ahead in 2022 and 2023.
Uhle, Hahn and von Oettingen are particularly proud that a number of acts who have been a part of the Steamhammer/SPV fold for years have once again extended their contracts, among them Magnum, Axel Rudi Pell, Running Wild, Sodom, Rage, Prong, Virgin Steele and Them. "In the more than twenty years I've been with Steamhammer/SPV, I've always been deeply impressed by the loyalty of our bands and the confidence they have in us. This makes me and our team very happy," explains Olly Hahn. "My thanks go to the artists who continue to believe in us in these extremely fast-paced times. We'll continue to give our all in the future and ensure the success of their releases with our usual Steamhammer professionalism."
Hahn, Uhle and von Oettingen emphasize that the 'Steamhammer' brand will always be synonymous with respect, enthusiasm, mutual trust and business transparency, combined with the label's consistently strong loyalty to their artists for almost forty years. It has always been part of Steamhammer/SPV's unchanging company philosophy that all employees – in addition to their professionalism – are passionate music fans and maintain direct personal contact with their artists. Hahn: "Musicians and bands on our roster may rest assured that their concerns will always have top priority with people who are aware of their responsibility." Head of promotion von Oettingen confirms: "I'm very pleased that these bands, for whom I've already promoted a number of albums, continue to place their trust in us. Our artists appreciate having a central contact who personally takes care of our worldwide promotion activities 24/7. This creates a close, personal bond with our musicians and shows that we really support the release and work flat out to make it a success."
Steamhammer have already announced a number of groundbreaking new releases. The latest album 'The Monster Roars' by British hard rockers Magnum has been available from the physical and digital stores since 14 January 2022. Magnum already has a long history with Steamhammer/SPV. "We think it's been about twenty years since we first signed to SPV and they have stuck with us through thick and thin. We would just like to thank Olly and Frank for their help and encouragement," guitarist Tony Clarkin and singer Bob Catley comment on the trustful collaboration. The 2020 Magnum album 'The Serpent Rings' made number 5 of the German charts, while the band plans extensive tours in spring (with Gotthard, among others) and autumn 2022.
April 2022 will see the arrival of the new studio album by Axel Rudi Pell, who has been with Steamhammer/SPV since the beginning of his solo career 33 years ago and says of their remarkably long-standing partnership: "A different collaboration has always been out of the question for me. Why would I want to change when in SPV you get a passionate and committed team to support your music? A team that is also highly competent and has great expertise. If the people you deal with are nice on top of everything else, there's really not much that can go wrong. Here's to many more successful years!" To support the release of his new album, the Bochum guitarist/composer, whose 2021 covers record 'Diamonds Unlocked II' went to no. 7 of the German charts, will tour again in spring and autumn 2022.
Exciting activities in 2022 have also been reported from the Running Wild camp. The Hamburg metal pirates have been sailing under the Steamhammer/SPV flag for more than a decade. "After ten years of excellent and harmonious cooperation and the outstanding success of our current album 'Blood On Blood', the renewal of our contract was more or less a foregone conclusion," explains Captain Rock'n'Rolf, who looks "forward to further excellent cooperation and a bright future together." 'Blood On Blood' (2021) made no. 8 of the German charts. Summer 2022 will see Running Wild perform at selected festivals (including Rockharz) and a new studio record has been scheduled for 2023.
Similar plans are in the offing for singer/bassist Tom Angelripper and his thrash metal cult band Sodom, who have been with Steamhammer/SPV for 38 (!) years, with only one brief interruption. "Even in the fortieth year of our band's history, there are things that have stood the test of time, that still work and bear fruit," Angelripper is pleased to point out, adding: "Apart from a small infidelity at the end of the 1990s, the legendary Steamhammer/SPV logo has featured on all our discs. And that's how it'll stay for now. We would like to thank you, also on behalf of our former comrades-in-arms, for this exceptionally creative and constructive collaboration and look forward to more projects in the future." Sodom's current studio album 'Genesis XII' (2020) peaked at number 10 of the German charts. Sodom are looking forward to various festival appearances in summer 2022 and their headlining tour the following winter. A special 40th anniversary release has been announced for autumn 2022 and a new studio recording for 2023.
The release of a new EP for autumn 2022 has been announced by Rage mastermind Peavy Wagner. Rage were part of the Steamhammer/SPV roster between 2002 and 2005 and returned to the fold in 2019. Their 2021 album 'Resurrection Day' went to number 14 of the German charts, clocking up the highest chart position of their career to date. Says Wagner: "After our highly successful collaboration of recent years, we'll be delighted to take that cooperation to a new level in the future. The friendly, personal relationship between us and the SPV/Steamhammer team is stronger than ever, and I for one am in no doubt that we'll be celebrating many more successful projects together. Full speed ahead!" Rage will be touring with Brainstorm in autumn/winter 2022.
Prong, the group surrounding singer/guitarist Tommy Victor, who have been part of the SPV/Steamhammer family for ten years now, have also promised a new album for autumn 2022. As Tommy says: "I'm happy to announce that PRONG has resigned with Steamhammer /SPV records! This label has contributed greatly to Prong´s renaissance with their consistent support and hard work. It is an honor to still be part of their roster! I'm looking forward to new releases and keeping the Prong legacy going with Steamhammer Records!" The band are scheduled to tour the USA together with Overkill in spring 2022.
Autumn 2022 will see the release of a new album by Virgin Steele, who has been under contract with Steamhammer/SPV for some twelve years. Mastermind David DeFeis explains: "We are very pleased to announce that we have just re-signed to Steamhammer/SPV for two more brand new Virgin Steele studio albums. SPV has been our home, and we have thoroughly enjoyed our cooperation with all the Noble Souls at the label these past 12 years, therefore it was easy for us to make the decision to carry on and continue making our home here with them for a few more rounds of Barbaric-Romantic Metal albums…the first of which will appear later this year.  So I say cheers, salute and pour the wine in the cup of the future and raise your glass for today … by the Gods & Goddesses!"
'Fear City', the new album by thrash/horror metal act Them, will follow in the footsteps of their 2020 offering 'Return To Hemmersmoor" in October 2022. The German-American outfit has been with Steamhammer/SPV for five years and their guitarist Markus Ullrich looks forward to their continued cooperation: "We couldn't be in better hands than with Steamhammer and are more than happy that Olly Hahn and his team will continue to look after 'Fear City'. Following our fantastic collaboration to date, we can't wait to start recording again in January."
Steamhammer/SPV's managing director Frank Uhle is proud of the great loyalty of the bands who have been under contract with the label for all these years, and promises to continue to leverage the label's powerful position for new, exciting projects and promising releases: "What has been created under the Steamhammer umbrella over several decades is absolutely unique, and I'm thrilled to be a part of it. We want to continue to grow together with our established artists and bands, optimize our potentials and synergies and consistently expand our national and international portfolio of artists and labels. I'm in no doubt that there'll be some hot news from SPV in this respect as early as 2022!"
German rock legend Pink Cream 69 and young Finnish newcomers Satan's Fall have also just signed with Steamhammer/SPV. New albums from both bands are in the pipeline for 2022 and 2023. The same applies to lots of other Steamhammer acts, among them Freedom Call, Vicious Rumors, Molly Hatchet, Outlaws, Lacrimas Profundere, Bullet, Evildead, The Unity, Mob Rules, Blackrain, Travelin Jack and Turbokill. The label's staff, who are ready to meet the upcoming challenges in terms of both physical and digital releases, will have plenty to keep them busy in the coming months and look forward to many more exciting years.