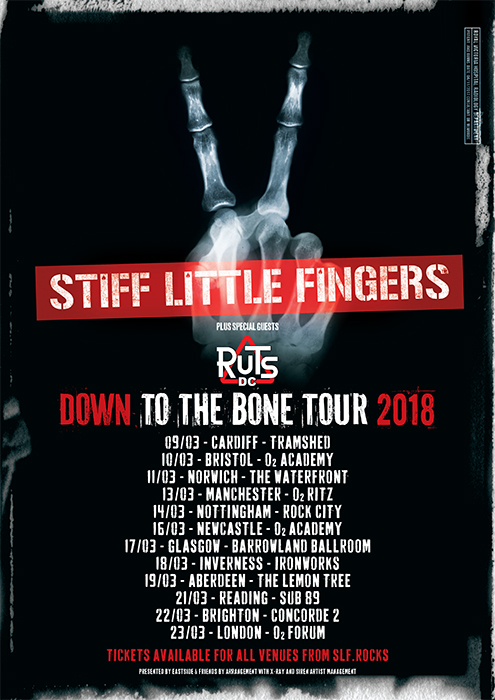 STIFF LITTLE FINGERS and THE RUTS The Concorde 2 , Brighton, 23rd March 2018
30th March 2018
Sometimes we go to gigs on a whim without really knowing any of the back catalogue or even the genre we are listening to is not our first kind of choice .
Tonight was one of those nights and as much for enjoying gigs I was expecting it not to be my bag and quite likely leaving with a rather uneventful evening .
I won't beat around the bush …..how wrong I was !
This was a 2 band bill , sold out concert to the point they pulled any advertisement and automatically it was very apparent both bands have very dedicated fans .
I often think of bands from this Punk-rock era as being pigeonholed with their trashy guitars and harsher sounds but many bands out of this era e.g Eddie and the Hotrods ,The Damned, Stiff Little Fingers, and The Ruts have a more crafted approach . This was a Stiff Little Fingers 40th anniversary tour .
First on was The Ruts .. A 3 piece band with fantastic energy …. Wow what a band !!!!
The energy and tightness from the rhythm section was fantastic and was a masterclass to any young musicians wanting some inspiration . The guitarist had it all happening with sound , technique and stage presence …
From start to finish this was one of the best 3 piece bands I have probably heard in years !
And within a short amount of time I realised I actually knew a few songs (and played them in bands).
I'm sure we have all had this experience of not realising who wrote them .
To say everyone was waiting for Stiff Little Fingers would be a bit much as it was such high quality all-round it felt more like a double headline and during both sets the room was brimming at capacity .
I enjoyed both sets so much I almost forgot I was there to review it.
Whilst listening to Stiff Little Fingers I wondered if they had any big influence such as Manic Street Preachers in the early years .
I felt like I witnessed a very special gig which I will always remember. 
Stiff Little Fingers Set List
Wait & see
Hero
Gotta Getaway
Can't believe in you
Roots 
Safe as houses
Barbed wire love
Tilting at windmills
Fade Away
Fought the war for
Doesn't make it ok
Happy Yesterday
Wasted Life
Dark Places
At The Edge 
Tin Soldiers
Suspect Device
Alternative Ulster 
For all things Stiff Little Fingers, click HERE and for The Ruts, click HERE